Definition
Microsoft SharePoint 2016
SharePoint 2016 is Microsoft's document management and collaboration tool. As of SharePoint 2013, the product is offered in the cloud as part of the Office 365 suite and is known as SharePoint Online; the on-premises version is known as SharePoint 2016.

Download this free guide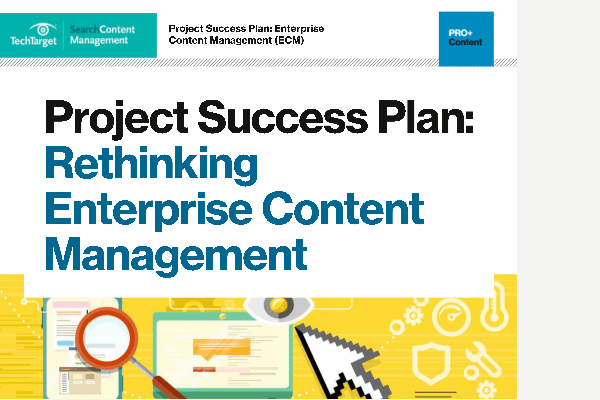 Download our new ECM project success plan: Rethinking Enterprise Content Management
This robust 70-page member-only resource delivers expert, unbiased perspectives on the evolution of enterprise content management, discusses its significance in revenue generating initiatives, and reveals everything you need to know about adopting a new ECM approach.
By submitting your personal information, you agree that TechTarget and its partners may contact you regarding relevant content, products and special offers.
You also agree that your personal information may be transferred and processed in the United States, and that you have read and agree to the Terms of Use and the Privacy Policy.
With this version of SharePoint, Microsoft has restricted the offering to be more of a traditional document management tool and migrated other collaboration, social media and enterprise search to the wider Office 365 offering, through applications such as Delve, Office Graph, Sway and Yammer.
While Microsoft is focusing the lion's share of its development roadmap on SharePoint Online, it will continue to release an on-premises version of SharePoint, acknowledging that its customers may have compliance requirements that require certain data to be kept on-premises or because they cannot migrate all their data to the cloud in one fell swoop.
Released in preview in August 2015, with a generally available version due out in Q2 of 2016, enhancements to SharePoint 2016 include the following:
New hybrid possibilities. With advancements in hybrid options, there is better integration with Office 365 tools, though hybrid search is outstanding. Users will be able to use Office 365 services like Delve, Sway and Office Graph with SharePoint 2013 as well.
App launcher. SharePoint 2016 introduces the App Launcher, as well as changes to the UI, to help it match the Office 365 experience.
SharePoint infrastructure and performance improvements. SharePoint performance and speed is notably faster with this release.
MinRoles. Administrators can now install only the roles they want on particular SharePoint servers.
Zero downtime patching.
Increased file size for uploads. Users can now exceed the previous 2 GB limit for files. Though there's no real limit, Microsoft has strongly recommended it stays at 10 GB.
Fast site creation. Companies can create and launch new sites in seconds.
Compliance features. The In-Place Policy Hold Center and the Compliance Center enable administrators to build policies and apply them against their SharePoint environment.
Mobile SharePoint. For tablets, there is a touch-friendly interface.
Continue Reading About Microsoft SharePoint 2016
Dig Deeper on Enterprise SharePoint strategy
PRO+
Content
Find more PRO+ content and other member only offers, here.