Microsoft SharePoint Server 2010
Microsoft SharePoint Server 2010 is a platform, installed on a server and accessed with an Internet connection, which has many capabilities, including website design, collaboration, content management, and sharing and aggregation of business intelligence data.
Looking for something else?
PRODUCTS
Microsoft SharePoint Server 2010 is a collaboration platform that is closely integrated with Microsoft Office and Active Directory.
Guide to Document Management Strategy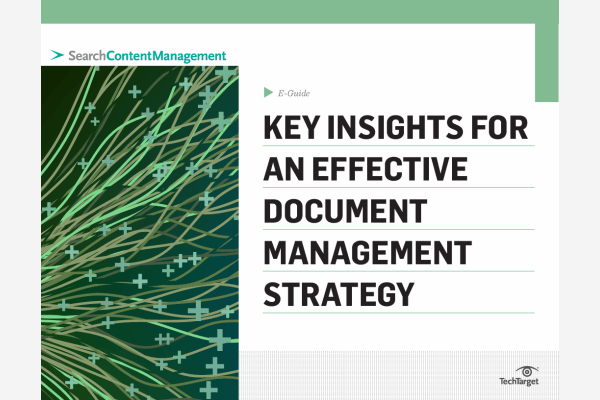 Download this guide and learn the critical success factors for document capture, imaging and management. Plus, find out how mobile, SOA and the cloud are reshaping content management strategies.
By submitting your personal information, you agree to receive emails regarding relevant products and special offers from TechTarget and its partners. You also agree that your personal information may be transferred and processed in the United States, and that you have read and agree to the Terms of Use and the Privacy Policy.

Users with the appropriate permissions can quickly develop and build websites with SharePoint Server 2010, whether they have prior programming knowledge or not. These websites can be used to manage collaboration tools such as document libraries, discussion boards, shared task lists, shared calendars, blogs, wikis and surveys.
SharePoint 2010 facilitates secure collaboration by enabling users to adjust the permissions on content so that it can be shared and secured according to user preference. SharePoint 2010 enables the monitoring, auditing and control of content that can be placed into a highly structured site with information policies that determine how and when to change or dispose of it based on content lifecycle rules. Alternately, content can be placed into a large unstructured area of collaboration or content storage, where search functions enable users to find documents.
Microsoft SharePoint Server 2010 can store versions of each piece of content based on its configuration, enabling version-tracking and easy restoration of previous versions. It can also provide reporting capabilities as well as rules-based notifications and alerts.
See also: Windows Sharepoint Services (WSS), Microsoft Office SharePoint Server (MOSS), SharePoint farm
Continue Reading About Microsoft SharePoint Server 2010
Dig Deeper on Enterprise SharePoint strategy