Evaluate
Weigh the pros and cons of technologies, products and projects you are considering.
Slack vs. Teams vs. Spark: Which is the best collaboration tool?
Ever wonder how the leading cloud collaboration tools stack up? Our comprehensive chart pits platforms from Slack, Microsoft and Cisco against each other.
FROM THE ESSENTIAL GUIDE:
Platforms that offer real-time collaboration with instant messaging or chat have been in high demand, and that isn't showing any signs of slowing down. Given the fact that many teams considering these popular messaging solutions have a number of options from which to choose, it is becoming very difficult for them and their IT leadership to determine the best collaboration tool for their needs, and to compare the tools to each other.
So how does Slack vs. Microsoft Teams vs. Cisco Spark stack up, features wise?
With the ongoing push for teams to be more efficient, as well as the need to stay connected at the office or while on the go, messaging platforms have become a staple in organizations. Being able to connect via one centralized tool can help users stay up to date with the latest conversations around projects and future initiatives.
But finding the best collaboration tool for an organization isn't just about messaging; real-time cloud collaboration tools also support audio, video and screen sharing, as well. Products like Slack and HipChat are two of the most popular, newer platforms to enter the market, but they've just as quickly seen competitors like Microsoft and Cisco threaten to take some of their subscribers.
Ultimately, the question of Slack vs. Teams vs. Cisco Spark comes down to functionality. While they all offer the same core functionality, including instant messaging, audio and video chat, and file sharing, they differ when it comes to additional enterprise functionality.
Each of the three has its own unique features when it comes to content sharing, compliance, integration, artificial intelligence, storage, presence and costs, all of which an IT decision-maker must consider when trying to determine the best collaboration tool for an organization. Learn more about the three collaboration platforms in the following chart: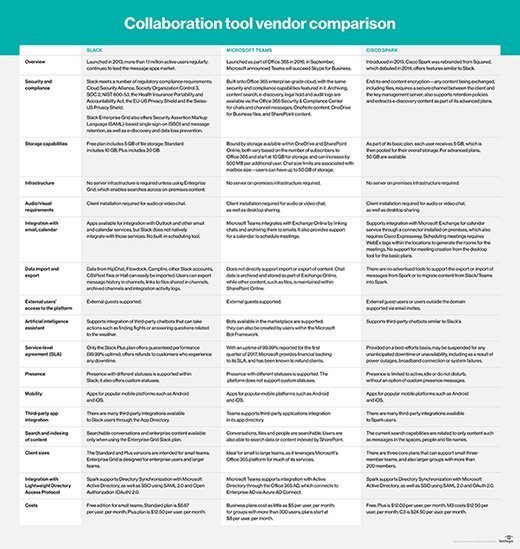 PRO+
Content
Find more PRO+ content and other member only offers, here.