Should you migrate to SharePoint Online or upgrade SharePoint Server?
Administrators that have run SharePoint Server for years are weighing a move to SharePoint Online. If you answer yes to these three questions, you're probably ready to migrate.
SharePoint Server administrators charged with managing the collaboration server, as well as databases, patches...
Continue Reading This Article
Enjoy this article as well as all of our content, including E-Guides, news, tips and more.
and backups, may be looking for relief in the cloud.
Here are three questions to consider as you weigh whether to migrate to SharePoint Online or upgrade to SharePoint Server.
Are you considering moving email to the cloud and using OneDrive in the future?
Because SharePoint Online is bundled into many of the Office 365 plans, the decision to move to the other systems within the cloud suite would provide you with access to SharePoint at no cost. This is a compelling reason to migrate to SharePoint Online and eliminate the licensing costs associated with a SharePoint on-premises client/server.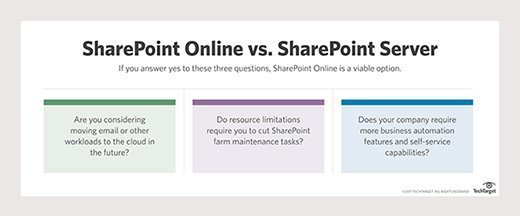 Do you need to remove SharePoint farm maintenance tasks?
SharePoint is not a simple environment to maintain; it requires IT to manage its SQL Server, web servers, backups, eDiscovery and patching, which becomes even more challenging if the company does not have dedicated SharePoint resources. The choice to migrate to SharePoint Online is a feasible alternative to SharePoint Server, as the maintenance tasks are managed by Microsoft.
Are you looking for more business automation features and self-service capabilities?
Microsoft's cloud-hosted edition of SharePoint has some compelling integrations and features that make it hard to resist. For starters, SharePoint Online offers direction integration with Office 365 workloads and other Microsoft services, such as Flow, PowerApps, as well as Power BI, without the need for additional components, such as data gateways. In addition, SharePoint Online relies on some of the advanced intelligence document classifications delivered through Microsoft Office Delve and MyAnalytics.
Dig Deeper on Enterprise SharePoint strategy