kentoh - Fotolia
Q
Get started
Bring yourself up to speed with our introductory content.
What content team roles are essential for businesses?
There are a number of people involved in business content teams. Some of those roles include content managers, content strategists and content creators.
Content management has spurred a number of new enterprise roles -- and, with them, the advent of the content team.
The content team handles every aspect of content -- from creation to deployment. Many organizations now have a content manager in place, reporting to the chief marketing officer or director of marketing, but it takes a number of dedicated people to make the entire content lifecycle work at peak performance. Here are some of those content team roles.
Content manager. This role includes more than just coordinating the efforts of the team and reporting to the marketing lead; it also requires hands-on skills, such as articulating content strategy to stakeholders and selecting content topics to advance the enterprise agenda. Fluency in content channels -- social media, in particular -- is also a must.
Content strategist. Right behind effective management of content is effective strategy guiding its creation and deployment. The strategist is responsible for many tasks: establishing specific goals for content deployment, which should happen in the context of understanding what competitors are doing; incorporating and monitoring brands for consistency and effectiveness; and implementing and overseeing schedules that coordinate the content lifecycle with the business needs. They also supervise the development of personas -- customer models based on marketing data to understand customer behaviors and motivations.
Content creators. In most organizations, there are multiple content creators. It's not just about writing, though good writing is essential, but graphics and multimedia are also a big part of quality content, including art, photography, videography, sound effects and music. Odds are the content team will need a variety of creators to cover these needs.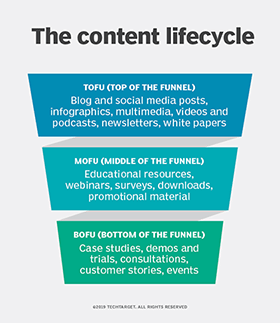 Content editor. Ensuring content quality is a rigorous task, as professionalism rules in content presentation. Included among the editor's skills are the ability to coach content creators in revising their work, reviewing content for errors and accuracy, and offering new topics and design approaches as needed.
Content analyst. Last in the list of content team roles is the content analyst. This person does not need to be a full-time member of the team. However, the tasks in this role are highly specialized and include gathering analytics on content viewing and viewer browser behaviors, monitoring content and measuring its effectiveness throughout its lifecycle, and reporting all of this to the team and stakeholders.
Dig Deeper on Content management integration strategy
Businesses looking to improve their digital marketing efforts might consider a long-tail keyword designed to home in on specific products and ... Continue Reading
Thoughtful presentation of content enables businesses to engage customers. Methods of improving content experience include social media and tailored ... Continue Reading
AI can assist in many aspects of the sales process, including analyzing calls, making employees more productive and retaining talented ... Continue Reading