 BACKGROUND IMAGE: iSTOCK/GETTY IMAGES
A buyer's guide to selecting the best ECM tool
Editor's note
Enterprise content management (ECM) tools help enterprises manage and preserve content. Traditionally, ECM was limited to document management -- checking documents in and out of storage, controlling document versions, and searching and retrieving content. However, as the needs of organizations have become more complex and their teams more dispersed, the scope of ECM has expanded to provide additional capabilities such as records management, workflow, collaboration and Web content management.
Today's companies, with remote workforces and multiple offices, need a common repository from which to share and edit files, as sharing via email is no longer viable. The amount of content in most organizations has grown substantially and, in many cases, it's necessary to configure access rights and track changes. Email and chat programs have been replaced by tools that allow both group communication and one-on-one exchanges across the entire project team, and content feeds that enable workers to see updates in real time.
With so much information being collected and managed, many organizations must demonstrate compliance with various regulations. They need to store and access files for a certain period of time and to be able to destroy the data after that time has elapsed. Still, other companies need a system that will consolidate content from customer relationship management or ERP applications.
Today's ECM tools address these and many other needs. However, not all products are created equal, so choosing the ECM tool or suite that's best for your organization does require some research. Fortunately, we've simplified that process for you. This guide is designed to make ECM tool selection less daunting by helping you determine your organization's needs and core objectives, as well as the key features to look for when selecting an ECM tool or suite. Using this information, you can then analyze the top ECM products to best match your needs to the software's functions.
In this buyer's guide, we examine the top nine commercial and open source ECM products as well as three products that hover on the periphery of ECM and offer file-sharing platforms. We hope you find this information useful.
1

Examining the use cases for ECM products

You can justify your organization's purchase of an ECM product by pinpointing your specific business needs and looking at how other companies are using this technology.
2

Key features and functions to look for in an ECM tool

Does your company need a full-featured ECM suite or would an ECM product with your must-have features suffice?

Download this free guide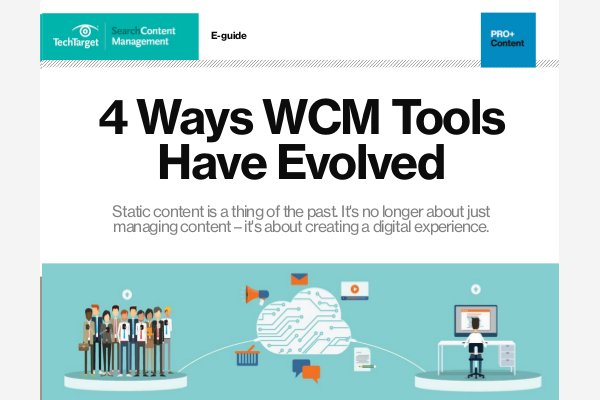 New: 4 Ways WCM Tools Have Evolved
Uncover 4 ways WCM has evolved into digital experience management (DEM), 4 steps to help you plan your own DEM initiative that drives action on your sites, how AI-assisted image and video search is the next content frontier, and more.
3

Which ECM product is right for you?

Now that you've identified your business objectives and your list of must-have features, it's time to match those requirements to the ECM products examined here.
4

ECM products from the market leaders

Choosing the right ECM product can help your organization meets its content management challenges.