Get started
Bring yourself up to speed with our introductory content.
How the right WCM system can propel your business to web success
There are many products to choose from in today's WCM platform marketplace. Deciding which one best meets the needs of your organization requires careful planning and input from content creators and IT personnel.
Introduction
As today's business landscape becomes increasingly digital and web-oriented, having a strong web presence has moved from being a luxury to a necessity. Without this kind of presence, your business will miss out on increased brand awareness and potential customers. Launching a website is just the beginning, however.
Managing and maintaining the content featured on your website is a major determining factor in its success. With the help of a web content management (WCM) system, your organization can easily manage this content and deliver optimized digital experiences that set your business apart from its competitors.
Though using a WCM system doesn't eliminate the need for creative content producers or IT personnel to oversee the system's management and upkeep, it does give users who lack or have minimal web design prowess the ability to quickly and easily create and publish content of all kinds, including text, images and rich media assets. This means impactful, professional-grade web content can be delivered by businesses of all industries and sizes, regardless of whether or not they have dedicated web design teams.
As the way people access the web has changed, web content development has had to change along with it. Today's WCM platforms include a number of features that make content design and management easy and intuitive.
A shared repository is pivotal for storing and distributing files and information assets, as well as the metadata associated with them. SEO tagging tools help ensure that visitors are directed to your content, and responsive design capabilities ensure that, once on your site, the content they're viewing is optimized for the device on which they're accessing it. WCM software is even flexible in how it's accessed, as many vendors offer their platforms in both on-premises and cloud format.
This buyer's guide, written by digital content technology expert and long-time TechTarget contributor Geoffrey Bock, details the benefits that organizations can expect from incorporating a WCM system as part of their digital content strategy. He discusses the important factors to consider before purchasing a WCM platform and examines some of the leading vendors in the WCM marketplace.
The guide also features individual overviews of these products, written by TechTarget contributor Mary E. Shacklett, that provide specific details on each to help you determine which is the best choice according to your needs.
1

What is?

-
Examining how web content management has evolved
Every business, regardless of industry or size, can benefit from a strong web presence. But is this achievable without web design knowledge or IT resources? It is, thanks to modern WCM software.
Feature
Web content management software has adapted to better reflect and support the fast pace with which today's digital content is accessed and delivered. Continue Reading
2

Do I need?

-
Would a WCM system benefit your organization?
Any organization maintaining a website needs a way to manage the content and information assets associated with it. A WCM system provides the tools and services to do just that.
Feature
A lot goes into planning and executing a digital content strategy. Having software in place to create, manage and distribute this content can be the difference between its success and its failure. Continue Reading

Download this free guide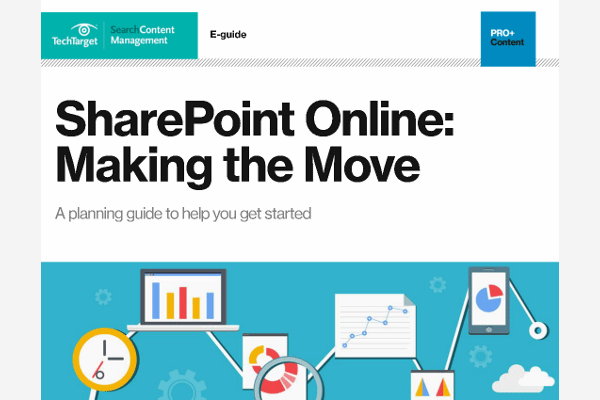 New: SharePoint Online migration planning guide
This expert guide explores 5 key features to know, the pros and cons of making the move, and a 5-step Online portal demo.
3

How to buy

-
Key capabilities to look for in a WCM system
Web content management techniques are constantly evolving, and WCM software is evolving along with it. Find out which features to look for to maximize your return on investment and position your business for success now and in the future.
Feature
As the ways digital content is viewed by consumers has changed, so have the ways it is created and distributed. Having the right tools for the job can be the difference between average digital experiences and those that wow an audience. Continue Reading
4

Which should I buy?

-
Which is the best WCM system for your business?
Learn about today's leading WCM software vendors and find out which product(s) meet the needs of your organization.
Feature
Expert Geoffrey Bock wraps up his look into WCM software by sharing information on the leading providers in the marketplace and the services they have to offer. Continue Reading
5

WCM system overviews

-
Examining some of the leading WCM products
Before making a final decision on which WCM system is right for your organization, take an in-depth look at what each of the leading products has to offer.