Definition
Microsoft SharePoint 2013
Microsoft SharePoint 2013 is a collaboration platform for customized web services that was released in November 2012.
The initial release of SharePoint 2013 offered a simplified user experience as well as added enterprise social media capabilities, which expanded upon previously offered capabilities for website management that included shared calendars, blogs, wikis, surveys, document libraries and shared task lists.

Download this free guide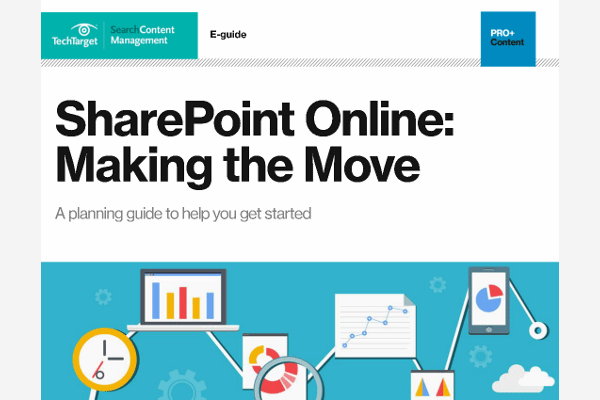 New: SharePoint Online migration planning guide
This expert guide explores 5 key features to know, the pros and cons of making the move, and a 5-step Online portal demo.
The SharePoint 2013 initial release also included a community forum for users to communicate with each other and categorize discussions, a microblogging capability and enhanced search capabilities, as well as e-discovery functionality, claims-based authentication and support for mobile.
The business intelligence tools included in the SharePoint 2013 initial release enabled business users to organize goals and processes, as well as create customizable data models, reports and dashboards.
SharePoint 2013 has expanded upon all of the features listed above to now include the following improvements and new features:
1. Social
SharePoint 2013 has been reorganized into three distinct sections: Newsfeed, OneDrive and Sites. These sections are fully integrated into the SharePoint experience.
Newsfeed
The newsfeed has been updated so that you can post to the public newsfeed, post to the newsfeed on team sites you're following and see updates about other people's activities. You can also include tags in posts and pictures, videos and links.
OneDrive
On OneDrive, you can now store personal documents in a library, share documents or sites, receive alerts whenever a document gets updated and use your mobile device to share documents. SharePoint 2013 has also improved user profiles by streamlining navigation, simplifying sharing options and defaulting privacy settings.
Community Site
SharePoint 2013 has built a brand new Community Site template. The new site is available to all members of the community, retains discussion history in compliance with corporate governance guidelines, has built-in search, has new community ratings and achievement systems to engage community members and has improved site maintenance.
2. Organizing and sharing information
Document libraries
In the updated SharePoint 2013 document libraries, you can manage documents with the new callout feature. You can also drag and drop files between your desktop and SharePoint, as well as sync document libraries to your computer from any SharePoint site.
Keep track of SharePoint sites, tasks and lists
SharePoint 2013 now allows you to keep track of all of your SharePoint site's tasks and post them to your newsfeed. It has also made it easier to see a timeline of your tasks and create and edit lists right on the page.
Project sites and site mailboxes
With SharePoint online, people in an organization can easily collaborate on projects through project sites. Project managers can get a sense of what's going on and team members can see how their work fits into the overall context. Project sites also allow members to access and share relevant project data, documents and communication more easily.
3. Search capabilities
In SharePoint 2013, phonetic search capabilities now work in multiple languages. Navigation enhancements allow you to quickly access the search box, perform a search and find results that are easily scoped. Site owners can also create and maintain Search Centers and can customize the styling and settings that affect search results.
4. BI
SharePoint 2013 offers enhanced business intelligence capabilities including enhancements to Excel Services and PerformancePoint Services, a new Business Intelligence Center site and support for viewing business intelligence content on mobile devices.
5. Development
Web content authoring
Content authors can keep all text formatting when copying content from Microsoft Word to a Rich Text Editor Web Part, Content Editor Web Part or HTML field control on a web page in SharePoint 2013. Site owners and designers can also customize the navigation menus by dragging menu items directly onto the page.
Cross-site publishing
You can now use cross-site publishing and Search Web Parts to create adaptive SharePoint internet, intranet and extranet sites.
6. Security
SharePoint Server 2013 provides flexibility for farm and site administrators by separating the process for upgrading the software and databases from the process of upgrading sites. Site administrators can also now use the site collection health checker to detect issues and address them before upgrading the sites to the new version.
7. eDiscovery
The eDiscovery Center site template creates a portal through which you can access cases involving eDiscovery requests. When there is a new need for eDiscovery, a user with the appropriate permission can create a new case, add information to be searched, create queries to identify the specific material to be located and execute the queries.
See also: Microsoft SharePoint Server 2010
Continue Reading About Microsoft SharePoint 2013