Definition
Microsoft SharePoint
Microsoft SharePoint is a document management and collaboration platform that helps companies manage archives, documents, reports and other content that is vital to the business process. Industries in all sectors use SharePoint, but the platform focuses on enterprise content management. SharePoint use cases can be found in any department within an organization.
SharePoint is configured using a web browser and it provides most of its capabilities via a web UI and web applications. It can be used to manipulate content and site structure, create and delete sites, enable or disable product features, configure basic workflows, and manage analytics.
New and updated SharePoint 2016 features
SharePoint 2016 is delivered via Microsoft's Azure Cloud, but Microsoft also offers an on-premises version for organizations that prefer to keep their data in-house for compliance or security reasons.
Like SharePoint 2013, SharePoint 2016 is part of the Office 365 suite, where it is known as SharePoint Online. The on-premises version is known as SharePoint Server 2016.
Notable features in Microsoft SharePoint 2016 include:
Access services. Users can support Office 365 apps or download Excel features to pivot Microsoft Access database tables. Microsoft also improved related item control so users can add new items.
Compliance features. The In-Place Hold Policy Center and the Compliance Center enable administrators to build policies and apply them in their SharePoint environment. The updated features allow users to delete documents from their OneDrive for Business sites.
Document library accessibility. Users can use landmarks on a page to make it easier to navigate, use keyboard shortcuts to document tasks, use announcements for upload progress, use improved callout readings and use updates for help documentation.
Expanded file names. Support for file names with special characters, leading with dots and longer than 128 characters will no longer be blocked.
Hybrid. Better integration with Office 365 tools and services, including Delve, Sway and Office Graph.
Information rights management. A subset of digital rights management that uses technology to protect sensitive information or intellectual property from unauthorized access.
Large file support. Users can now exceed the previous 2 GB limit for files. Though there's no real limit, Microsoft recommends a 10 GB maximum.
MinRole. Administrators can now install only the roles they want on SharePoint servers.
Mobile experience. Touch-friendly mobile interface. Users can also switch from mobile view to PC view.
Open document format (ODF). This enables users to create files in a document library and save files in ODF to edit later with a program of the user's choosing.
Project server. Project managers can request resources from other resource managers and use a heat map functionality to see where resources spend time. They can also create multiple timelines. The project server also has improved backup and restoration capabilities.
SharePoint business intelligence. Users have added access to business intelligence, including Power Pivot Gallery, scheduled data research, workbooks as a data source, the Power Pivot management dashboard, Power View reports, Power View subscriptions and report alerts.
Improvements to sharing features. Users can see who is sharing a folder and can invite and approve or deny access requests easily.
Sites page pinning. Users can pin sites to follow them when on premises and through Office 365.
More recently, Microsoft added the ability to create SharePoint team sites via Office 365 to provide a location where teams can work on projects and share information from anywhere. A team site includes a group of related web pages, as well as a default document library for files, lists for data management and web parts that are customizable.
Microsoft's focus on artificial intelligence and virtual reality will shape future versions of SharePoint. One example is the 2018 launch of SharePoint spaces, where users wear virtual reality headsets to interact with content from every angle to visualize and manipulate data and product models.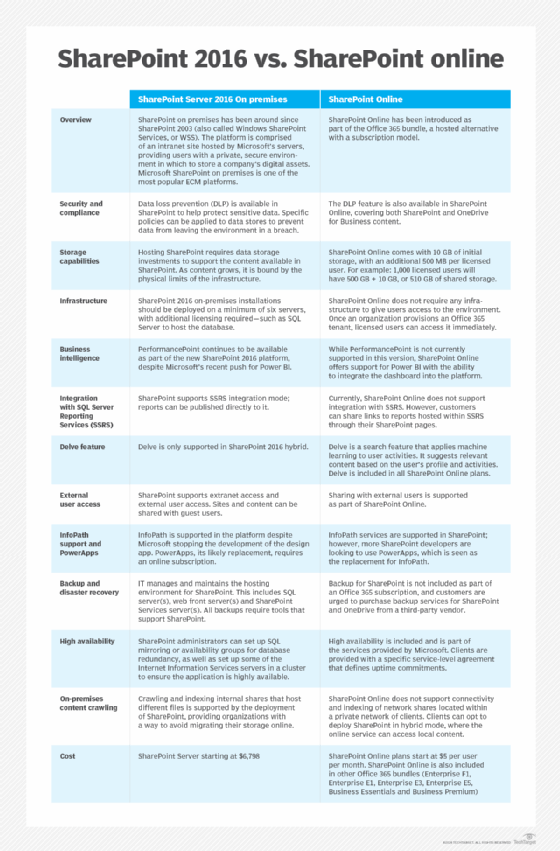 Depreciated Microsoft SharePoint features
SharePoint 2016 is focused on traditional document management. Microsoft has stripped away the collaboration, social media and enterprise search functions that are included in other Office 365 offerings such as:
Delve. A data visualization and discovery tool that incorporates elements of social networking and machine learning with the search capabilities of the Office 365 suite.
Office Graph. A back-end tool in the Office 365 Suite that facilitates search across integrated applications and applies machine learning to organizational interactions and content use.
Sway. A presentation tool in the Office suite.
Teams. A work collaboration tool that allows employees to interact on a working document wherever they are.
Yammer. A private microblogging and collaboration platform for enterprise social networking.
While Microsoft is focusing the lion's share of its development roadmap on SharePoint Online, it will continue to release an on-premises version of SharePoint, as customers may have compliance requirements that require certain data be kept on premises or because they cannot migrate all their data to the cloud.
The following features that have been removed from the SharePoint 2016 server:
SharePoint Foundation. SharePoint Foundation is a free edition that provides a secure, web-based collaboration platform. It is not available in SharePoint Server 2016, but is still available in SharePoint 2013.
Stand-alone install mode. This feature is no longer available on SharePoint 2016. It has been replaced by the MinRole farm topology.
Forefront identity manager client (FIM). FIM synchronizes between Active Directory and SharePoint. SharePoint 2016 does not use FIM, but instead uses Microsoft Identity Manager 2016 or another third-party tool.
Excel services. Excel capabilities are no longer hosted on SharePoint Server. Instead, it is part of Excel Online in Office Online Server.
SharePoint BI capabilities. Power Pivot and Power View for BI solutions are not deployed in SharePoint 2016. Power Pivot for SharePoint and Power View for SharePoint add-ins can only be deployed with SharePoint 2016 when using SQL Server 2016.
Tags and notes. Users can still create new tags and access any existing ones, but Microsoft discourages using the feature, as it will be removed in the next release of SharePoint.
Work management service application. This application has been removed from SharePoint 2016, including My Tasks and other associated Exchange Task Sync features.
SharePoint 2016 architecture changes and options
Because SharePoint Server 2016 has the same code as SharePoint Online, on-premises customers have the same benefits of support and performance for their SharePoint server farms thanks to a few architecture changes.
SharePoint 2013 and its previous editions relied on service deployments to patch problem servers. SharePoint 2016 has MinRole, a streamlined topology that has a server in a SharePoint farm that runs an explicit set of services based on its role, and which has no other services turned on. This allows for more flexibility, easy fixes and quick updates to each server resulting in faster and more reliable service.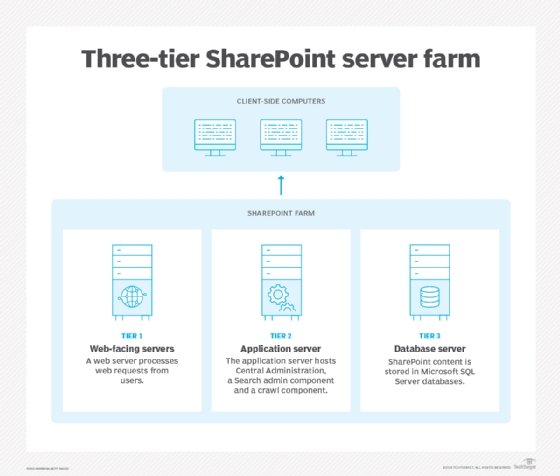 There are four architectural models for SharePoint 2016.
SharePoint Online. SharePoint is delivered using a software-as-a-service subscription model. Microsoft provides updates automatically, but the customer is responsible for SharePoint management.
SharePoint hybrid. The combination of a SharePoint Online subscription with an on-premises version of SharePoint. With this approach, customers can meld SharePoint Online services into their overall SharePoint environment while creating a bridge to ultimately migrate SharePoint sites and apps to the cloud.
SharePoint in Azure. Customers can extend their on-premises SharePoint farms to Microsoft's Azure infrastructure as a service cloud for production, disaster recovery and testing SharePoint Server 2016 environments.
SharePoint on premises. Customers maintain control over all the planning, deployments, maintenance and customizations of their SharePoint environments within their own data centers.
Microsoft SharePoint versions and history
SharePoint has existed in one form or another since 2001, growing to more than 190 million users within 200,000 organizations. There have been eight SharePoint versions released since 2001, with SharePoint 2010 Enterprise being the first enterprise-based offering.
SharePoint 2013 was released as a collaboration platform for customized webpages in November 2012.
The initial release offered a simplified user experience, as well as new enterprise social media capabilities that expanded upon previously offered capabilities for website management including shared calendars, blogs, wikis, surveys, document libraries and shared task lists.
SharePoint 2013 also launched with a community forum for users to communicate with each other and categorize discussions. It also included a microblogging capability and enhanced search capabilities, as well as E-discovery functionality, claims-based authentication and support for mobile. In addition, the business intelligence tools in SharePoint 2013 enabled business users to organize goals and processes and create customizable data models, reports and dashboards.
Prior to SharePoint 2013 was Microsoft SharePoint Server 2010, which launched that year with close integration with Microsoft Office and Active Directory. The benefits of SharePoint 2010 included the ability to quickly develop and build websites without programming knowledge. Such websites could be used to manage collaboration tools such as document libraries, discussion boards, shared task lists, shared calendars, blogs, wikis and surveys.
SharePoint 2010 also offered content security as it required permissions for access, and it supported monitoring, auditing and content Version control. Content stored in SharePoint was searchable, and changes or disposal were based on content lifecycle rules.
Microsoft SharePoint competitors
While Microsoft SharePoint is a market leader in document management, many other cloud-based competitors have entered the market, including Dropbox, Box and Google Drive. Beyond document management, the collaboration software industry has grown, with new players gaining traction, most notably Slack, Jive and Salesforce Chatter.
In response, in 2017, Microsoft released a collaboration tool, Teams, to compliment SharePoint 2016. Vendors such as Sitecore, Confluence and WordPress all compete with SharePoint within web content management.
This was last updated in
August 2018
Continue Reading About Microsoft SharePoint