Definition
content management (CM)
Content management (CM) is the process for collection, delivery, retrieval, governance and overall management of information in any format. The term is typically used in reference to administration of the digital content lifecycle, from creation to permanent storage or deletion. The content involved may be images, video, audio and multimedia as well as text.
Content Continues Below

Download this free guide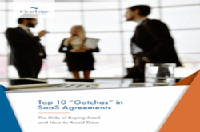 Top 10 Risks in SaaS Deals
Download this asset to understand the top 10 SaaS deal "gotchas" that can result in surprise charges, built-in cost hikes, audit exposure and double paying for the same license or functionality, SaaS traps that tip leverage to the vendor right from the get-go, and more.
Content management process
Content management practices and processes can vary by purpose and organization. This can lead to differences in steps or terminology.
The stages of the content management lifecycle are:
Organization: The first stage where categories are created, taxonomies designed and classification schemes developed.
Creation: Content is classified into architectural categories.
Storage: Content format and storage decisions are made based on ease of access, delivery, security and other factors dependent on the organization's needs.
Workflow: Rules are designed to keep content moving through various roles while maintaining consistency with the organization's policies.
Editing/Versioning: This step involves managing multiple content versions and presentation changes.
Publishing: The stage where content is delivered to users, which can be defined as website visitors or internal publishing via the intranet for employees.
Removal/Archives: The final stage where content is deleted or moved to an archive when it is infrequently accessed or obsolete.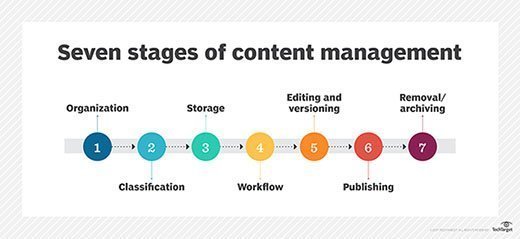 Content governance
Content governance provides content creators with structure and guidelines. Digital content management governance can help determine priorities, provide detailed standards, assign ownership for content and provide access control. This helps to create a consistent user experience, minimize content bloat and create internal controls.
Common governance tools that organizations use include content workflows, taxonomies and style guides, along with records management tools which include audit trails for compliance.
Types of digital content management
For just about every category of digital content, there is a corresponding tool or process for managing it.
Content management systems and tools
In addition to content management platforms for specific content types, there are also general content management systems (CMS) which provide automated processes for collaborative digital content management and creation.
A CMS commonly includes features such as format management, publishing functionality and the ability to update content. A CMS can allow a user to create a unified look and have version control, but a downside is that it often can require specific training for content creators. A digital asset management (DAM) system is another type of CMS that manages documents, movies and other rich media assets. A few examples of notable CMSes are WordPress, Joomla, and Drupal.
This was last updated in
July 2017
Continue Reading About content management (CM)
Dig Deeper on Enterprise content management (ECM) workflow