Definition
enterprise content management (ECM)
Enterprise content management (ECM) is a set of defined processes, strategies and tools that allow a business to effectively obtain, organize, store and deliver critical information to its employees, business stakeholders and customers. ECM has rapidly evolved as different forms of content have been introduced to the work environment. However, ECM systems continue to focus on digitally managing a company's information in a centralized repository and using the digital content to support business processes and help achieve goals.
Enterprise content management does not refer to a single technology or process. It is an umbrella term used to describe the combination of methods, tools and strategies that support capturing and managing content as well as the storage, preservation and delivery of information throughout its entire lifecycle.
Content Continues Below

Download this free guide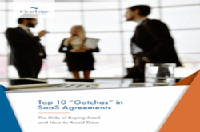 Top 10 Risks in SaaS Deals
Download this asset to understand the top 10 SaaS deal "gotchas" that can result in surprise charges, built-in cost hikes, audit exposure and double paying for the same license or functionality, SaaS traps that tip leverage to the vendor right from the get-go, and more.
ECM systems help streamline the lifecycle of information with document management and the automation of process workflows. It is critical for any organization with large volumes of content to have a defined ECM plan to eliminate operational inefficiencies, reduce costs and adhere to regulatory compliance mandates.
Some specific areas of business that particularly benefit from the use of ECM software include:
Contracts management - An ECM system will allow users to digitally collaborate and ensure contracts are reviewed, edited and approved on time by automatically routing and notifying the appropriate people when contracts need attention.
Human resources (HR) automation - ECM systems can remove the need for paper-based employee files while also improving new hire processes, streamlining the organization of HR-related information and guaranteeing compliance with HR onboarding mandates.
Accounts payables automation - ECM systems enable users to accurately match, distribute and approve purchase orders, delivery tickets and invoices, thus reducing late fees and enhancing efficiency.
Accounts receivable automation - ECM systems provide users with immediate access to purchase orders, invoices and signed receipts, thus reducing the time for days sales outstanding (DSO) by accelerating the speed of customer payments.
In 2016, Gartner declared that enterprise content management had been replaced by content services -- the strategic concept that involves content services applications, platforms and components, but is less concerned with centralizing all information into one enterprise-wide platform. However, ECM is still frequently used and continues to help companies organize their information to faster achieve goals.
Importance of ECM
ECM has become increasingly important and complex in recent years for various reasons. Financial fraud and data breaches -- and the regulations designed to prevent them -- have made effective information governance essential not only for compliance reasons, but also to help protect the organization's reputation. Enterprises also need to manage content effectively for integration with business intelligence/business analytics (BI/BA) applications that help them to use the available information to guide business decisions.
Furthermore, productivity and efficiency within companies increase when the dependence on paper documents is reduced and an organized, secure repository of unstructured information is created that considers business needs. Companies that don't implement ECM systems risk losing time and productivity, reduced utility and potential non-compliance with corporate policies and regulations. They may also be threatened by the loss of information if disaster strikes and content is not securely stored, leading to significant business interruptions.
Technological advancements are also making enterprise content management systems more important than ever. Paper is becoming less common and digitization is becoming the new normal. Advancements in machine learning, mobile capability and cloud technology are creating new opportunities for businesses. New types of content are also emerging in the form of social media, video and audio. ECM systems must continue to adapt with these new forms of unstructured information so they can continue to organize data and optimize business performance.
Components of ECM
ECM can be broken down into five major components: capture, manage, store, preserve and deliver. The purpose of each component, as defined by the Association for Information and Image Management (AIIM), is as follows:
The Capture component involves creating information by converting paper documents into electronic formats, obtaining and collecting electronic files into a cohesive structure, and organizing information. Information can include content such as invoices, contracts and research reports.
The Manage component connects, modifies and employs information through means such as document management, collaborative software, web content management and records management.
The Store component temporarily backs up frequently changing information in the short term within flexible folder structures to allow users to view or edit information.
The Preserve component backs up infrequently changing information in the medium and long term and is usually accomplished through records management features. It is commonly used to help organizations comply with government and other regulations.
The Deliver component provides clients and end users with requested information.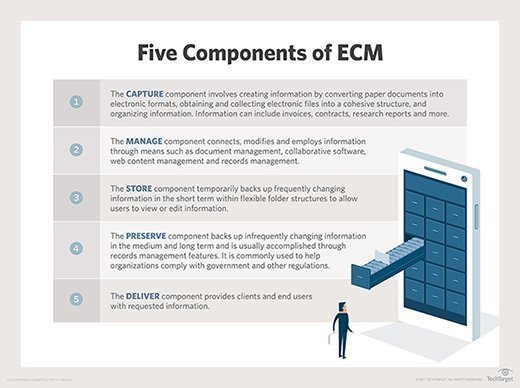 How ECM works
Enterprise content management refers to the collection of strategies, methods and tools used to capture, manage, store, preserve and deliver key organizational process information throughout its lifecycle.
The typical lifecycle of digital content follows these steps:
Information is captured.
Content is published on the company website or intranet.
Content is archived and backed up in a secure repository to ensure it's never lost.
Old and unused content is deleted to create more storage space for relevant information.
When implementing an ECM system, the first step is to document all the types of content that the organization deals with, the business processes it's part of and who handles the content. ECM software can be used to identify duplicate and near-duplicate content, allowing the organization to keep a few copies of a particular piece of content instead of hundreds. This variety of information will be organized in a central location with document metadata stored in folders, ensuring the content is available to the right people at the right time.
Approved users can find specific documents using full-text searches. The ECM system will retrieve the document and present it to the user, allowing them to read, edit or print a copy of the information, regardless of their location or the device they're using. ECM systems will also allow users to look for specific words of phrases within the stored documents, decreasing the time spent scanning content and increasing productivity.
Regardless of the industry or department implementing ECM, users will have the same goals:
Eliminate the dependency on paper.
Streamline all business processes.
Reduce organizational risk.
Optimize productivity.
Improve customer service.
An effective enterprise content management system will provide everyone in the organization with easy access to all the information they need to make business decisions, complete projects, collaborate and perform with optimized efficiency.
Benefits of ECM
As mentioned, ECM provides a centralized platform where content can be held and disseminated in a manner that meets regulatory compliance requirements and risk management guidelines. An ECM achieves the latter two benefits by eliminating ad hoc processes that can expose an enterprise to regulatory compliance risks and other potential problems.
Other benefits found in full-function ECM systems include features such as content taxonomies, auditing capabilities, check-in/check-out and other workflow controls and security mechanisms.
An effective ECM can streamline access and business processes, eliminate bottlenecks by reducing storage, as well as paper and mailing needs, optimize security, maintain integrity and minimize overhead. All of these can lead to increased productivity.
Other benefits provided by an enterprise content management system include:
Effective knowledge management (KM) is provided by the organization's ability to create, share and optimize the total knowledge and content held in the ECM system.
Data mining is improved with the data search and analytics tools provided by the ECM system. Search ranges and parameters can also be set, allowing users to narrow their search results and more efficiently find the information they need.
ECM systems can provide organizations with a single source of truth (SSOT) by structuring information so that it is only stored once -- in a secure digital content repository. This reduces the risk of duplication and ensures the entire enterprise has access to a single, approved and authoritative piece of information.
ECM systems reduce costs across the organization by automating previously manual processes, reducing compliance penalties, minimizing storage needs and reducing postal requirements.
ECM software
While ECM systems provide a number of capabilities, companies that want more flexibility in choosing content management tools or don't need all of the components of an ECM suite can purchase one-off applications from software providers to meet their needs. This approach to managing enterprise content, which includes content services applications, platforms and components, falls into the content services classification created by Gartner in 2016.
To differentiate themselves from competitors, some ECM vendors are beginning to market their products as content management systems (CMSes).
The critical goals of ECM software include:
Increasing customer satisfaction by making information readily available and easy to access.
Decreasing storage and operational costs.
Optimizing productivity by making the right information available to the appropriate people whenever they need it.
Enhancing decision-making processes and improving the organization's ability to efficiently take advantage of important opportunities.
Guaranteeing the continuity of business operations through account backups, document version control, secure storage, archives and disaster recovery processes.
Common, key elements of ECM software include:
Content lifecycle management
Workflow management
Document management system
Information governance
Collaboration tools
ECM software enables users to easily convert any paper-based documents into digital information, allowing it to be stored in the ECM system and shared, managed and mined with increased efficiency. The software also helps organizations define their business processes, improve team collaboration, optimize document security and enhance productivity with immediate access to necessary documents. Furthermore, ECM software incorporates disaster recovery planning, allowing organizations to digitally secure and protect their content from theft, fire or natural disaster, while also ensuring operations will proceed as normal in the case of a disaster.
If a programming language must be chosen for the back-end, server-side applications, then the decision should be made based on personal preference and expertise, rather than what the established code base is or what libraries are readily available within the organization.
Some leading ECM software products include:
DocuWare
Laserfiche
Seismic
Veeva Vault
IBM FileNet Content Manager and IBM ECM
DocuShare
DocStar ECM
Oracle WebCenter Content and Oracle Content and Experience Cloud
Future of ECM
Enterprise content management strategies and tools are changing to adapt to the demands of organizations looking for more agility and integration. As technology evolves, ECM platforms add more features.
More organizations are incorporating team collaboration tools into their ECM approach and constant advancements in cloud, mobile and analytics technology continue to increase users' expectations of ECM system capabilities. Automation and machine learning are becoming key counterparts to ECM, and it is becoming more and more likely that cloud deployment will be the key to maximizing an ECM system's effectiveness.
This was last updated in
January 2020
Continue Reading About enterprise content management (ECM)
Dig Deeper on Enterprise content management (ECM) technology