A guide to modern records management challenges
Editor's note
Records management has moved from the black-and-white cycle of capture, retain, destroy into a gray expanse that is bewildering, but also rich with potential. As John Mancini, president of AIIM, stated in an interview with SearchContentManagement.com, "There is this tension between incredible opportunity and the risk that it could degenerate into chaos."
A growing wilderness of information, created and tapped by people who work and collaborate in new ways, has forced records managers to take a much broader view of their responsibilities. Experts agree that information management may be the new imperative, as information governance and records management grow more intertwined than ever and vast amounts of unstructured data require a fresh look at capture and retention.
Enterprise content management (ECM) systems offer some help, but the consumerization of IT and an increasing influx of mobile devices have complicated the records management problem by changing users' expectations surrounding usability. Finding an ECM system with records management capabilities is no guarantee that it will be used effectively in the enterprise -- not without an underlying strategy that takes a careful look at how businesses actually function.
Below, check out our guide on issues related to facing these new records management challenges, as well as our AIIM 2014 conference coverage.
1

Modern records management strategy

To contend with the growing volume of information and the implications of trends like social media, cloud computing and mobility, a modern records management strategy needs to have a broad scope. Large amounts of unstructured data live on social media platforms, on mobile devices and in the cloud, making the lines between records management and information governance less and less distinct, and the challenge of controlling information and adhering to compliance requirements more daunting.
2

Records management tools

Enterprise content management systems and other technologies are often integral to a modern records management strategy. Before selecting or upgrading tools, understand how their features and capabilities match with business needs.

Download this free guide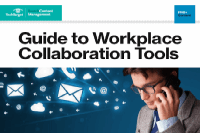 Slack vs. Microsoft Teams vs. 8 More Collaboration Tools
This guide will show you how 10 top tools compare. Learn how tools such as Slack, Microsoft Teams, and Amazon Chime stack up when it comes to features (including private messaging, video conferencing and file sharing), supported platforms, and hardware and technical support.