Get started
Bring yourself up to speed with our introductory content.
Cloud and mobile drove content management trends in 2015
Introduction
SearchContentManagement is now on iTunes. Check out ECM Spotlight to keep updated on the latest content management trends and podcasts.
Cloud computing and increased demand for mobility were major enterprise content management (ECM) trends in 2015.
While on-premises ECM remains the norm, companies are increasingly planning at least some cloud migration, for a variety of reasons. Common motivators include downsizing IT costs, improving mobile support or providing access to more agile, easily updated software.
Cloud file sharing came into its own as an ECM feature in 2015. After years of enterprises coping with their employees' shadow IT practices -- where they might circumvent IT and bring other applications in-house that are easy to use -- ECM vendors made inroads toward integrating cloud file sync and share (FSS) applications, which users perceive as easier to use than traditional ECM software, into the ECM toolkit.
Cloud file sharing is poised to play an important role in enterprise mobility. Enterprises increasingly need the ability to manage files and documents remotely, regardless of device, and cloud file sharing can facilitate that collaboration. Employees have also favored cloud-based FSS because of their ease of use and ease of implementation; these applications tend to be simpler user interfaces and don't require IT approval to deploy. Cloud-based FSS has been particularly beneficial for remote and mobile workers by providing access to information, regardless of a worker's location.
As these technologies mature, the landscape of ECM is changing rapidly, and it presents an opportunity for the ECM market to rethink processes and do things better. But it also creates challenges: For example, Microsoft is pursuing a cloud-first strategy with Office 365, even though its SharePoint collaboration platform has strong market position, and the majority of its users remain on-premises. Balancing those two factors was a key concern for Redmond throughout much of the year.
This guide compiles podcast coverage of the key content management trends and news from 2015, drawing on expert perspectives about the challenges facing ECM and where the industry is headed.
1

Cloud drives new ECM trends

-
Cloud ECM
Enterprise content management (ECM) is increasingly using cloud technology to boost mobility and reduce costs. But that trend creates new challenges and opportunities. The flexibility of the cloud is opening doors for businesses to rethink existing practices and create a more interconnected technology ecosystem, but security measures also need to evolve to ensure that information remains safe and compliant outside the company firewall.
2

Mobile perks and challenges

-
Mobile
The proliferation of mobile devices is changing how consumers access the Web, and it's fueling changes in the enterprise sector as well. Companies increasingly demand technology that displays well, regardless of device, and can improve the effectiveness of field workers. But this also creates new security and design challenges as well.

Download this free guide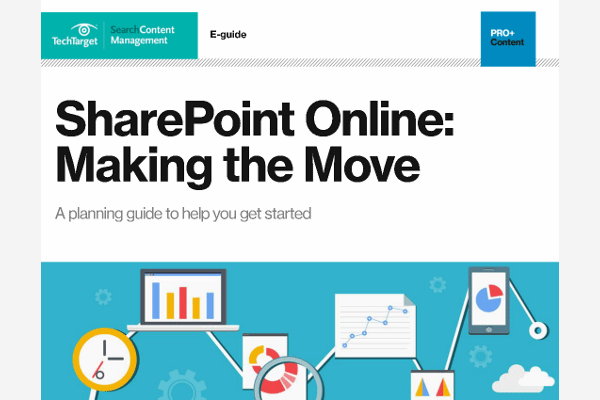 New: SharePoint Online migration planning guide
This expert guide explores 5 key features to know, the pros and cons of making the move, and a 5-step Online portal demo.
3

Cloud drives market changes

-
Vendor news
Cloud and mobile support are increasingly becoming company must-haves, which is disrupting the status quo for ECM and cloud-file-share and sync vendors. Cloud file sharing is a major factor here; vendors recognize that enterprises want user-friendly tools, so consumer file sharing services, such as Box, are increasingly becoming part of the ECM market. Similarly, some legacy ECM vendors are struggling in competition with newer, more agile cloud systems, prompting long-established brands to change hands as the market shakes out.
4

Microsoft's cloud roadmap

-
Office 365
Microsoft is taking a two-track approach to cloud disruption. On one hand, it's pledging continued support for on-premises users of the SharePoint collaboration platform, but cloud-based Office 365 services are clearly the priority. Microsoft is promoting hybrid SharePoint deployments, which draw on both cloud and on-premises technology, as a bridge between the two tracks, using new cloud collaboration features to encourage cloud migration.
5

ECM evolves for new needs

-
Content management trends
User expectations are increasingly driving content management trends, as vendors strive to facilitate a collaborative, user-friendly workplace. That overarching trend requires seamless integration of multiple systems behind the scenes, as ECM adapts to accommodate new techniques and technologies.
6

Collaboration and outreach

-
Social media
Enterprise social media strategies are still maturing in many cases, but there's reason to believe internal and external social content will need to co-exist with ECM and collaboration systems.
Podcast
Enterprise social tools are designed to facilitate interoffice collaboration, but user adoption has been a persistent issue. Will that change with Facebook at Work? Continue Reading
Podcast
A NASA representative discusses how the space agency is using social media content to connect with fans and "bring the online experience offline." Continue Reading