Manage
Learn to apply best practices and optimize your operations.
Navigating the Office 365 and SharePoint hybrid roadmap
Introduction
Enterprises are increasingly looking to the cloud for collaboration and content management tools, and for Microsoft shops that likely entails finding some balance between Office 365 and SharePoint. The two products can fill similar niches for collaboration and content management within the enterprise -- and that overlap can create opportunity; challenges; and, potentially, confusion for Microsoft shops. In many ways, it's a discussion about old versus new, cloud versus on premises.
On the one hand, SharePoint is Microsoft's venerable collaboration and document management platform, with a wide range of mature capabilities and strong market share. But SharePoint has also traditionally been dogged by adoption and usability woes, with limited mobile support.
Office 365 is Microsoft's suite of cloud-based collaboration and content management services. In addition to providing cloud-based versions of longtime Microsoft staples such as Exchange and SharePoint, it comes with a cloud file sharing and storage service. It has also become a testing ground for new lightweight, user-friendly collaboration and business intelligence features, as Redmond pursues a cloud-first approach to development.
Balanced against that consideration, however, is the fact that most SharePoint users remain on premises, with costly deployments that they're either unwilling or unable to mothball in favor of the cloud.
The need to balance Office 365 and SharePoint considerations has seen Microsoft put the focus on improving its hybrid scenario, where Office 365 tools can be used to enhance and augment SharePoint functionality. But combining cloud and on-premises technology comes with new challenges for migration, configuration and licensing.
This guide examines the dynamics between Office 365 and SharePoint, starting with how the two product roadmaps intersect. Hybrid SharePoint is another major focus, with tips for migrating to the cloud and attaining the best possible configuration. Finally, we take a closer look at new Office 365 features, both in terms of functionality and how these capabilities might catch on within the enterprise.
1

The Office 365 roadmap

-
Road to the cloud
The cloud and Office 365 are clearly the priority for Microsoft, but most SharePoint customers remain on premises. This section examines how Microsoft is balancing the needs of Office 365 and SharePoint customers and the role hybrid could play in providing some common ground between the two technologies.
2

Office 365 features

-
What's new in the cloud?
Office 365 has become a testing ground for new collaboration and content management features, which often can integrate with other Microsoft products, but are available exclusively through the cloud. Microsoft Delve, Office 365 Groups and OneDrive have the potential to help companies rethink how they work -- but are workers and enterprises likely to embrace that change? We take a closer look with the articles and tips in this section.

Download this free guide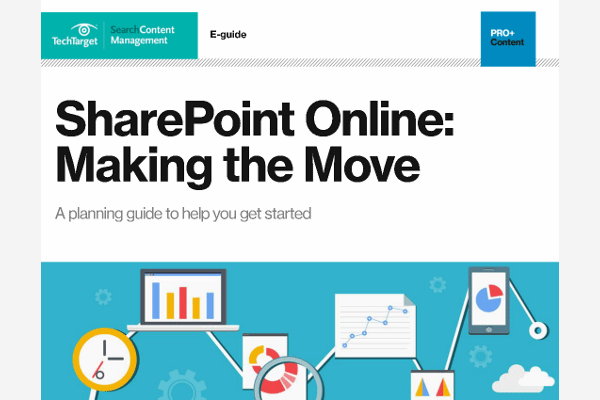 New: SharePoint Online migration planning guide
This expert guide explores 5 key features to know, the pros and cons of making the move, and a 5-step Online portal demo.
3

Office 365 hybrid

-
Migrating to the cloud
Office 365 services can augment SharePoint's on-premises functionality, but going hybrid can also create new challenges for migration, enterprise search and licensing. Get insights into navigating those challenges in this section.
4

The future of SharePoint

-
Office 365 and SharePoint
Microsoft is taking a cloud-first approach with new products and features, but where does that leave SharePoint on-premises users? Improving hybrid experience is expected to be a major focus for SharePoint 2016, but will on-premises users take a back seat to the cloud? Explore those questions and more in this section.
Tip
SharePoint 2016 will bring a hybrid App Launcher and data loss prevention tools on premises, but the overall experience is very familiar to Office 365. Continue Reading
Tip
Microsoft is making good on a mobile SharePoint experience, but users still need to choose a path to get there. Continue Reading
Tip
OneDrive for Business is targeting enterprise cloud file-sharing turf, while leaving more structured collaboration to SharePoint. Continue Reading