 BACKGROUND IMAGE: iSTOCK/GETTY IMAGES
The pros and cons of SharePoint continue to divide users
Editor's note
The pros and cons of SharePoint continue to pull users in different directions. Some companies have benefited from the new capabilities of SharePoint Online, while others languish in a mire of poor usability.
Despite maintaining a huge segment of the content and collaboration market, SharePoint has some major downsides. Organizations that have a well-established on-premises SharePoint deployment seem to have suffered the most, as their high hopes for the platform's evolving capabilities have been dashed. SharePoint has transformed in many ways since the 2010 version but it's clear that Microsoft has a long way to go in addressing usability issues and managing users' expectations.
This guide takes a comprehensive look at the pros and cons of SharePoint, from its promising cloud version, its new eDiscovery functionality and workflow capabilities, to the management gremlins that continue to afflict users. We also take a look at what users can hope for in SharePoint 2016.
1

Can Microsoft resolve SharePoint's usability problems?

Despite the platform's widespread adoption, both the on-premises and online versions of SharePoint 2013 continue to have major usability problems. The articles in this section explain some of these functionality issues and explore how Microsoft may address them in the near future.
2

Advice for making the most of SharePoint

While SharePoint 2013 has its downsides, companies will continue to use the platform. Here are some tips for making SharePoint a more valuable part of business processes, including how to handle two of the largest challenges facing all ECM systems: information governance management and content accessibility.

Download this free guide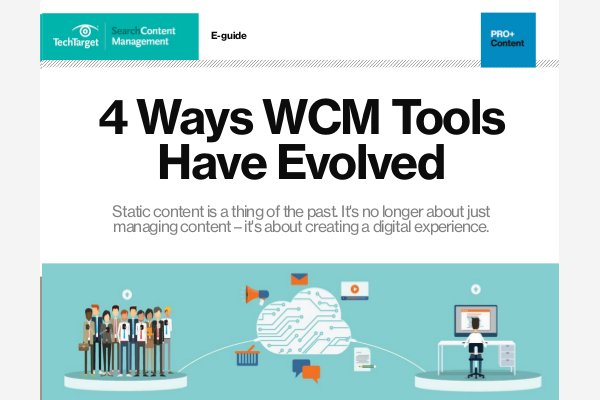 New: 4 Ways WCM Tools Have Evolved
Uncover 4 ways WCM has evolved into digital experience management (DEM), 4 steps to help you plan your own DEM initiative that drives action on your sites, how AI-assisted image and video search is the next content frontier, and more.
3

What does the future hold for SharePoint?

In general, enterprises are moving their business applications to the cloud. What does this mean for SharePoint? And what does the next version of SharePoint have in store? The articles in this section provide some answers for companies that are trying to decipher the SharePoint roadmap.