Fotolia
A personalization engine comparison: Acquia, Evergage, and Google
A personalization engine can help provide a better customer experience. Expert Geoff Bock helps break down the differences between Acquia Lift, Evergage and Google Optimize.
As a business leader, you are continuously retooling your company's digital presence to better engage customers,...
Continue Reading This Article
Enjoy this article as well as all of our content, including E-Guides, news, tips and more.
raise brand awareness and reinforce business objectives. You are already managing your web content and building out your CRM capabilities, and you have various efforts underway to automate key marketing activities.
Now it is time to get personal with a personalization engine. You want to target the content you deliver to your customers and prospects based on what you know about them and what you believe they might need. After all, personalization programs lead to increased revenue -- 6 to 10% in financial services, and certainly similar amounts in other industries. You're also looking to control over-messaging customers with blanket promotions, which will also cut down on media buys.
How can you capitalize on existing investments to make your digital presence more relevant to your target audience? The answer is by automating personalization.
Innovative, cloud-based capabilities
Personalization engines represent a new class of software that bundles capabilities for sorting, selecting and targeting content delivery based on knowledge of the intended audience.
A personalization engine can run in the cloud and is designed to augment existing investments in digital experience technologies. They include:
connections with collections of curated content;
profiling capabilities to segment audiences into targeted groups;
decision criteria for automatically taking action; and
techniques for real-time testing to optimize personalization.
Multiple personalization engines are now coming to the market. We compared the key capabilities of three -- Acquia Lift, Evergage and Google Optimize. Here is our assessment of things you should consider.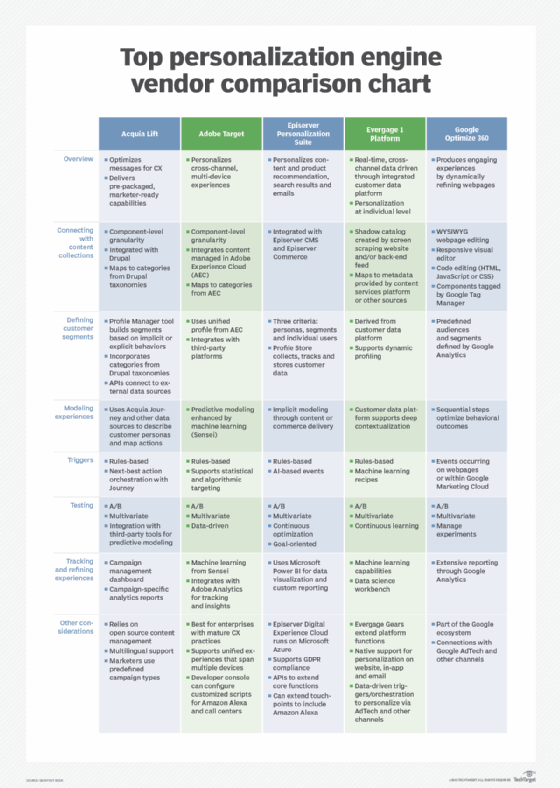 Pricing for a personalization engine ranges from free (for the basic version of Google Optimize) to several thousand dollars per month, depending on the size and scope of the implementation.
Modeling and personalization strategies
Don't let price be the driving factor. The real cost of personalization is the upfront investment to model how you want to engage with your customers and assemble the experiences you want to deliver.
Building audience profiles from disparate data sources -- some generated by internal company activities and others acquired from third parties, such as data brokers and online publishers -- takes time, effort and some funding. Personalization requires access to a lot of content.
Equally important are your overall personalization strategies: how targeted dialogues can engage your customers, increase revenues and customer satisfaction, and justify the required investment.
It is best to start with two or three defined situations to explore personalization outreach. Pick examples for which you can easily acquire the information you need to segment your audience into meaningful groups and target content delivery. Test your personalization strategies to see what works. A personalization engine provides the enabling technologies to experiment with multiple approaches and optimize the ones that are best for your business.
And remember, personalization requires continuous iteration and testing. Once you have established the beachhead with these starter situations, expand on the best approaches -- replicate what works well in each successive scenario. The real investment is building your organizational expertise to know how to model personalized experiences to achieve your business objectives.
Dig Deeper on Enterprise content management (ECM) technology