Evaluate
Weigh the pros and cons of technologies, products and projects you are considering.
Beyond dollars, cents for a business case for mobile content management
When making the business case for mobile content management, the ubiquity of smartphones and tablet PCs makes it especially important to consider other elements beside cost to determine real value.
Mobile content management is increasingly attractive to today's forward-looking organizations and is gaining traction. In fact, as companies discover the value in enabling information workers to do enterprise content management (ECM) on their mobile devices, the number of companies giving all staff members smartphones is gaining on those doing the same with laptops.
One-tenth of all respondents to a recent AIIM International survey are issuing smartphones to nearly all of their staff -- a figure within shouting distance of the 21% that are giving all their people laptops. Corporate budgets today being what they are, this kind of spending substantiates just how mainstream the devices have become.
And while such numbers illustrate a growing need for mobile content management at many organizations, managers must first make the business case.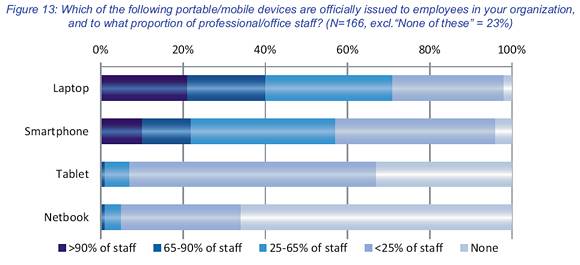 The first step toward making mobile ECM possible is justifying both the money and time required. This is no different than it is in any other corner of the IT world. But the ubiquity of smartphones and tablet PCs today means you need to consider elements beside cost to get the greatest value from mobile business uses and devices and make a case for them.
Well, that was easy!
The cost side of the equation is probably the most straightforward part of the process. The Staples catchphrase notwithstanding, it is rarely a good idea to describe anything as being "easy" because of the unrealistic expectations it engenders. In fact, properly researching prices for software licensing, maintenance, support and skill sets, as well as for servers, storage units and other required hardware, takes you a long way toward figuring out what your hard-dollar total cost of ownership (TCO) is likely to be.
From here, most organizations fixate on their expected return on investment (ROI), which boils down to figuring out how long it will take to recoup in savings what the system cost to implement. The problem is that this approach, as does TCO, tells only part of the story. For one thing, ROI focuses on one single point in time -- that point at which financial equilibrium is reached. For another, the word "total" in the term TCO suggests that there is a time at which no more costs will be incurred, and we all know that just isn't realistic. But these are relatively straightforward to calculate, and so they have dominated business justification for many years.
Welcome to the rock (and the hard place)
More than a decade's worth of Holly Group research into information management best practices has made clear that these two standard economic benchmarks need to be complemented by two others: one focused on process change and the other on collaboration.
To be sure, introducing mobile devices into the enterprise content management ecosystem is going to have a dramatic effect on the way people work and the way they work together. Your business case must take this into account. That's because the greater efficiencies and more effective communication that they enable might return significant benefits in terms of customer service, purchase authorizations or other tougher-to-quantify measures. And these might be worth spending a little extra money to achieve.
Charting and quantifying these two components is no simple task, not least because every organization is different and overall industry benchmarks only go so far. Conceptually, these tasks start with the equivalent of following a piece of paper from the moment it enters the organization until it comes to rest in a repository or content archive. This, in fact, is the hard part, because the processes tend to be intertwined, and the communications webs ferociously complicated. Introduce a client-side device that is designed to be used anywhere, at any time, and you can see how mobility can greatly ratchet up the complexity level.
A mission of maximum total value
Whichever way you approach it, your objective as the maker of the business case is to pave the way to derive maximum total value from the mobile content management process you implement.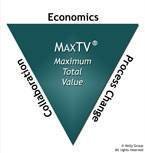 In many ways, the great reach and penetration of mobile devices makes it easier to apply this philosophy than in environments where more conventional infrastructures are involved. The reason is mobile technology promises to extend business processes -- and thus the ability to leverage content -- in a way few others can, and it throws open the door to new ways for people to collaborate by making it simpler and more accessible than ever before.
Focusing on the economic measures of ROI and TCO is certainly important, and would be even more so if more organizations ever went back to see if actual experience bore any resemblance to expectation. But rolling process change and collaboration into the work enables you to gain a better understanding of what a solution's true value could be and sets the stage for turning that potential into performance.
ABOUT THE AUTHOR
Steve Weissman provides guidance and professional training on content, process and information management. Weissman is president of the AIIM New England Chapter and principal consultant at Holly Group. He can be reached at sweissman@hollygroup.com.
Dig Deeper on Enterprise content management (ECM) workflow