Fotolia
Inside Cosabella's digital marketing transformation
Before choosing AI technology to transform its digital marketing efforts, Cosabella reshaped its organizational structure and brand message to get the most out of its new software.
High-end lingerie company Cosabella strives to combine product quality with comfort. And, like its products, the Miami-based company wanted its digital marketing efforts to be more up close and personal.
Roughly three years ago, the 35-year-old company undertook a digital marketing transformation. Cosabella restructured its organizational departments, better aligned its core campaign and invested in AI technology that would boost its digital marketing capabilities -- specifically dealing with direct-to-consumer purchasing.
"The way marketing was defined before the digital transformation, [the marketing department] was in charge of photos and catalogues and campaigns, but there was no technical side to it; no analytics or tying it back to ROI," said Courtney Connell, Cosabella's marketing director at the time of the interview. "There [was] no tracking things from a digital perspective in a meaningful way. We were creating the material, but didn't have the data to understand the best strategy."
'There was a lot of disconnect'
When Connell arrived at Cosabella roughly three years ago, she saw a disconnect between departments, resulting in too much focus on wholesale, while direct to consumer was put on the back burner.
An advertising company was hired to increase consumer revenue, but after a brief growth stint, the results plateaued.
"Our e-commerce team, our communications department and marketing were all totally separate and, sometimes, in different countries," Connell said. "There was a lot of disconnect. We'd be trying to launch a product online and marketing wouldn't have the images ready -- some silly things like that."
Cosabella spent the first year of the digital marketing transformation combining all three departments, so they would receive the same information and be on the same page. This structural change went a long way toward providing efficiency and a clearer message for those inside Cosabella, Connell said.
"We had direct to consumer and wholesale in mind at the beginning of the calendar, rather than wholesale at the beginning and direct to consumer at the end," she said. "Merging those departments broke down the walls of that data."
Breaking down silos
While Cosabella restructured its organization to better serve its digital marketing transformation, there was still a need to get everyone preaching the same message.
"It's funny. Everyone would probably tell you that we know what our non-negotiables are as a brand, and who our target audience is," Connell said, "but when you get everyone in the room, everyone says something different. It's interesting to see that kind of thing happen, and it happened because of those silos that existed."
"Digital transformation like this has to be done by someone at the C-suite [level]," said Raj Thangavelsamy, vice president of SSA & Co., a New York-based management consultancy. "It's very important -- you don't want a transformation like this to be driven by technology."
Making sure the organizational structure and brand message are in place before investing in technology is crucial, according to Thangavelsamy, as certain technologies -- including AI software -- have the ability to change how businesses are structured. Understanding those potential changes and working to adapt to them are important steps in getting the most out of the technology.
"Focusing on the business aspect and building out the skill set is very important," Thangavelsamy said. "Then, the technology part is the easiest part -- that's just finding partners you can rely on."
'Throw something in there and trust the AI'
Last year, after securing an overall brand message and instilling the new organizational structure, Cosabella began to look at technology that would help disseminate that message and drive revenue. Having previously used an outside ad agency to work with direct-to-consumer sales, Cosabella made the drastic switch to having AI software run its entire digital marketing department.
"Once we cut ties [with the ad agency], we had three options," Connell said. "We could hire a new agency, we could hire more in-house talent or we could take a look at the AI sector to see if [was] mature enough to not be cost-prohibitive for a brand of our size, while also being mature in what it [could] do."
Connell and others examined the array of vendor offerings before settling on three separate systems: Adgorithms for acquisition AI, Sentient for on-site AI and Emarsys for customer relationship management functions. These implementations began in Q3 of last year, before launching in October.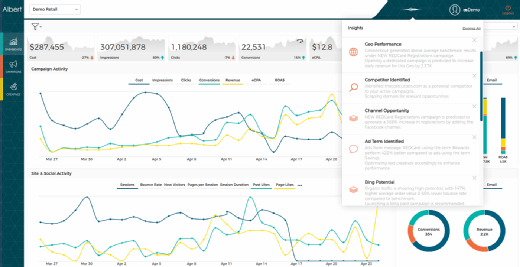 Adgorithms' AI marketing platform, named Albert, was in charge of Cosabella's digital marketing campaigns.
"We saw an immediate day-and-night change," Connell said. "We went from plateauing, to double-digit growth from the previous year."
In addition, Connell said the technical side of things was an easy transition, and that there was more of a human transition to get the most out of the digital marketing transformation.
They could throw something in there and trust the AI, and if it made money, it would get more budget, and if it didn't, it would just get phased out.

Courtney Connellformer marketing director, Cosabella
"We went as far as having classroom sessions, talking to [the] team about how this was different," Connell said, referring to the new digital marketing campaigns. "They were no longer creating a complete ad and passing that to an ad agency. Instead, they're giving all image and copy possibilities to the AI, and the software will experiment."
Connell said that it provided a different perspective for her marketing team, allowing them to experiment with more ideas, with the knowledge that they didn't always need to be right.
"They could throw something in there and trust the AI, and if it made money, it would get more budget, and if it didn't, it would just get phased out," Connell said.
'We had better campaign ideas'
While some industries are still inching toward AI use cases, Thangavelsamy said that retail is one area where there is enough data and functionality that you can see the outcome of entire digital marketing transformations like Cosabella's.
"For AI to be effective, you need the richness of the data and that feedback loop that keeps providing it, and [retail] is an environment where you have both," he said. "There's a lot of data on customer behavior, and it promotes a great environment for digital transformation because the ecosystem is mature."
And while Connell had to reteach the digital marketers how to work with AI, rather than against it, there was little pushback due to the aforementioned restructuring.
"If we were disjointed and had isolated departments, there would have been pushback," she said. "But we streamlined our communication and goals. Our CEO and COO were directly involved with these decisions."
The folks at Cosabella still have some functionality to figure out -- mainly how to get the three separate AI systems to better interact with each other -- but the company's digital marketing transformation has improved marketing campaigns.
"When we implemented AI, my team had more time to focus on creating better content and being creative," Connell said. "We had better campaign ideas and strategies."