Manage
Learn to apply best practices and optimize your operations.
Office 365 cloud product includes fully customizable SharePoint Online
Microsoft Office 365's collaboration platform, SharePoint Online, offers excellent opportunities for business customization and modification capabilities, according to consultant Shawn Shell.
By now, most content management professionals have heard of Microsoft's Office 365 cloud offering. It comprises four distinct software products: Exchange, Lync, SharePoint (all hosted on Microsoft servers at datacenters around the world) and Office (which exists on users' local PCs). One of its best features is that the collaboration platform, SharePoint Online -- based on SharePoint 2010 -- offers many valuable customization capabilities.
In fact, of the three cloud-based products, SharePoint Online offers the greatest opportunities for business modification to aid enterprise content management and collaboration.
Initially, you're provided with little more than the base SharePoint 2010 configuration. From there, users can customize and design specific tools to fit many business needs.
For example, there might be a particular project various business units are working on that would benefit from a series of sites, or it might make sense to create templates of sites for later use. It could also be useful to integrate other business systems with SharePoint, or the aim could be to develop and deploy custom code to automate a certain process across all sites in a SharePoint farm. Whatever the case, the basic SharePoint environment offers information professionals many options to build a structure to satisfy today's enterprise collaboration desires. What follows are a few scenarios that illustrate some of the opportunities for tailoring SharePoint Online.
Create, configure and go. At a basic level, let's say it is time to create a straightforward intranet presence for the organization. By following these steps, a firm can implement an effective internal communications hub:
First, create a site collection, which is the basic unit of organization for a SharePoint environment. Each site collection will have a root. When you create the site collection, you're given the choice of what type of root site to build. In this example, I've chosen the Team Site template.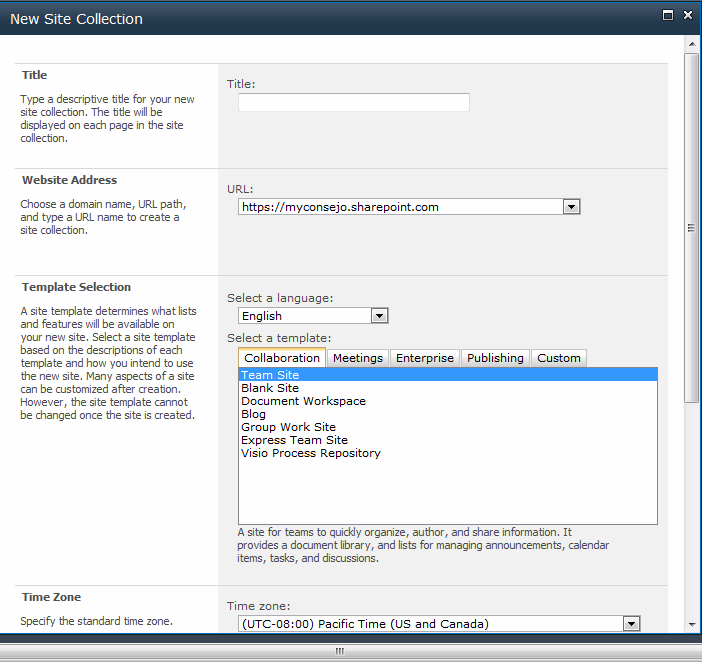 Next, create a site structure. Once the site collection is in place, you can create a series of sub sites that define the overall structure. In this example, it's possible to create a sub site to house all department information (or a collection of individual department sites). After that, you can create another sub site to act as a global document repository. Keep in mind that it is possible to create any overall structure necessary to meet an organization's needs.
Finally, create lists and libraries. Once sites have been built, it's possible to add other lists and libraries to each site as necessary. For your document site, you might add one document library for documents and a separate slide library to hold standard presentation slides. The human resources department's site might need a form library to hold standard electronic forms or a wiki to let HR easily create and update company policies.
Microsoft provides a number of predefined structures within Office 365; however, many of these constructs are too generic. As a result, SharePoint administrators should carefully plan and structure the environment based on the firm's needs. Also, the overall structure of an organization's SharePoint environment effectively defines its taxonomy -- how content is organized -- and should be tailored and aligned with the company's makeup.
Design customized site and list templates. When the standard site and list templates do not fit enterprise objectives, they can be modified and saved as more appropriate templates. Bespoke site templates are stored as SharePoint solution files, or WSPs, in the User Solutions gallery while lists are typically kept as STP files in the List Template gallery. Both galleries can be accessed through Site Settings at the Site Collection level, and both types of files can be accessed from any site within the collection or downloaded and transferred to other site collections in your Office 365 environment. They can even be downloaded to an on-premises instance of SharePoint.
Saving a customized list or site as a template just takes a few steps.
To save a new list template, navigate to the list; once you're on the default page for the list, click on the Library tab, under Library Tools in the ribbon. On the far right side of the ribbon, click on Library Settings. Within List Setting, click "Save document library as template," under Permissions and Management. Then provide a file name, a template name and a description before clicking OK. Your template will then appear with the standard list types.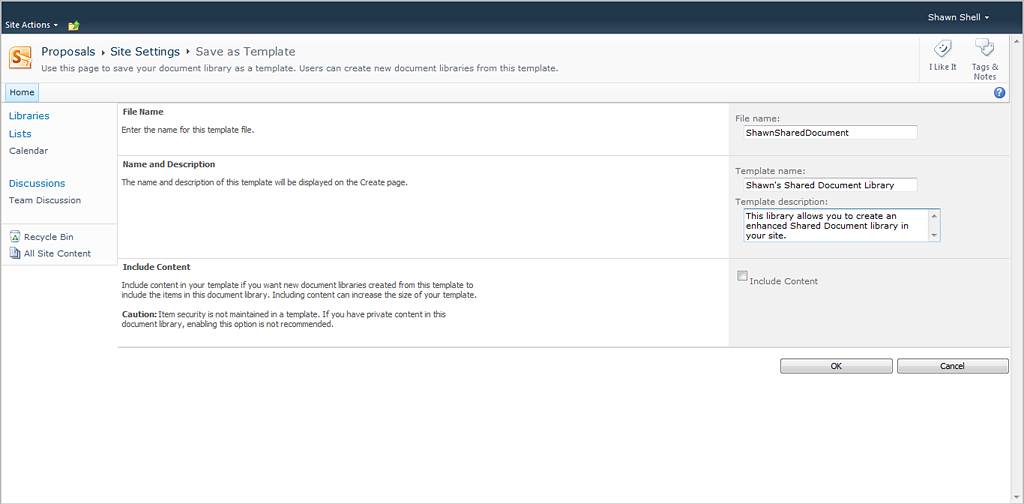 To save a newly created site as a template, you'll find the option in the Site Settings interface, under Site Actions. Keep in mind that not all sites in all situations support being saved as a template, but most basic types do.
Gain access to external data. One of the most customizable aspects of SharePoint Online is the Business Connectivity Services (BCS) application. This feature allows users to connect their cloud-based SharePoint environment to other data sources such as an ERP system. Once connected, data from that system can be displayed through Web parts within SharePoint. All data is presented and managed in what SharePoint calls an "External Content Type."
To begin, you'll need to open SharePoint Designer 2010, which enables a process to create a BCS External Content Type. Open the site in SharePoint Designer and click on External Content Types, under the Site Objects list, to the left. Next, click on External Content Type in the ribbon to create a new definition. SharePoint Designer will create a basic definition, then users add all of the specific details to enable SharePoint to connect with the external system.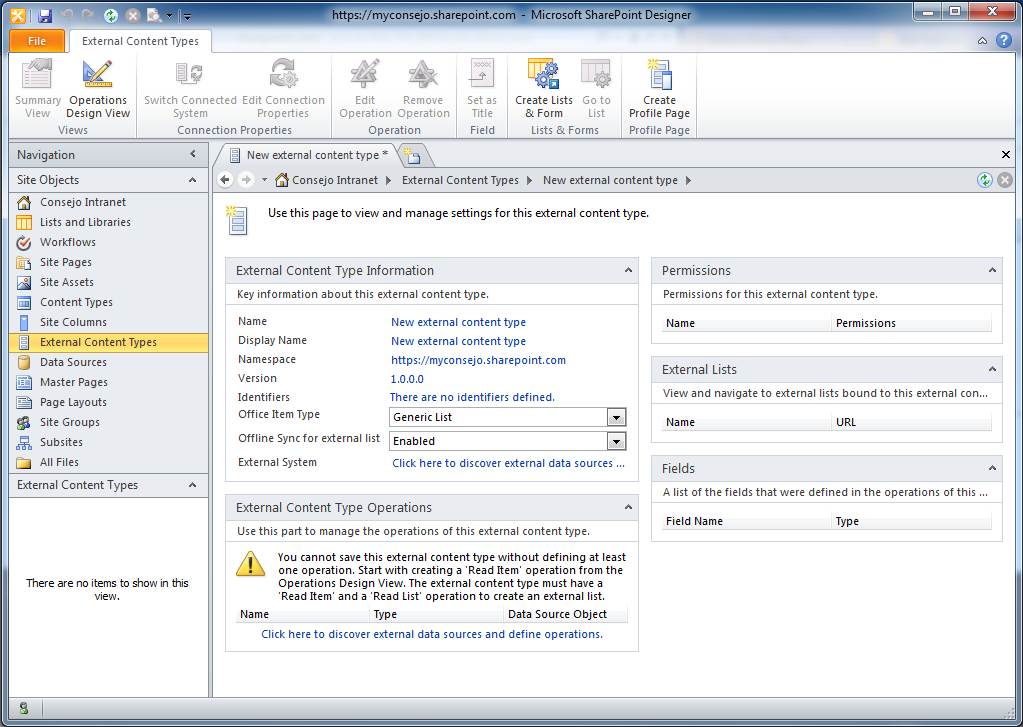 In the current release of Office 365, BCS can only connect to Web service-enabled data sources (listed as WCF when choosing your connection type). However, this approach enables connection to a myriad of data sources, including third-party data like geolocation services, financial market data or other data, such as public data sets accessible through Amazon's Web service platform.
Development is another customization option. In the latest version of SharePoint Online, Microsoft has provided a mechanism to deploy custom code. While not every organization has developers on staff, there are customization opportunities if the resources exist. The most obvious opportunity is the ability to create a new master page to change the visual design of the standard SharePoint site. Visual design customization is key to making a new Office 365-based SharePoint site match the color palette and overall design aesthetic of an organization. If you need a new Web part, you can do that as well.
In Office 365, Microsoft has created a "sandbox" concept. Through the sandbox, you can create new Web parts, event handlers and other site collection-bound customizations. The customized files are stored in the User Solutions gallery (along with customized site templates) for use within a site collection. The WSPs can also be downloaded and installed in other site collections within the user's control.
Office 365 provides many services to businesses of all sizes, but Microsoft understands that a one-size product does not fit all requirements. With SharePoint Online, however, small organizations and large enterprises have the flexibility to adjust the collaboration environment to their specific needs whether satisfying simple organizational arrangements or more complex, development-based frameworks.
SharePoint Online offers wide array of customization capabilities
There's a lot more to SharePoint Online's customization opportunities. The latest version of SharePoint gives organizations the flexibility to create systems specific to their needs. Beyond site templates, integration capabilities and developing code, it's possible to customize other aspects of SharePoint. Users can do the following:
Change what is stored in user profiles.
Enable the Content Organizer to automatically "file" documents in different locations based on metadata.
Create a corporate metadata scheme using Managed Metadata Services.
Associate a specific document template with a library.
Create customized workflow for content within SharePoint.
Create content type policies to enable automated information management like deleting old files or starting a review workflow after six months.
About the author:
Shawn Shell is the founder of Consejo Inc., a consultancy based in Chicago that specializes in Web-based applications, employee and partner portals, and enterprise content management.