SharePoint 2013 search, metadata-driven navigation simplify structure
SharePoint expert Shawn Shell explains the metadata-driven navigation features of SharePoint 2013 search and how SharePoint users can benefit.
One of the enduring challenges for most Web content management tools is the conflict between the physical nature of storing content and the logical relationship between much of that content on a website. The SharePoint collaboration and content management platform is no exception.
End users have always had to create physical sites and libraries to store SharePoint content. This physical hierarchy also represented the foundation of navigation and, effectively, the information architecture of any SharePoint-powered Web application. While it is generally considered a tried-and-true approach, there are many circumstances where physically locating content in a specific navigation branch causes problems for SharePoint 2013 search tasks. For example, on product sites, various product pages need to appear under different navigational headings because they can be associated with multiple product categories.
In such cases, the content can and should be logically associated with multiple branches. SharePoint 2013 helps make that possible by combining the updated SharePoint search engine (which borrows primarily from FAST Search Server technology that's now completely integrated into the new release) with Microsoft's Term Store Manager.
Anyone who has used the Term Store Manager, introduced in SharePoint 2010, can attest to the feature's usefulness when tagging content. It enables the creation of a controlled vocabulary that can be applied as values for various metadata fields. That works equally well for documents and Web content and improves overall content "findability" when combined with an enterprise search tool. By mixing the two technologies, SharePoint 2013 enables you to use the term store to define the hierarchy of your site and create multiple branch affinities for content.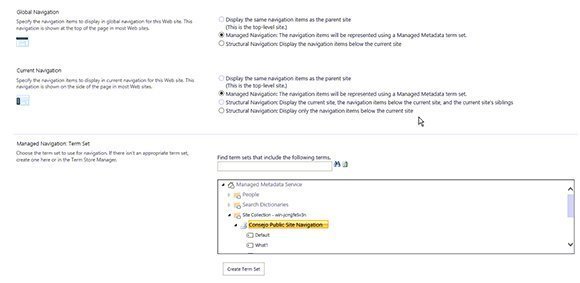 When SharePoint 2013 site creators want to set up a navigation framework, they'll see a number of options. It's possible to choose the more traditional physical approach and create navigation paths from the site hierarchy. Or if more flexibility is needed (and you want to take advantage of "friendly" URLs), you can use a new Managed Navigation option. Site creators who feel particularly adventurous can take a mixed approach, using the best of both methods.
Getting ready for navigation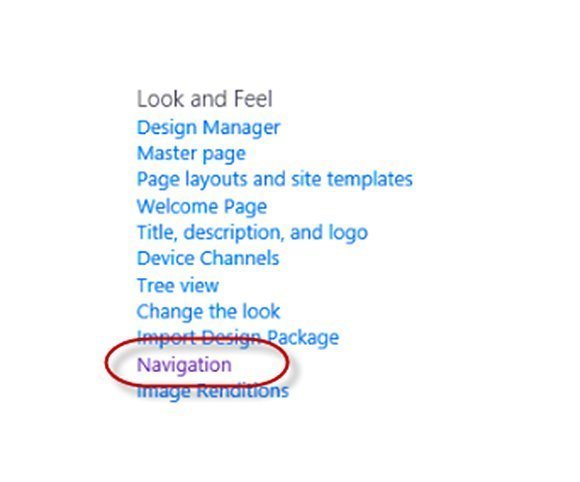 Setting up navigation for a site using the new version of the platform is relatively easy. Like SharePoint 2010, the 2013 release has a "publishing site" capability that comes with all of the appropriate features enabled. Once a site has been provisioned, go to the Site Settings page; the navigation setting option is located in the same place it was in SharePoint 2010, right under the "Look and Feel" heading.
Once at the navigation settings interface, SharePoint 2013 site creators will see similar options to those in 2010. The big difference is there's a third option, which is managed navigation. Choosing it enables you to reuse an existing term set or create a new one to represent your site; on-the-spot term set creation is enabled through an editor conveniently linked to a button beneath the term set viewer.

One key configuration option to note for SharePoint 2013 search capability is the default navigation setting below the term set display. By default, SharePoint will automatically create navigation paths based on the names of pages. In some cases, this approach to SharePoint search might be desirable for default pages in a section of your site. But for most pages, turning this option off will allow you to manually create term affinities for individual pages and better control the way the navigation develops.
Creating pages and associating terms
Like SharePoint 2007 and 2010, SharePoint 2013 uses a Pages Library for storing most webpages. On a site, all pages get created in the library, and depending on your navigation settings, friendly URLs may also be created. In either case, in SharePoint 2013 friendly or term-based URLs are managed using a new option in the Page ribbon (viewable when on a page).

As its name suggests, clicking on the new Page URLs button gives administrators access to the interface for manipulating URLs. Users then can create the affinity between a page and one or more terms. Again, this is a very different model for a site's information architecture. It is possible, and easy, to display navigation to any page through multiple navigational paths. Not only does this better encourage page-level content reuse, it also enables better site management by reducing the steps needed for changing and adding navigation paths in your site to better suit your audience.
SharePoint search power
What is most compelling about this new model is it's powered by SharePoint 2013 search functionality. Search-powered navigation is nothing new, but it's a big step for Microsoft. That's because every Web content management product the company has developed over the last decade or more has relied exclusively on a physical structure. Further, a new "continuous crawl" mode for SharePoint search enables Microsoft to overcome search-powered navigation and content publishing challenges that traditionally plague the approach, such as search indexes becoming stale between crawls. Using continuous crawl means neither new navigation nor content would be excluded from the site between scheduled crawls.
It's unclear how widely used the new search-driven features will be. SharePoint 2013 is still very new, having just been released at the end of last year. And many larger user organizations are just now completing -- or starting -- upgrades to SharePoint 2010. Yet making this organizational approach available might lead administrators to create more SharePoint-powered sites.
About the author:
Shawn Shell is the founder of Consejo Inc., a consultancy based in Chicago that specializes in Web-based applications, employee and partner portals and enterprise content management. Email him at [email protected]