 BACKGROUND IMAGE: iSTOCK/GETTY IMAGES
Evaluate
Weigh the pros and cons of technologies, products and projects you are considering.
SharePoint features list in 2013 release includes e-discovery upgrade
Microsoft MVP Brien M. Posey explains the new e-discovery features of SharePoint 2013 and how SharePoint administrators can put them to use.
Over the last decade or so, organizations of all types have had to comply with an increasing array of regulations and accompanying legal requirements that revolve around retaining various types of electronic records. This has been particularly problematic for SharePoint administrators, who have not had a good way to find, preserve or manage specific types of regulated content without investing in third-party software -- until now.
That isn't to say that the SharePoint features list in previous versions of the collaboration platform didn't include any e-discovery tools. SharePoint 2010 introduced a set of crude legal hold and e-discovery capabilities so administrators could place holds on SharePoint sites to prevent content relevant to legal cases from being removed or modified. The admins could then use a search function to look for data related to a specific subject.
But such discovery and hold capabilities have been greatly improved in SharePoint 2013, which is now in general release.
The biggest change comes in the form of added support for Exchange Server, and that should be good news for SharePoint administrators because many of the e-discovery requests that organizations receive and the regulations they must adhere to specifically focus on email. While Exchange Server has long had built-in hold and e-discovery features of its own, discovery and retention tasks for Exchange and SharePoint had to be managed separately. But with SharePoint 2013, a new feature called the Discovery Center enables admins to enforce holds and perform queries and exports of both Exchange and SharePoint data simultaneously.
The new approach has also been designed to make using these SharePoint features less disruptive.
A hold preserves site pages, subsites, libraries, documents and data lists within the site. The problem with this is that business users still need to be able to do their jobs. So the new In-Place Hold feature in SharePoint 2013 preserves data as it exists at the point in time when a hold is instigated but also allows users to continue to work with and update information.
This functionality is made possible with a copy-on-write function. When an administrator places a hold on a site, content is locked down for retention. If a user does modify or delete data that has been placed on hold, SharePoint makes a copy of the unmodified data and moves it to a Preservation Hold Library that is invisible to end users. This approach also helps to preserve storage space, because data is only copied if it is modified. Unchanged data remains in its original location within a SharePoint system.
Some assembly required on the SharePoint Discovery Center
As strange as it might sound given its potential importance to organizations, the Discovery Center is not a default program in SharePoint 2013. You need to build a special site collection to enable the feature.
To do so, open the SharePoint Central Administration console and click the Create Site Collection link. When SharePoint takes you to the Create Site Collection page, enter a name and an optional description for the site collection. As you scroll further down the page, you will see a section labeled Template Selection. Select the Enterprise tab and then click the Discovery Center option, as shown in Figure A. Now, specify a primary site collection administrator and click OK to create the site collection.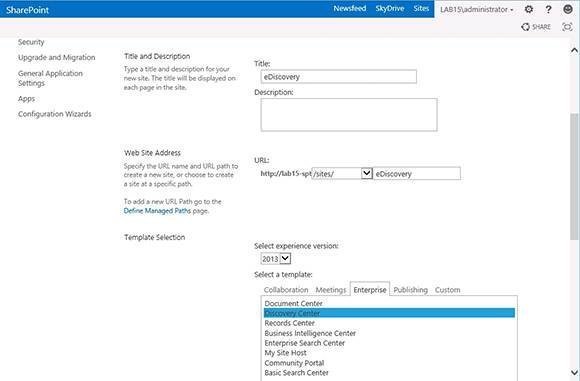 You must select the Discovery Center option on the Create Site Collection page to enable the new feature.
When the site collection has been created, you will be taken to a page with a link to its top-level site. Click the link to access the Discovery Center on that site; you can see what it looks like in Figure B.

This is the home page for the SharePoint Discovery Center.
Building a "case" for e-discovery
The next step in the process is to create a "discovery case." In this context, a case is a logical object that acts as a container for holding things like queries, preservations and content. Microsoft's intention is that you will create a separate case for each litigation or audit.
Creating a case is simple: All you have to do is to click the Create New Case button and then follow the prompts. It is worth noting that creating a case is only the first step. Once you have done that, you have to create one or more discovery sets within the case. A discovery set is another logical container that is used to specify a site on which you want to place a hold and process an e-discovery request.
The added e-discovery capabilities in SharePoint 2013 illustrate a growing range of SharePoint features and far exceed the legal hold and discovery capabilities in SharePoint 2010. The ability to create non-disruptive holds is a welcome development for SharePoint administrators, as is the ability to perform e-discovery against Exchange and SharePoint simultaneously.
ABOUT THE AUTHOR
Brien M. Posey is a Microsoft MVP with two decades of IT experience. Before becoming a freelance technical writer, Posey was chief information officer for a national chain of hospitals and health care facilities and a network administrator for insurance companies and the Department of Defense.