 BACKGROUND IMAGE: iSTOCK/GETTY IMAGES
Evaluate
Weigh the pros and cons of technologies, products and projects you are considering.
Web content management software for the new pace of business
Web content management software is helping companies speed up online publishing. But WCM tools can disrupt existing business processes.
As online information moves ever faster, companies are trying to keep up with the new pace of business. Delivering more targeted information to audiences -- and faster -- has prompted companies to turn to Web content management software, or WCM.
WCM tools help companies create and manage Web pages. They use page design templates that eliminate the need to individually code each page that is published, saving time and money, and putting page design in the hands of nondevelopers. Other methods, such as personalization of content and search engine optimization, help improve site navigation and content delivery. WCM tools can also perform critical document management functions, including creating an audit trail of various site activities like user document downloads.
Reliance on WCM systems for a variety of business drivers -- improving customer experience, improving site navigation and content visibility, and even compliance and audit trail capabilities -- is prompting companies to buy WCM software. In an October 2013 SearchContentManagement Readership survey of more than 900 IT professionals, nearly 40% of respondents anticipate an increase in WCM spending over the next year.
Web design gets easier
For many companies, one of the biggest benefits of Web content management software is that WCM templates let nontechnical people publish content.
You don't have to understand HTML to format a page the way you want it to look.

Kim Reavesmanager of digital marketing, NACCO Materials Handling Group Inc.
After having a "nightmare" experience with SharePoint -- where the company wanted WCM capabilities like sharing content across site collections that Microsoft's suite didn't provide at the time -- NACCO Materials Handling Group Inc., based in Cleveland, Ohio, decided to purchase new WCM software in 2011. NACCO ultimately settled on Ektron after weighing it against competing technologies, including Sitecore, Tridion and MOSS 2007. The winning factors were ease of content management and the ability to target certain audiences, said Kim Reaves, manager of digital marketing at the company. Ektron's easy-to-use page templates democratize the online publishing process.
"You don't have to understand HTML to format a page the way you want it to look," Reaves said.
As a result, NACCO's marketers and other nontechnical people can post and edit content without relying on developers. Site templates enable content authors to publish pages while also ensuring consistent site branding and look and feel. Widgets also allow easy publishing of video, which is a feature on several product pages at NACCO.
"It is easy to create content for different regions without reinventing the wheel," Reaves said.
Templates create serious time savings as well. Winnipeg, Manitoba-based IC Group creates interactive company promotions and sweepstakes websites. The company's WCM system replaced previously custom-developed and resource-intensive processes.
"We wrote our own [code] in the past" said Sean Henderson, IC Group's development manager, customer solutions. "But our specialty is delivering online promotions, not building CMSes [content management systems]."
With Telerik's Sitefinity product, Henderson and his team can build interactive promotions based on templates, though custom functionality is often built on top of that. For example, promotions can feature headers, logos and banners, but a linkable Facebook or Twitter button on the promotion has to be custom-built.
"We can maintain a baseline functionality without creating that from scratch," Henderson said.
With Sitefinity, the company saved 90% on test and development of promos and reduced turnaround time from eight weeks to five to 10 days. But gaining these benefits has required instituting new business processes. The agencies with which IC Group works, for example, need to understand the benefits of standardizing some design over customizing every feature.
"That's been one of our struggles," Henderson said. "Trying to put a box around [certain standards], and saying 'These are the rules you have to play by.'"
Mobility and localization
Creating content for an increasingly mobile world has also become a critical feature of WCM tools. At Behringer Harvard, a financial services firm based in Addison, Texas, the "create once, publish anywhere" principle of responsive Web design is part of the appeal of Ektron, which the company first purchased in 2007. Ektron's latest release is built on HTML5, which enables responsive Web development.
"We can create the site once, and it will work on a range of devices," said Kent Barner, Behringer Harvard's senior vice president and chief information officer.
Ektron's smart forms also enable the "create once, publish anywhere" principle, where multiple pages can share content, including text, images, banners and so on, without having to recreate the content from scratch. This also aids in the localization of pages for different regions.
Targeting content with WCMs
At Cbeyond, a cloud and networking provider based in Atlanta, Ga., Crafter Software's WCM allows the company to target information to its 60,000-plus customers or prospects looking for integrated services, such as cloud, mobile and networking services. Customers can get an integrated view of the services available, even if they searched on only one product area.
"We want to serve up dynamic content based on interest [a visitor has] expressed during a visit to our site," said Tom Ouellette, senior director of marketing and communications. "When you come back to our site, we can recognize where you have browsed previously and what services you are interested in."
For a legal firm interested in cloud-based services, for example, the site delivers information on that product line, said Ouellette, but would also provide information on "what it means to your line of business and complexities related to your industry." Based on searches, the site might also provide information on networking or other Cbeyond services.
NACCO also wanted a CMS that could deliver better search results to potential customers. At NACCO, Ektron's targeted content widget can help guide an audience toward better search results. Prospective customers, for example, "don't have to continue to search the site to try and find what they're looking for," said Reaves. The widget enables building logic to determine what viewers will see based on certain searches in Google, for example. So if customers are looking for certain models of lift trucks, targeted content widgets help searchers arrive at the right product page faster. Banners and other content can change dynamically based on whether a prospective customer searches on "warehouse product" versus "lumberyard."
Enabling compliance with WCM tools
As companies face an onslaught of regulatory requirements, WCM systems can serve yet another goal: enabling compliance and developing an audit trail. According to the recent SearchContentManagement Readership survey, 30% of respondents view compliance, records management and information governance as their greatest need for content management software.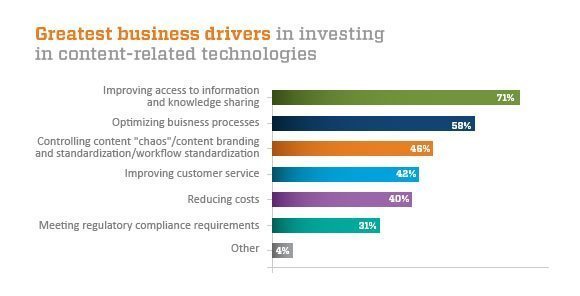 Compliance is a key business driver for investment in content management software.
Source: SearchContentManagement 2013 Readership survey; N=932 IT professionals.
"We need a system like Ektron to support … the need for regulatory supervision and compliance all the time," said Jason Mattox, executive vice president and chief operating officer at Behringer Harvard.
The financial services company needs visibility into certain kinds of user and financial adviser activity to demonstrate compliance. So the company is working with Ektron to develop audit trail capabilities, which it expects to go live by the end of 2013.
"We will be able to see what documents people are downloading and what people are looking at," Barner said. Or if third-party financial advisers are developing relationships with customers without using proper selling agreements, audit trail functionality will identify the oversight faster, Barner said.
Tradeoffs in the era of 'business 3.0'
As companies try to keep pace with the speed of "business 3.0," automating content delivery has become increasingly important. The ability to standardize Web design with templates, while still allowing for customization, leaves room for customer needs.
WCM software also enables companies to get closer to their audiences through targeted content as well as personalization and localization of information -- without reinventing the wheel. Using WCM in tandem with a responsive Web design approach also enables companies to deliver information as customers increasingly want to consume it. With a mobile-first approach, companies can design once and reuse for various devices.
But many of the practices that make Web content management a true benefit for business require standardization. Companies need to let go of customization for the sake of customization and rely on new principles -- content reuse, create once, publish everywhere and customization where necessary -- to bring the true benefits of WCM software to bear.
Dig Deeper on Enterprise Web content management software