News
Stay informed about the latest enterprise technology news and product updates.
Hasty deployments threaten SharePoint platform success
A new AIIM report finds that many organizations are deploying the SharePoint collaboration platform without taking enough time to think it through.
Many organizations are failing to reap the full benefits of Microsoft SharePoint, largely due to slapdash deployments and lack of expertise, according to recent research from the Bethesda, Md.-based Association for Information and Image Management (AIIM).
"Most [SharePoint] implementations are unplanned, underdeveloped, unloved, but not unpopular," AIIM President John Mancini said of the somewhat paradoxical Industry Watch report findings. "[SharePoint is] a core piece of infrastructure, [so] it's unusual how serendipitous the whole deployment strategy has been for most organizations."
The report, entitled "The SharePoint Puzzle -- Adding the missing pieces," is based on survey responses from 551 organizations. It finds that SharePoint is now being deployed for a host of reasons. They include collaboration, basic document management and file consolidation, and there is a fairly high degree of user satisfaction in those areas, Mancini said.
But there is an "untapped expectations" angle, too: Mancini finds that user satisfaction falls short for the range of more complex domains that SharePoint covers, such as email integration -- though SharePoint itself may not be entirely to blame. Mancini says many unsuccessful deployments can be attributed to poor implementation strategies and overinflated expectations.
Many organizations deploy the platform without realizing all of the work that goes into achieving SharePoint success, Mancini said. "You have to build upon it, and it doesn't come out of the box ready to do all sorts of wild and fantastic things."
Disjointed SharePoint deployment planning may often be the result of overeager or overworked IT staff, who make about 68% of the decisions related to implementation, Mancini said. SharePoint launches that occur without much foresight are common because there is a great deal of pressure to come up with collaboration and content management solutions. Initial Sharepoint deployments often happen "almost by default," Mancini said, "rather than through any incredibly deliberate process."
SharePoint splits users
The disparity between expectation and reality has led to a somewhat mixed review of SharePoint: Roughly 50% of respondents said implementation was either a good decision or a difficult but ultimately right decision, while nearly a quarter have only been able to achieve basic deployment. Another 10% said implementation was a poor choice.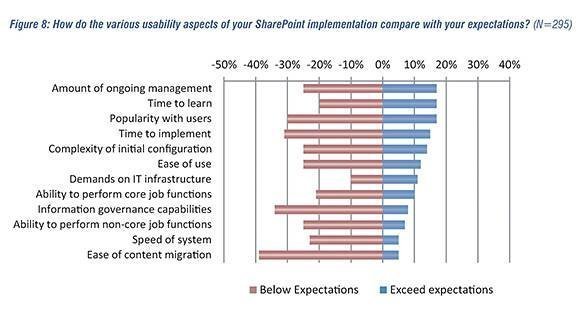 Figure 8
Respondents were particularly disappointed in the usability side of SharePoint, according to the report. "Amount of ongoing management" and "time to learn" SharePoint were the only two categories that exceeded a significant portion of respondents' expectations. In the 10 other usability categories, dissatisfied responses far outweighed favorable ones (see Figure 8 from the study).
Survey respondent Dan Antion, vice president of information services for American Nuclear Insurers in Glastonbury, Conn., said the findings don't tell the whole story. His 35-person company, which provides liability insurance for the nuclear power market, is inundated with a high volume of information on a regular basis. While he admits his company could go further with its SharePoint implementation, Antion is happy with the platform's help in managing the information onslaught.
"I think in some ways SharePoint gets a bad rap on usability because people [think] it's so much easier to just put things on [a shared] drive," he said. "[But] when you stop and think about all you're getting when you put your documents in SharePoint, I don't think anyone would expect it to be as easy to deal with as putting it in a file folder."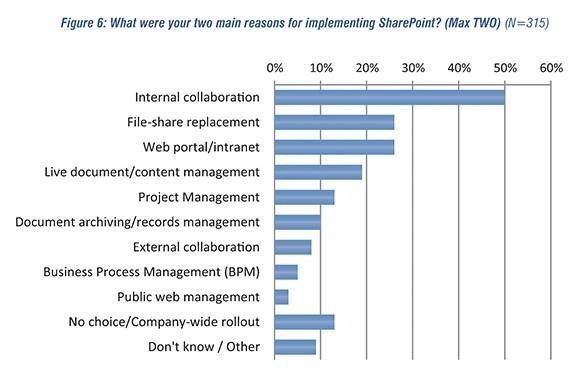 Figure 6
Antion and other survey respondents were more aligned in their relative contentment with SharePoint functionality. Internal collaboration, file-share replacement and Web portal/intranet were named top reasons to implement and generally met user expectations, according to the report (see Figure 6 from the study).
"[There's] a fairly high degree of satisfaction in those areas," Mancini said. "I think where things start to get more challenging is when you get beyond that basic functionality."
More complex processes such as records management, email management/integration and social tools fell flat for about a third of users. Antion singled out email integration as a particular pain for his company (see Figure 9 from the study).
"Because so much of the content we deal with comes to us or leaves via email, it's just essential that we have that capability," he said. "If you're going to ask somebody to put a document in SharePoint, [the] very first question they come back to you with is, 'How do I attach this to an email?' [So] we just had to have an [email integration] add-on product."
Mancini, like Antion, suggests implementing third-party add-ons to maximize functionality in weak areas, because the do-it-yourself option is "a slow route."
Shaping SharePoint for success
It would be easy to conclude that user irritation is the primary reason why 70% of respondents don't use SharePoint as their primary enterprise content management (ECM) system. But Mancini said this is due more to the departmental nature of enterprise deployments. Many organizations already have ad hoc collaboration systems implemented for various problems and are not about to rip them out when they can instead "knit [platforms] together in a more sensible way."
Mancini feels that SharePoint technology alone is not to blame for the problems that result when people deploy the collaboration platform.
Although early SharePoint was not up to par with some more seasoned competitors, Mancini said that functionality has improved since the introduction of the 2007 version. Instead, "unfulfilled potential" on the end-user side of things might be at fault for many SharePoint woes. But this, he believes, can be remedied by planning deployments more carefully.
SharePoint developers could also ease the process with a few key changes, such as making SharePoint site modification simpler for users, Antion said.
"I wish they had more customization features that were drag-and-drop or click-and-choose," he said. "[Then] adoption would be a little higher."