kentoh - Fotolia
ERP upgrade ushers in mobile apps, upends paper processes
An ERP upgrade sent a manufacturer's existing company culture into a tailspin. Would paper processes or digitization prevail?
LAS VEGAS -- When Paul Demes of WhiteLight Group began an ERP upgrade at an equipment manufacturer, he sensed a challenge. But there was so much technology to overhaul, he didn't realize the scope of change management necessary to acclimate a workforce entrenched in its way of doing things.
The ERP upgrade was part of a multiyear wholesale transformation of the company's existing IT infrastructure that had been running "on bailing wire and Band-Aids," as Demes characterized it; this heavy equipment manufacturer with $2 billion in revenue and 3,500 employees sits atop its industry in the No. 1 or No. 2 spot. But ironically, it had few software systems to rely on. To enable the company to step into the modern era, WhiteLight Group, an IT strategy consulting firm in Chicago, brought in hardware and software including Oracle's JD Edwards Enterprise One ERP, and new mobile apps. Some processes, like sales and shop-floor activities, benefited from digitization, automation and mobile strategies, but the picture was hardly rosy all around.
"I'm not going to tell you a happy ending and we turned the company around and everyone embraced it," Demes said. "I'm going to tell the truth."
When the rubber hits the road and things get tough, [business leaders] are more than happy to say, 'Let's just tweak it a little so people aren't too disrupted.'

Paul Demespartner, WhiteLight Group
As Demes explained at Oracle Collaborate conference this week, antiquated practices and a throwback culture ran deep. The company had been mired for some time in antiquated processes -- custom, manual and with many unnecessary steps built in -- because of entrenched practices and old technology. Indeed, one employee would print out an Excel spreadsheet, load it into a typewriter, type in the values and then fax it to another location for data entry. These kinds of manual processes were slowing the company down, keeping data in silos or only in workers' heads, and creating errors. The company needed a central repository of information in the form of an enterprise resource planning system to reduce manual unnecessary steps and improve information accuracy. But with 40% of the workforce having 20-plus years of tenure, and many nearing retirement, an "old-guys' mentality" prevailed that was also driving out younger employees who craved digitization.
"People are relying on tribal knowledge stored in their heads. The information isn't in a digital repository that everyone can get to," Demes said. "Folks get in and they are in manual, paper-based processes. They can't get their jobs done and they leave."
ERP: What's in it for me?
For the manufacturer, ERP centralization has yielded clear wins, where employees can now access a single version of truth and streamline their workflow through automated processes and alerts -- and executives can begin to gain insights from this central repository of data.
"For the folks that are at the point of transaction, they are very open," Demes said. "They are excited to do things easier and quicker and more accurately. No one wants to fill out paper on the shop floor. They don't have to touch a key anymore; they just talk."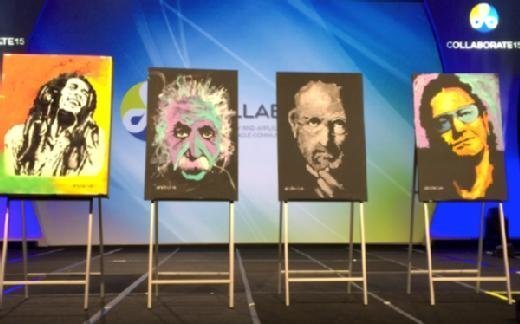 It has helped other laborious processes as well. Before the arrival of JD Edwards, for example, workers used to drive around in trucks to locate physical equipment in the yards at various plants because there was no central repository of data to tag equipment location. Instead, it involved full-time drivers, gas and time to locate inventory. "It's acres and acres of land that they have to drive around just to find the stuff," Demes said.
Today, inventory locating involves plates that can be scanned so that workers can locate the equipment digitally. The company is now considering using the Internet of Things GPS chips on equipment so that inventory management could be done electronically through Google Maps to locate the inventory. Labor reporting on the shop floor -- time entry with employees just swiping and scanning sensors to clock in and out -- has also improved visibility into workforce labor and scheduling issues.
Don't underestimate impact of culture
But at the same time, some departments, and executives, continue to stand on the sidelines of digitizing information. Accounting, for example, isn't terribly interested in using digital systems they see as derailing and slowing their own processes.
"I like this process the way it is. I like using a physical signature," is a common refrain in a department like accounting -- even though systems like electronic signature technology could alleviate the need to print out files and physically sign them.
If IT projects of this kind can succeed only with executive sponsorship, executive-level mixed messages can threaten a project in unique ways. Although executives at the company have stated that they are "on board" with digitization, they also sense the resentment and confusion among long-tenured employees and want to smooth it over rather than charge ahead.
"Business leaders say they are committed," Demes said, "but when the rubber hits the road and things get tough, they are more than happy to say, 'Let's just tweak it a little so people aren't too disrupted.'"
But Demes said this kind of wholesale information transformation involves an IT change management program up front -- a strategy his firm didn't enlist right away. With an IT overhaul of this scope, even the consulting firm shepherding change has to bear some responsibility when the results are clear -- but still met with intransigence.
"We missed it -- so far. We underestimated the impact of culture on the organization and how it affects business transformation, Demes said.
Why go paperless with ERP?
According to Paul Demes, a principal at WhiteLight Group in Chicago, an IT strategy consulting firm, ERP upgrades provide a unique opportunity to eliminate paper from processes.
But the ROI of digitizing far extends environmental goals or minimizing physical storage. Demes ran through 10 key reasons to use an ERP upgrade to do more than eliminate paper. According to Demes, end goals are centralization of information and a single source of truth, automation and better decision making. Here are his top 10 reasons.
Achieving cost savings
Gaining competitive survival or competitive edge
Improving velocity of business strategy
Achieving green initiatives
Streamlining transaction processing
Effecting more efficient data collection
Improving data accuracy
Creating workflow alerting to automate project milestones and prevent errors
Improving business decision making
Creating a hospitable work environment for Millennials. "Manual processes, paper-based stuff is offensive to them."
Next Steps
ERP implementation stalls with rocky change management
Why IoT needs skepticism of C-level executives
Getting on board with digital signature
Companies still approach IoT with caution
Dig Deeper on Enterprise information management (EIM) strategy and best practices