Fotolia
Microsoft unveils Project GigJam collaboration tool
Redmond offered a sneak peak of its upcoming GigJam collaboration tool at Worldwide Partner Conference 2015, and other recent Microsoft news.
Microsoft unveiled a new collaboration tool, Project GigJam, at the 2015 Worldwide Partner Conference.
GigJam is designed to facilitate task-oriented collaboration by allowing users to pull relevant information from multiple applications into a Dashboard, with the option of controlled content sharing among team members, according to a Microsoft blog.
The preview demonstration showed Microsoft's Cortana virtual assistant delivering customer relationship management (CRM) data and emails into the dashboard. A touchscreen redaction feature allowed users to edit how much of the display was shared with each team member, along with whether a recipient had full or read-only access to the documents. The ability to link disparate data sets and Skype integration were also demonstrated.
Prior to the unveiling, Microsoft CEO Satya Nadella said the goal is reinventing productivity by removing barriers between devices, applications and people. Microsoft has yet to announce a release date for Project GigJam.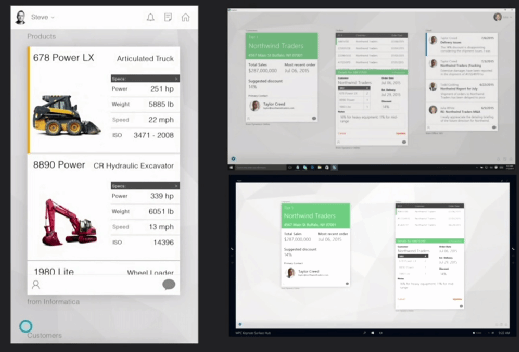 SharePoint 2016 beta slated for August
The newest on-premises version of Microsoft's SharePoint collaboration platform will debut as a beta 1 preview in August, according to a company spokesperson.
The beta was originally slated for the fourth quarter of 2015, but the spokesperson said an earlier release would allow more time for Microsoft to collect feedback on the preview.
Microsoft anticipates a beta 2 version will be available before the end of quarter three, with general release coming in the spring of 2016.
Microsoft has targeted three primary areas for improvement with SharePoint 2016: better user experience and mobile access, easier and more reliable hybrid deployment, and new compliance and reporting features.
Microsoft announces premium Office365 suite
Microsoft plans to roll out a premium version of its Office 365 cloud services suite before the end of the year. Known as E5, the Office 365 enterprise services suite was announced at the Worldwide Partner Conference 2015.
New E5 features include the following:
The Office 365 suite already offers a variety of products, including Microsoft Office, Outlook, Skype, OneDrive and SharePoint.
Dig Deeper on Cloud-SaaS online collaboration tools