p0temkin - Fotolia
Microsoft rethinks enterprise collaboration hurdles with GigJam
Microsoft touts GigJam as a collaboration tool that will facilitate rapid teamwork for ad hoc tasks. But tech compatibility could prove a sticky wicket.
If the recently unveiled GigJam demo is any indication, Microsoft's big-picture roadmap envisions a world where teams can collaborate with apps that are visual, intuitive and unfettered by data silos.
But it's unclear if this new technology can surmount real-world integration challenges.
GigJam was introduced at the 2015 Worldwide Partner Conference by Microsoft CEO Satya Nadella. He described it as rethinking enterprise collaboration to help teams tackle ad hoc tasks together.
"We work to deal with exceptions," Nadella said. "It is all about bringing our ingenuity to solve problems …. and opportunities that we want to grab on to. And that requires us to be able to get more people involved … to bring different applications together … to work across devices."
Conducted by Julia White, general manager of Microsoft's Office division, the demo showed Microsoft's Cortana virtual assistant delivering data from multiple applications onto an interactive dashboard, which could then be edited and cross-indexed, with the option of sharing that interactive display with other team members.
"With GigJam, I was able to summon the information from across all of my different systems, link that information seamlessly and divvy up the work," said White.
GigJam functions will be powered by existing applications and software as a service (SaaS) via REST APIs, according to a Microsoft blog. The GigJam demo at WPC included the following features:
Voice activated retrieval of data from Microsoft Dynamics and Outlook, as well as integration with an Informatica database;
Ability to edit which information gets shared to each collaborator, with options for granting full or read-only access;
Touchscreen controls for linking data sets and editing screen displays; and
Skype integration.
When the rubber hits the road
Microsoft has given no indication of when GigJam will become available, but Rob Helm, analyst at Directions on Microsoft, suggested it's likely a "research project" at this point, which could be years from release.
Helm described GigJam as building on existing Microsoft technology for voice and gesture recognition, adding Microsoft seems focused on creating a common vocabulary for collaboration among its cloud services that will facilitate freer exchanges of information between applications
The Office 365 suite of cloud services has become the proving ground for Microsoft's new collaboration tools. Helm anticipated that would likely be the case for GigJam, saying it could become an underlying component for numerous applications.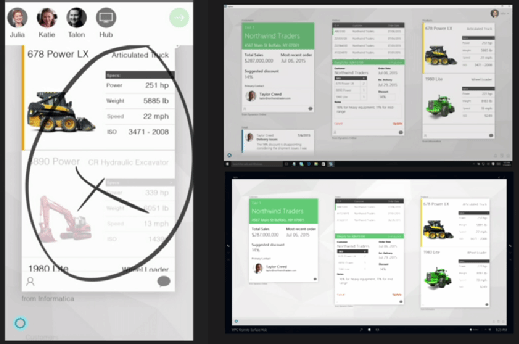 "Microsoft is trying to open up all of the Office 365 services so that they're not siloed anymore and can be tied together into new types of applications" he said.
Product integration is one potential obstacle for that scenario, explained Helm, who noted the demonstration assumed that all parties use compatible technologies.
"A lot of technology demos assume a high level of cross-company and cross-vendor integration that is hard to put together in practice," Helm said. "Even if Salesforce and other non-Microsoft applications integrate technically with GigJam, everyone in the group has to use GigJam and be able to convince the IT personnel for the business units or companies to support it."
In a more immediate sense, Helm said the biggest obstacle facing GigJam developers is proving they can implement the concept.
"It's something that demos really well, but it's harder to deliver and harder to get developers to build something compelling on top of that," he said. "GigJam is so far out, it's not fair to burden it with that, because it's still a really a concept."