hin255 - Fotolia
Adobe Document Cloud adds mobile scan, upgrades e-signature software
Adobe rounds out its cloud suite with Adobe Scan, which allows mobile employees to capture documents and images and turn them into searchable PDFs, and enhancements to Adobe Sign.
While electronic signatures have been recognized as the legal equivalent to hand signatures in the U.S. since 2000,...
Continue Reading This Article
Enjoy this article as well as all of our content, including E-Guides, news, tips and more.
it's still a novel technology for many organizations. Yet, as digital transactions become the norm, moving the signature process from pen and paper to mobile scan and e-signature software can result in substantial time savings, as the Academy of Art University discovered about two years ago.
"We're seeing the vast majority of students make it through the document process signing electronically, where previously there used to be a drop-off," said Aaron Schuyler, senior director of online education systems at AAU. The San Francisco-based university saw immediate efficiencies after moving its application process to Adobe Sign in the Adobe Document Cloud, he explained.
"The turnaround for electronic documents is somewhere in the area of three minutes per document. That's a lot better than what we used to do," Schuyler said. "We'd overnight things to people here and in other countries and hope they took the time to fill them out and send them back."
With a new mobile scan application, upgrades to its e-signature software and more integrations, Adobe is ramping up efforts to help Adobe Document Cloud users receive, sign and store documents while on the go.
"[Adobe] is touting this as supporting the mobile workforce, and e-signature and document management has always been a big part of it," said Michael Fauscette, chief research officer at Chicago-based G2 Crowd Inc. "This will make it easier for mobile workers."
Mobile scan use cases
The new Adobe Scan allows users to photograph any document or computer screen and have the image turn into a searchable PDF with text-recognition capabilities.
"You can grab a picture, convert that into a PDF and recognize that text and make it searchable," said Lisa Croft, a group product marketing manager at Adobe.
For mobile employees, the ingestion of material was always a problem. This is a simple way of solving it.

Michael Fauscettechief research officer, G2 Crowd Inc.
Croft outlined several ways customers could use Adobe Scan: An interior designer can create a design board and use the mobile scan tool to clean up the image and send it off to a client, for example. It can also be used to capture internal information, she said, explaining that an executive at a conference can snap a photo of a keynote slide, convert it to a PDF and highlight the important information before sending it off to employees.
"For mobile employees, the ingestion of material was always a problem," Fauscette said. "This is a simple way of solving it. It's not the greatest piece of software I've ever seen, but it does what it's supposed to do."
Fauscette added that while sales or marketing reps who work on the go often have their paperwork ready for their customer or prospect, they could run into a situation where they receive paperwork that they need to store and archive. With Adobe Scan, rather than taking the physical copy to the office or finding the correct email attachment, the rep can capture the document, store it or take action on it through their mobile device.
What's new in Adobe Sign
In addition to adding scan capabilities to Adobe Document Cloud, Adobe also upgraded its e-signature software, adding processes-based actions into Adobe Sign.
"Sometimes you need to collect a document from somebody or need to know that they received a document and make that part of the process," Croft said. "We've added those capabilities into Adobe Sign."
Croft added that Adobe is also using the e-signature standard developed by the Cloud Signature Consortium, an EU-based best practices group for e-signature security and compliance.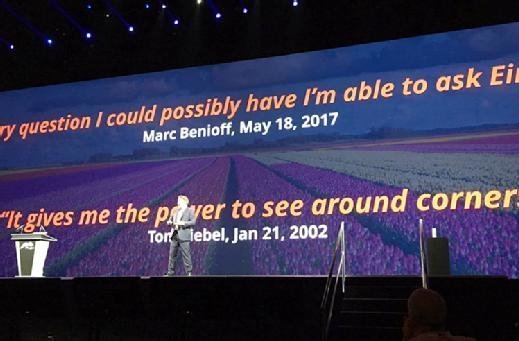 Having the ability to electronically sign documents is vital in this more mobile workforce, so much so that much of the taboo surrounding signing documents electronically is disappearing, according to experts.
"Electronic signing is so common now, it's engrained in the process," Fauscette said, adding that the all-in-one capabilities of Adobe Document Cloud help separate it from the growing market of e-signature tools. "Having that combination of PDF, scanner, signature and compliance -- that seems like a fairly complete system for what they're trying to do.
"There are other PDF creation tools, but they're awful," he added. "There are a bunch of other players in the e-signature space, and they all offer some kind of capability to manage the documents once it's signed. But the one thing Adobe has that's unique is Acrobat."
Document Cloud also added several new integrations, including furthering its Salesforce integration to send out documents through Gmail and Outlook -- the two primary email applications with which Salesforce is integrated. Adobe also added to its integration with Apttus -- a configure, price, quote company -- to support both Salesforce and Microsoft.
Adobe Document Cloud costs $14.99 per month, per user for Acrobat Pro Document Cloud, which includes the new mobile scan feature. A standard Acrobat Document Cloud subscription costs $12.99 per month, per user, but does not include the Scan feature.
Dig Deeper on Enterprise document management software