bluebay2014 - Fotolia
M-Files puts content first by adding AI to content management tools
M-Files is adding AI functionality to its platform to better assist in document search, focusing on what a document is, rather than where it is.
The way organizations store and archive information has changed drastically over the past few years, specifically...
Continue Reading This Article
Enjoy this article as well as all of our content, including E-Guides, news, tips and more.
as companies have migrated to cloud-based servers and workforces have grown more mobile.
As companies have evolved, the way employees' store, archive and access information has changed, too, creating the potential for disjointed, unsearchable or difficult-to-find content.
To help with this process, content management tools are gaining more sophistication and intelligence to allow for companies with multiple storage and archiving processes to better locate all the necessary information.
Information management company M-Files Inc. recently partnered with ABBYY, an artificial intelligence (AI), text-scanning and optical character recognition software company, to allow for more dynamic management of business information.
"[This partnership] reflects the fact of an industry that is in flux and in transition as it adjusts to the entrance of cloud-based players," said John Mancini, chief evangelist of the Association for Information and Image Management, an independent market research firm for information professionals.
Mancini said an early prediction for the enterprise content management (ECM) market was to have all information consolidated into a single repository. But that prediction never came to fruition, as information has instead been scattered across multiple repositories, including on-premises servers, in cloud-based storage, on customer relationship management systems, and in individual employee's desktops and mobile devices. Having the potential of a fragmented landscape where a company's content and information lay scattered gave more importance to metadata and being able to search for specific content regardless of where it resided.
"Our data says that organizations, to scale, typically have five to 10 ECM systems," Mancini said. "I find M-Files intriguing because they are focused on the idea of where something is located is not as important as what it is. From the perspective of a typical business person, that makes sense."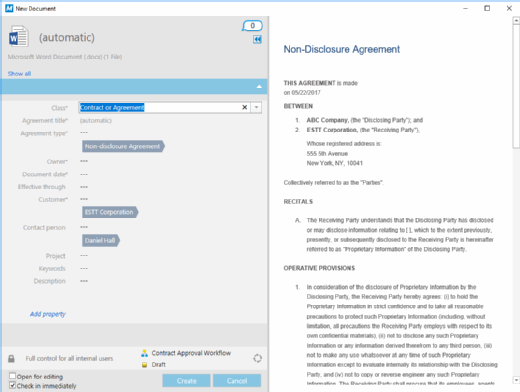 Focusing on what, not where
This change in how content management operates resulted in Gartner updating its definition of ECM in its latest 2016 ECM Magic Quadrant. The report also said, by 2018, 50% of enterprises will manage content using a hybrid content architecture, while at least 50% of leading ECM vendors will rearchitect their offerings into cloud-based systems in the same time frame. Additionally, the report stated, by 2018, enterprise file synchronization and sharing will be a standard capability in content management tools.
When we think of the metadata approach and start describing those documents with tags, now we begin to add structure to the unstructured data.

Greg MillikenCEO, M-Files
"There are still a lot of people in our market transitioning into the cloud," said Greg Milliken, CEO of Dallas-based M-Files. "We think the dynamic metadata approach is the future [of ECM]. It's not about where it is; the user doesn't really care that much about where. But if you can focus on the context and why I need that information, then you've nailed the future."
This aspect of locating content based on what it is, rather than where, is old news on the consumer-facing side of things. But with many industries still relying on legacy systems and technologies for their business processes, modern content management tools -- like OpenText, M-Files, Alfresco and Hyland -- are working to make that process an easier one to navigate. By having description-based metadata attached to business content and integrating AI text recognition and searching capabilities into the process, all of that fragmented information becomes readily available.
"When we think of the metadata approach and start describing those documents with tags, now we begin to add structure to the unstructured data," Milliken said. "We can find information by customer or tag it by product and look at the information in a structured, dynamic way."
Intelligence on a larger scale
While most of the content created today has metadata and complex searching capabilities already baked in, it's important for organizations with years of archived information to be able to locate it in the same quick and convenient fashion as the new information.
"Organizations are wrestling with continuing what they need to be doing, but simultaneously doing that in a way that ultimately facilitates the end goal of being a player when we get to the era of machine processing," Mancini said. "M-Files has had some capability of doing this, but ABBYY's forte has been both the automatic nature of it and being able to do it on a larger scale."
And while M-Files has always been an information management platform, by adding AI functionality into their content management tools, mass amounts of documents and data can quickly be located based on any categorization that has been set up.
"Being able to take large volumes of information and apply intelligence to that and understand what it is and assign metadata for it to be managed in M-files, that's a significant step forward," Mancini said.
Pricing for M-Files products weren't readily available, but ABBYY's technology will be integrated into the platform for the fall 2017 release.
Dig Deeper on Enterprise content management, collaboration and search strategy