Kit Wai Chan - Fotolia
OpenText debuts content management AI platform -- will it take off?
OpenText's new AI platform -- which combines open source machine learning with advanced analysis to acquire, merge, manage and analyze big data -- takes aim at Watson.
TORONTO -- Enterprise content management systems vendor OpenText Corp. unveiled its Magellan AI platform and positioned it as a Watson killer.
But if they build it, will customers come? These are early days for the fledgling artificial intelligence (AI) technology, so the 4,500 customers attending Enterprise World -- OpenText's annual user conference here -- could only speculate.
Slick demos of hypothetical companies using the Magellan AI platform to automate processes made a compelling argument for immediate uses that large customers might apply to their content repositories, such as:
human resources tasks, such as employee self-service, recruitment and retention;
manufacturing, like field service management, repair assistance for technicians, case analysis and resolution; and
fleet management, such as marketing personalization, inventory utilization and vehicle maintenance.
OpenText CEO Mark Barrenechea said the original premise of content management technology was to create "information lakes," whether they are content archives, records of transactions or other types of vast data stores. They will only increase in size, with internet-of-things sensors creating data points and increasing numbers of mobile devices coming online.
The good news, he continued, is increased power of current and future processors will help content managers harness the power of this increasing data.
"We think this is one of the big premises for artificial intelligence. ... The [data] lake should be able to learn on its own," through training algorithms to find better data and deeper insights that drive business goals, Barrenechea said in a keynote address.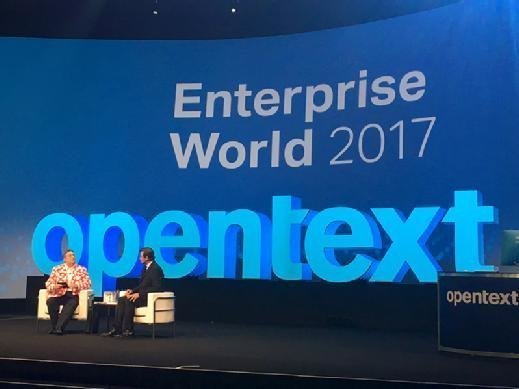 Taking aim at IBM Watson
With many companies introducing enterprise AI products, OpenText hopes to distinguish its offering by running on Apache Spark and supporting Hadoop structures. Doing so would beget a less-expensive implementation than IBM, for example -- Barrenechea claimed Magellan could be set up at one-sixth the cost of a comparable IBM Watson implementation.
Watson's data lake is a swamp. What differentiates us is the information-centric applications that we have.

Mark BarrenecheaCEO, OpenText
Speaking to reporters, Barrenechea said OpenText is aiming squarely at IBM's Watson. That's despite the similarity in use cases to recent Pegasystems and Salesforce demos -- specifically lead scoring for sales and field equipment maintenance for the service side.
"Watson's data lake is a swamp," Barrenechea said. "What differentiates us is the information-centric applications that we have. ... I hope to make [IBM's] FileNet irrelevant. I hope to make [also IBM] Sterling Commerce irrelevant, because just automating the transaction is not that interesting. You need to be able to bring insight into it."
The Magellan AI platform -- which combines open source machine learning with advanced analysis to acquire, merge, manage and analyze big data -- will come in different sizes and costs according to customer size. It's currently available as a network appliance*, and it will soon be available in configurations that run on OpenText's cloud, as well as on cloud providers, such as Microsoft Azure and Amazon Web Services.
Who might use it first
Gartner research director Marc Kerremans said just because OpenText builds Magellan, it doesn't necessarily follow that customers will use it -- at least right away.
He encouraged businesses that are considering AI tools to determine business needs first, then make sure the data is ready. He said he sees more mature companies that have solved these sometimes-difficult problems as potential early adopters.
"Organizations that have done a lot of exploration of what they are doing, how they are operating, their nuts-and-bolts operations -- they are asking what is the next step and how to bring this into the game," Kerremans said. "Then, AI and all these things can turn into real value, but they should be very specific in what they should do."
Customers see potential
On the show floor, OpenText customers discussed Magellan's potential utility after its introduction in the keynote.
Daniel Smith, enterprise information manager at Australian firm Oil Search Ltd., which explores and drills for oil and gas, said he sees much potential for Magellan to help automate equipment maintenance processes and help spot potential breakdowns before they occur.
"The opportunity to utilize AI and process automation is the big thing ... asset reliability, asset maintenance [and] process safety are the critical things there," Smith said.
The idea of using AI to prospect for oil and gas might not be as close, but perhaps down the road, Smith said. At first, it could possibly be used to analyze drone photography and spot features in land contours that may indicate what lies below the ground.
* Update: Since the original publication of this story, OpenText has decided not to offer the choice of network appliance for Magellan implementations.
Next Steps
Have your analytics in order before adopting AI
Cloud AI services prove intriguing
Microsoft brings cloud AI to the enterprise
Dig Deeper on Enterprise content management software platforms