Fotolia
Content personalization fuses marketing automation, content management
As the standards get higher for digital experiences, content personalization engines could be the answer for faster and better customer experience strategies.
The notion of one-to-one marketing is as old as the web itself.
Don Peppers and Martha Rogers first popularized content personalization in their seminal book, The One to One Future, published in 1993, and influenced many pioneering e-commerce ventures during the heady days of the dot-com era. Jeff Bezos founded Amazon a year later, and he has profited handsomely from the content personalization of e-commerce ever since, relentlessly garnering superior insights about what customers want and need.
Now, Karl Wirth and Katie Sweet are hoisting the one-to-one flag yet again in their just published book, One-to-One Personalization in the Age of Machine Learning. Needless to say, they speak from experience. Wirth is the CEO of Evergage Inc., a Somerville, Mass.-based startup that produces a content personalization engine and supporting digital marketing services. Sweet is the company's content marketing manager.
Is this just a case of pouring old wine into new bottles, or has technology finally caught up to Peppers and Rogers' original vision? An argument can be made for both.
Data is there, connections aren't yet
Today's e-commerce venues are very different from the online storefronts and electronic catalogues of the end of the last millennium. Doing e-business on the web today is more seamless, extensive and pervasive than even the most ardent futurists back then could have imagined.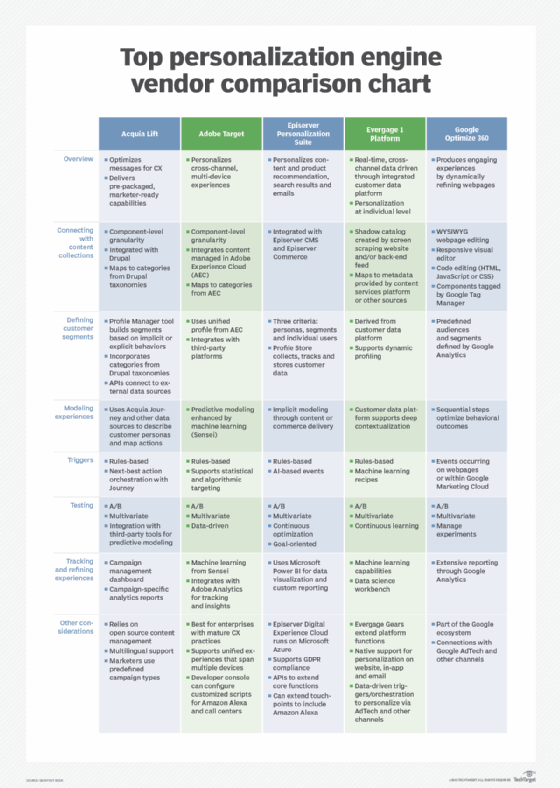 Yet, the promise of personalized experiences remains remarkably vexing. Content personalization requires a lot of content, as well as extensive information about who your customers are and what they want. It also requires capabilities to easily make connections and translate customer insights into business outcomes.
Too often, we have paid attention to the former -- content management systems, customer information sources and analytics -- without the intuitive modeling environments needed to easily connect the dots and map the one-to-one relationships.
Targeting conversations is the next frontier
This is where content personalization engines, such as Evergage, can change the narrative around targeted conversations and raise the bar for delivering next-generation digital experiences.
Yes, lots of content must be managed. Beyond self-contained web content management and digital asset management systems, headless content management system platforms support single sources of truth through curated content collections.
Yes, companies must segment their audiences by collecting and merging their own first-party data with third-party sources. But digital marketers are essential players, too. They need easy-to-use tools and techniques to script personalized conversations, and then have the capabilities to clearly understand the results. This is where our thinking about content personalization must evolve.
Personalization tech for the rest of us
It all boils down to costs and benefits. When it comes to fulfilling the vision, Bezos had the resources to invest heavily, over many years, to refine the personalization capabilities at Amazon -- and to transform our expectations about retailing in the process.
Fortunately, some things are getting less expensive. Content personalization engines promise to help automate one-to-one conversations and finally make the technology affordable for the small and medium-sized enterprises that populate the open web.
Undoubtedly, our expectations about digital experiences will rise as these platforms become widely adopted.
Dig Deeper on Content management integration strategy