Evaluate
Weigh the pros and cons of technologies, products and projects you are considering.
ECM software in crisis -- or at a crossroads?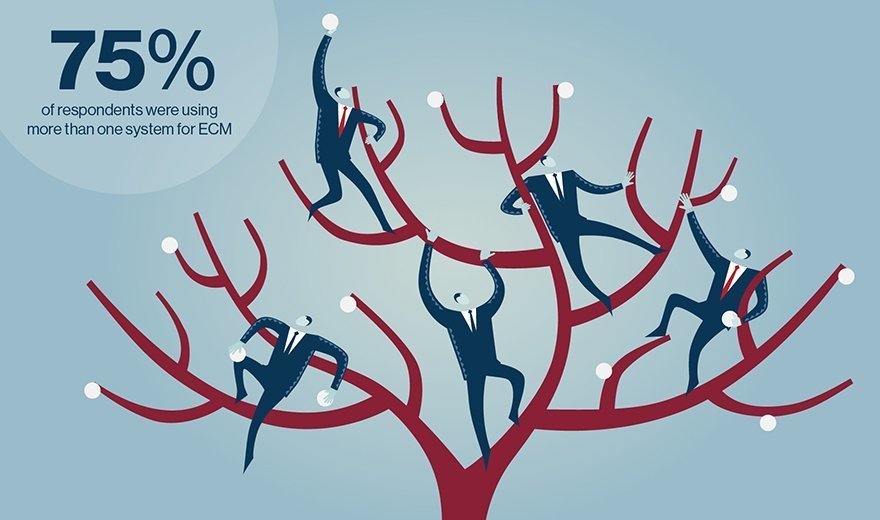 Source:
Data: AIIM ECM survey; Visual: dodoimage/iStock
Designer:
Online Design/TechTarget
"Enterprise content management involves processes and technologies that enable organizations to capture, manage, store and deliver the information central to its operations." -- WhatIs.com
From its humble roots in document management, ECM has evolved to become a tool for collaboration, workflow management, enterprise social media and analytics.
Each business has its own content strategy, so uses of ECM vary. The most common were outlined in a recent AIIM survey:
• A searchable repository for active documents (nearly 80%)
• Records management (more than 65%)
• Internal collaboration (roughly 45%)
• Process workflows (just less than 40%)
The survey also indicated many enterprises are still configuring systems to reach the goal of an integrated repository:
• Only 18% of respondents had companywide ECM -- with 54% working toward that goal.
• Sixty-one percent of respondents were storing at least half of company content outside ECM/document management systems.
• Seventy-five percent of respondents were using more than one system for ECM, document management or records management.
View All Photo Stories