Evaluate
Weigh the pros and cons of technologies, products and projects you are considering.
ECM software in crisis -- or at a crossroads?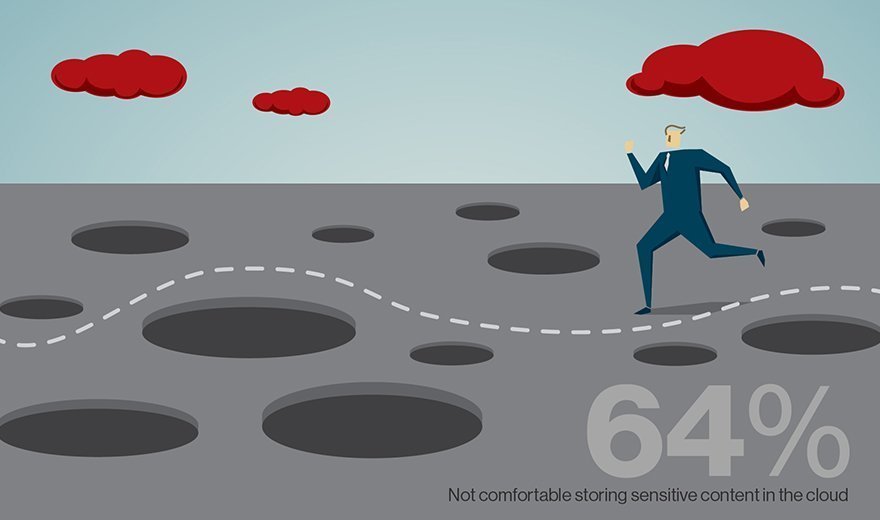 Source:
Data: AIIM ECM survey; Visual: erhui1979/istock
Designer:
Online Design/TechTarget
ECM is traditionally housed in servers behind the company firewall, but that model is facing disruption in an increasingly mobile world, where enterprises -- and employees -- increasingly expect that option. Hybrid cloud-based ECM is touted as a potential answer for the criticism of traditional on-premises ECM software, while allowing access to content anytime, anywhere. But companies have been slow to adopt hybrid cloud-based ECM software, with only 27% of respondents to a recent AIIM survey having opted for cloud-based ECM.
Using cloud services such as Box and Dropbox to provide ECM offers easier access for remote collaborators, along with the prospect of reducing hardware and IT expenses. However, security and regulatory concerns remain.
Hybrid clouds have emerged as an option for companies looking to move some data to the cloud while keeping more sensitive or regulated content on-premises.
In the survey, 47% of respondents indicated they're using some form of cloud services for content management, with another 37% saying they plan to in the future. Here are some other key findings from that survey:
• Twenty-two percent reported using a cloud-based service to manage content; another 25% reported using a combination of cloud and on-premises tools.
• The threat of data breaches and unauthorized access were the most common concerns listed by respondents.
• Nearly 80% of respondents indicated they would store non-sensitive content in the cloud. Only 36% were comfortable storing sensitive content in the cloud.
In another survey, 85% of respondents indicated mobile document creation, workflow and edit features are desirable -- but less than 25% had it.
View All Photo Stories