Evaluate
Weigh the pros and cons of technologies, products and projects you are considering.
ECM software in crisis -- or at a crossroads?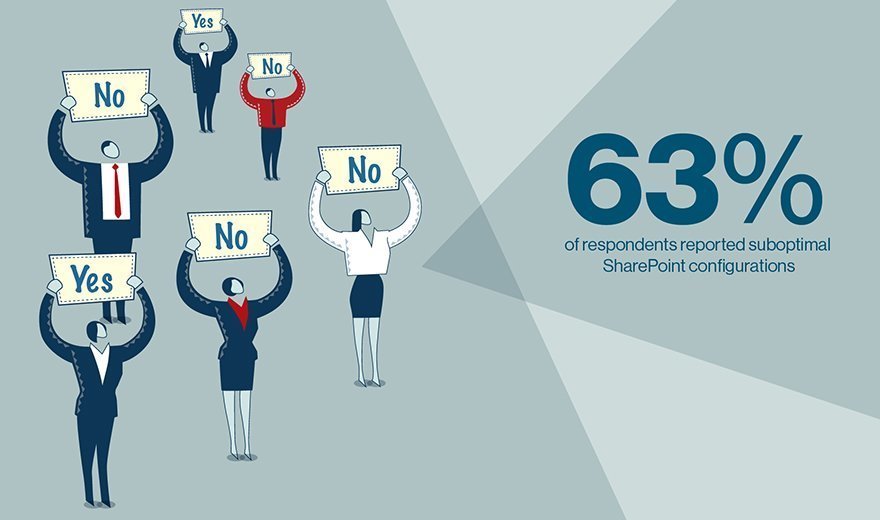 Source:
Data: AIIM ECM survey; Visual: erhui1979/istock
Designer:
Online Design/TechTarget
Microsoft SharePoint is a collaboration platform used for ECM by roughly one-third of enterprises. It offers a variety of document management features -- such as enterprise search -- but the effectiveness often hinges on up-front planning and SharePoint training.
In a recent AIIM survey, only 11% of respondents deemed their SharePoint deployment a success, with 63% reporting suboptimal configurations. Lack of SharePoint training, planning and support from upper management were top issues.
But only 8% of respondents said they're looking to replace SharePoint, which indicates the platform's leading position in the market isn't in immediate danger. Other key findings include the following:
• Nearly 50% of respondents said their greatest challenge is persuading users to make managing content in SharePoint a default practice.
• Only 13% reported their SharePoint system was well-aligned with company information governance policies.
• Roughly one-third reported struggling to ensure accurate tagging and classifications of content, which are key functions to enable meaningful and efficient enterprise search down the road.
• The most common measures for reviving stalled SharePoint deployments were additional training and updating/better enforcement of information governance policies.
View All Photo Stories