Evaluate
Weigh the pros and cons of technologies, products and projects you are considering.
ECM software in crisis -- or at a crossroads?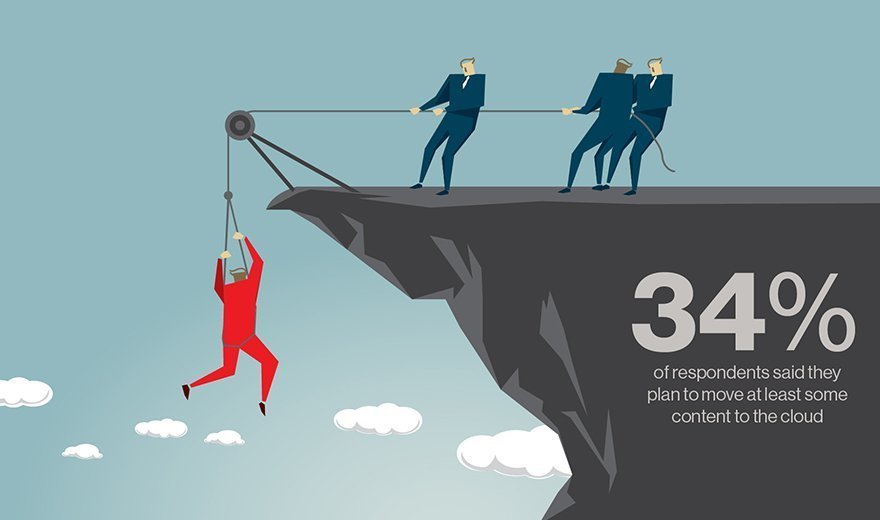 Source:
Data: AIIM ECM survey; Visual: erhui1979/istock
Designer:
Online Design/TechTarget
SharePoint Online allows companies to host all or part of ECM functions through remote cloud servers. A cloud-based version of SharePoint enables companies to spend less time managing and patching the application and more time using it for core business functions, such as managing their information. Microsoft has also made no bones about the fact that its roadmap hinges on getting users to the cloud. The cloud has been a focal point of Microsoft's marketing efforts in recent years, but adoption remains slow.
Migrating to SharePoint Online has trade-offs. Some 85% of SharePoint users customize it to fit their needs -- but that's not an option with SharePoint Online.
A recent AIIM survey found that only 6% of respondents were live with SharePoint Online or the cloud version of SharePoint in Office 365. Other key findings include the following:
• Thirty-four percent of respondents said they plan to move at least some content to the cloud.
• More than half of respondents indicated they were eyeing the hybrid model, with the goal of putting collaborative content in the cloud.
• Forty-nine percent expressed concern that Microsoft's focus has shifted from on-premises SharePoint to the cloud version.
View All Photo Stories