Fotolia
As users and technology drive the future of ECM, can vendors keep up?
Changing user needs have pushed enterprise content management platforms beyond their initial uses. An expert looks at how ECM has changed and what's ahead.
For many years, most organizations knew enterprise content management as the software platform that offered capabilities...
Continue Reading This Article
Enjoy this article as well as all of our content, including E-Guides, news, tips and more.
around managing digital content, such as structured and unstructured data. Over time, these platforms began to add services such as business process automation, enterprise search, record-keeping and collaboration.
While those features have helped address many of the pain points companies have faced, they are simply not enough in today's demanding, fast-paced enterprise environments. New technological advancements in enterprise content management tools, larger volumes of data, a push for digital transformation and the mobility of the modern high-tech workforce are all setting new expectations for the future of ECM. The question is, can vendors keep up?
How the ECM field has changed
One of the first changes seen in enterprises in recent years is the growing demand and adoption of cloud services. The cloud, of course, offers cost savings while reducing organizational dependency on IT resources and infrastructures.
Hosted services, like Microsoft Office 365 and Salesforce, also enable collaboration and productivity in an increasingly mobile world. The proliferation of mobile devices and the constant demand for data to be instantly available to end users has encouraged ECM vendors to consider mobility as a must-have, not an add-on.
For many years, only a handful of ECM providers have pushed their platforms through the mobile interface; in fact, even Microsoft relied for years on third-party apps to deliver SharePoint content to a mobile device. But that quickly changed when the company realized mobility is a key factor in any product's success, especially an enterprise content management product.
As a result, the future of ECM looks different, as Microsoft plans to include the mobility option in all product roadmaps and ensures any new capability being introduced to its ECM platform is mobile-friendly.
While ECM products might have focused more on capabilities in the past, the demand for a more customer-like experience is forcing vendors to put more emphasis on the user interface, as well. The upside is, when a software platform offers an easy-to-use interface and gives users a positive experience, adoption of the product will likely increase. On the other hand, vendors must also remain mindful of complying with corporate and governmental regulations while seeking to enhance the user interfaces.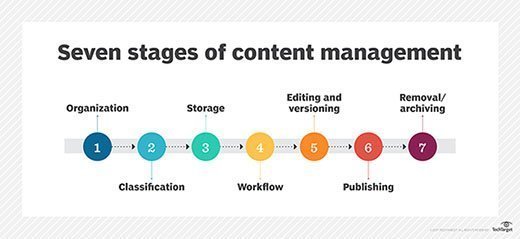 Artificial intelligence takes center stage in ECM
The more recent advancements in artificial intelligence (AI) and business intelligence have also encouraged more organizations to seek those capabilities in ECM to enhance the user experience. Much as online retailers use AI to recommend products based on purchasing habits and historical data, it's easy to imagine the future of ECM including systems that recommend content and search results based on end users' previous activities.
This trend is forcing many content management developers to devote more resources to identify and embed intelligence in their products to set them apart. Companies like IBM and Microsoft have been fortunate to already have AI platforms in place; for them, it was just a matter of applying it to the content in their ECM platforms.
Extensibility and integration with external systems are also must-haves for executives when they consider the future of ECM and the various online services their organizations use. Several of today's platforms offer integration with other services to allow end users the opportunity to interact with data from different applications and services under one platform; Microsoft SharePoint and Alfresco are among the platforms that enable integration.
This capability eliminates the need for accessing multiple applications and creates a much more efficient way to interact with business data and collaborate with fellow employees. The need for open ecosystems is forcing ECM vendors to form partnerships and be willing to connect with other vendors to deliver a consolidated view of business data, no matter where it lives.
IBM, Microsoft, Alfresco, Dell EMC and other vendors are taking a look at the future of ECM and rethinking their strategies and differentiators in the space. Customers today have been exposed to a swarm of applications, and they are willing to go off on their own and quickly switch to more innovative platforms when their current tools appear to be obsolete. In fact, users are becoming the biggest influencers when it comes to the evolution of ECM tools adopted by organizations.
Dig Deeper on Enterprise content management software platforms