Building a SharePoint 2013 search-based application
In building a SharePoint 2013 search-based application, you can create powerful search functionality that incorporates internal and external data.
Historically, SharePoint's enterprise search functionality has been lacking, but SharePoint 2013 sports several improvements to its search architecture that allow search-based applications, which we defined in part one, to be built. Search-based applications have enhanced traditional search functionality by joining structured and unstructured data from multiple content sources to provide a 360-degree view of information, allowing greater insight and better-informed decision making.
While this article doesn't have the space to cover all aspects of how to build a Microsoft SharePoint 2013 search-based application, we will provide an overview. The key components are list and library structures to store content; metadata and metadata sources, including the Managed Metadata Service; search to crawl the content; user interface elements to surface the content and display templates to render the content with the required formatting.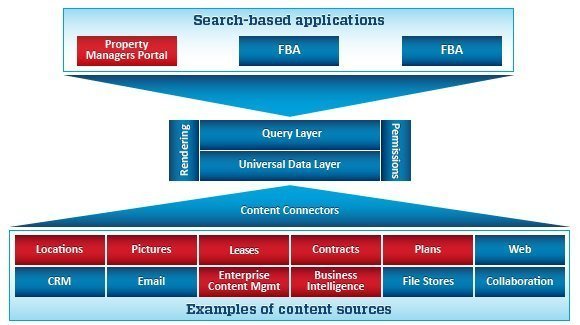 For unstructured content, specifically outside of an organization's management, the search crawler's ability to perform entity extraction and to store those entities as managed properties will be paramount. Entities can be words or phrases, such as product names or company names, and dictionaries of entities can be created for uniformity. Consider as an example a realtor's internal property manager portal that ultimately provides content to support a Web-based apartment finder (see Figure 1).
Here are the key steps in building a search-based application for SharePoint. By building more power search functionality on top of SharePoint, companies can exploit internal and external data to create a more holistic and granular picture of the information in question.
Step one. Define all types of structured and unstructured content and associated metadata related to a property (e.g., address, the associated property manager, photographs, the lease or other contract and legal documents and key reporting or numeric information, including square footage, price and number of tenants). Some content could be external and retrieved using a search connector, and location can be geo-tagged so a pin of the property information can be displayed on a map.
By building more power search functionality on top of SharePoint, companies can exploit internal and external data to create a more holistic picture.
Step two. Create suitable structured lists and document libraries based on defined SharePoint content types; for example, image, contract, lease and location to store the content. Each list and library will have a property key to bind all content together for a specific property. After adding content, the SharePoint search engine can extract all metadata from the lists and libraries as managed search properties. If needed, entity extraction can deduce metadata from unstructured content sources.
Step three. Create the property managers' portal. This will be a Web page in a search center that includes user-interface elements such as Content Search Web Part in SharePoint. The user interface elements pull relevant content and display it according to the display templates. Now envision the portal after a specific property is selected. Perhaps the image of the property on the top left, location details on the top right, and then on various positions on the screen, the associated property managers, the key performance indicators, the contracts including leases and a map showing property location. The flexibility of the architecture is that content can be pulled from anywhere across the SharePoint estate based on content type definition alone. From a user's perspective, the value is that the organization has moved from an application- or content-centric model to a property-centric model and a user no longer needs to visit multiple applications to get visibility on everything that is known about a property.
This search functionality is powerful because it allows companies to exploit their existing investment across existing business applications to improve operational efficiencies and increase the business value of content.
Search-based application vendors
Microsoft SharePoint 2013 can create complex search-based applications and should be considered especially if already in the technology estate. Specialist vendors in this space include the following:
About the author:
Jonathan Bordoli is a senior manager in Hitachi Consulting's Microsoft Platform Practice. Based out of Chicago, he has responsibilities for architecting and delivering a broad range of solutions based on the Microsoft technology stack.
Bordoli has more than 25 years of experience defining, designing and managing technology delivery across the full project lifecycle, with particular emphasis on delivery and adoption of content, collaboration and process improvement solutions.
Next Steps
SharePoint enterprise search gets boost
Configuring and optimizing SharePoint search
SharePoint Online vs. on-premises
Dig Deeper on Enterprise content management, collaboration and search strategy