Choosing between SharePoint 2016 vs. SharePoint Online
It can be hard to determine the right time to move from on-premises SharePoint to the Microsoft cloud. Here is a comparison of SharePoint 2016 vs. SharePoint Online, including cost.
Enterprise clients face the challenge of managing tons of digital content and files within their organizations,...
Continue Reading This Article
Enjoy this article as well as all of our content, including E-Guides, news, tips and more.
especially given that different departments have varying needs when it comes to data. This forces IT to adopt an enterprise content management platform that can serve as a consolidated repository and document library for the content and a place where users can easily retrieve and interact with it.
While the market offers many different products to address this need, the SharePoint server continues to be a popular option among those who work with Microsoft products and OneDrive for Business. With every upgrade or new platform release, clients are facing a tough choice between SharePoint 2016 vs. SharePoint Online when it comes to the different flavors of the platform available to them.
While there is a big push to move to the cloud and leverage its scalability and flexibility, Microsoft consistently innovates with both its online and on-premises platforms in the SharePoint environment. This makes it more challenging for IT to decide between the two options, SharePoint on-premises and SharePoint Online, and forces the team to look closer at what each offers and lacks in terms of capabilities and features.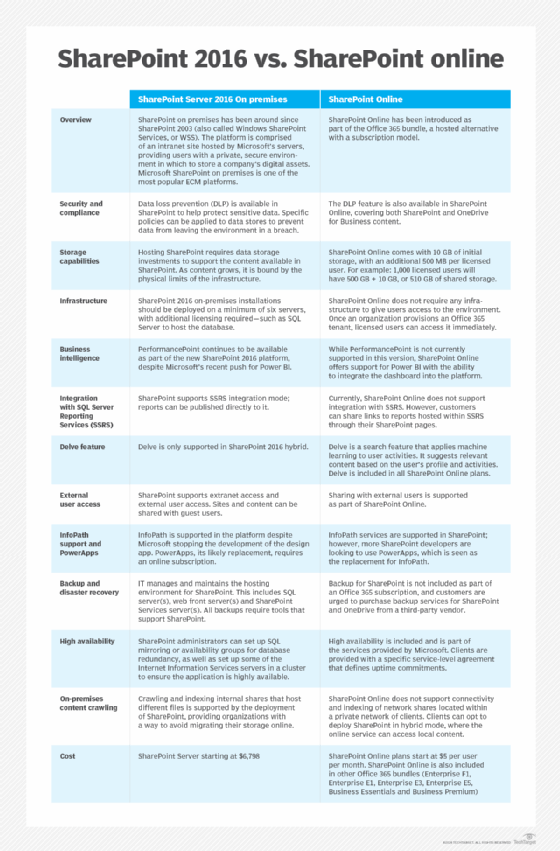 Those just starting out with enterprise content management may generally be more willing to consider SharePoint Online as their platform of choice and may find it cost-effective given its SaaS cost model, while existing enterprise clients tend to lean more toward SharePoint on-premises when they have invested significantly in their infrastructure and foundation.
The comparison provided above of SharePoint 2016 vs. SharePoint Online offers a summary of what to expect in terms of differences between the two platforms.
Dig Deeper on Enterprise SharePoint strategy