Fotolia
Choosing the right social media branding strategy
Social media provides a direct conduit to consumers that can supplement traditional marketing. But it's important to craft that message carefully.
Social media provides businesses a direct conduit to consumers, but it's not always a traditional marketing experience. Much of what we see on social media is driven by interaction algorithms, and that has companies increasingly generating social media content with the goal of engaging consumers beyond just sales.
This sort of social media branding strategy can expand a company's reputation, and allow it to take the reins on conversations about products and services. By the same token, companies that neglect social media run the risk of surrendering that territory to others.
But companies have also suffered the slings and arrows of social media branding strategy gone awry. Many companies have seized on a trend, hashtag or conversation only to find they have co-opted a conversation that was organic among consumers or, worse, they seize on a trend that they don't truly understand and incur a backlash.
Caution is warranted. To be effective, social media branding must reflect the values and message of a company. Striking the right tone is crucial. There is plenty of advice available to enterprises about using social media, but what's often missing are recommendations for building a social media branding persona that can engage customers and drive positive experiences.
Positively reaching your audience
Measuring impact features prominently in many articles about social media and that's justified. Adweek states that measuring impact from social media campaigns is a serious challenge for many marketing executives. It's also true of traditional media, as John Wanamaker famously stated, "[Half of] my advertising is wasted, I just don't know which half." Unlike traditional advertising, it's relatively easy to get basic metrics on social media use, because everything is tracked.
One example is the recent "#lovin" hashtag campaign, which McDonald's used to promote paying for meal items through acts of kindness or social exchange. The McDonald's campaign received healthy doses of coverage -- both positive and negative. While the fast-food giant received its share of negative reviews, social media responses on the McDonald's Tumblr account were relatively positive. It even received positive press from the market. In this case, McDonald's generated some favorable coverage and social media discussions by reinforcing positive experiences in their restaurants.
Not every company will be successful with this same approach. But by focusing on social networks where audiences live and creating a connection beyond products and services, some brands have found ways to engage in a positive manner.
Be authentic
Consumers are unquestionably suspicious of advertising, especially when it comes to authenticity. It's common for companies to seek a "genuine" tone, but they can easily miss the mark. A post on Digiday's site had several definitions of authenticity and a recurring theme was consumers want a "real" experience.
One example is T-Mobile's John Legere, whose sometimes fiery presence has attracted nearly 1.6 million Twitter followers. Legere's feed features a mix of personal humor, statements challenging industry norms, and exposing what appear to be "real" inside experiences. The public perception, largely measured in subscriber growth and positive consumer reaction, suggests he's hit a nerve for a company that recently climbed to third place among national wireless providers.
Creating a "real" connection means at least the appearance of speaking openly. It requires a deft marketer to present a genuine presence without getting into trouble. But the payoff can be big.
Spur imagination
Advertising has evolved over time. Keeping products and services in the minds of the consumer remains the primary goal, but techniques have changed as new media channels present additional opportunities. Social media can play a critical role in assisting the consumer's imagination.
Social media can provide concrete aspirational goals through visualization. For travel sites, images of exotic, exciting, or special experiences help consumers identify needs or desires. Starbucks, for example, presents a series of powerful images, supplemented by a few words on its Tumblr account. These images and captions help customers imagine their own experiences. To their credit, they do this without always explicitly evoking Starbucks products.
Will every company be able to use this approach? No. Moreover, not everyone should. However, organizations should consider this approach if there are opportunities to unleash consumer imagination. Unlike traditional advertising, social media has the advantage of volume and frequency. Social media can give an edge when it comes to creating consumer connections.
Avoid missteps
It's been said there's no such thing as bad publicity. But companies that had to scramble to contain the damage from ill-advised social media activity would likely beg to differ.
One example is DiGiorno Pizza, which has a robust social media presence that often cites current events. But that strategy backfired in 2014, when the #whyIstayed hashtag -- featuring stories from survivors of domestic violence -- was trending on Twitter. Hopping onboard a trending topic is often a Twitter best practice, but not when done in this manner: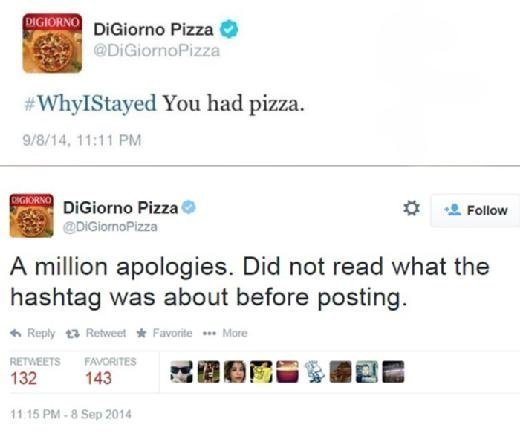 DiGiorno caught the mistake and posted an apology in less than five minutes. But all it takes is one screenshot for an ill-advised Tweet to become part of the permanent record. Gaffes of this nature are fairly common, and they often stem from miscalculating how a given communication will be read by the public.
Take it as a general principal that your social media branding conversation needs to be carefully vetted, always considering "what could go wrong?"
Making good decisions
Making good decisions about social media is more than just avoiding mistakes. Good decisions require firms to challenge themselves to consider a variety of approaches.
Having frank discussions can create legitimacy and attract key demographics. A genuine experience is difficult to manufacture, but the right voice and programming creates a powerful draw. For certain target groups, such as Generation X, authenticity is key.
Finally, creating positive connections is a must. While that may seem obvious, it apparently eludes many companies. There are many ways to create a negative experience, but most can be traced back to miscalculating how a given communication will be read by the public. Conversely, positive experiences can be developed by linking traditional media campaigns to social platforms, like voting for TV show contestants through Twitter.
There are numerous challenges to making use of social media. But good decision making creates more opportunities, and a well-defined social media branding strategy can help avoid the pitfalls.
Next Steps
Companies mine social media for consumer voice
Enterprises look to build online communities
Predictive social media analytics still face hurdles
Dig Deeper on Enterprise social media management