Sergey Nivens - Fotolia
Company intranet reboot delivers knowledge for mobile staff
Intranet technology has not always enjoyed widespread adoption and use. An accessible, mobile-ready and people-oriented platform is changing that for a Canadian nonprofit.
Long a staple of intraoffice document sharing and basic news alerts, the concept of the company intranet is evolving to serve the needs of a dispersed, mobile workforce.
Traditionally, an intranet has been a private company network that served primarily as a centralized repository for enterprise announcements and evergreen documents, which was delivered to a desktop audience at the office. But the proliferation of mobile devices in the workplace is fueling demand for an accessible and user-friendly platform that can better serve workers in the field.
The nonprofit Developmental Disabilities Resource Center of Calgary (DDRC) in Calgary, Alta., wrestled with those issues in recent years. The agency has roughly 300 employees, who provide a variety of social services throughout the city, and needed a company intranet that could provide a common knowledge base for a largely dispersed workforce, explained Kate Kerr, DDRC director of communications and development.
"We had a very limited HTML-based intranet, which was a loose collection of webpages that were difficult to maintain and hard to navigate," Kerr said. "Many departments had no presence on it at all, just because it was too hard to update, and users didn't know how to find anything that was there. We knew we had to look for a solution to both of these issues."
DDRC upgraded to a cloud intranet offering from Jostle in 2013, and quickly began using the new intranet technology to distribute information during crisis situations. When Calgary flooded later that year, DDRC used Jostle to keep employees abreast of what services were still being offered for clients. During a measles outbreak in 2014, the system helped keep everyone informed on what clinics were providing treatments and which protocols employees should follow if they or clients had been exposed.
With more than 75% of the DDRC workforce typically active in the field, the company intranet was crucial to ensuring that the entire team had access to vital information, Kerr explained.
Keeping remote workers informed of events and timely information has proved invaluable, given DDRC's dispersed workforce. And while Jostle offers various other collaboration features, DDRC uses its intranet for this more narrow purpose of distributing corporate information, rather than enabling worker collaboration.
Making intranet more social
Founded in 2009 and based in Vancouver, B.C., Jostle brings a variety of enterprise social features to intranet technology, with an organizational graph interface that facilitates messaging, team collaboration and a newsfeed area for companywide announcements.
In addition to providing timely information for field workers, DDRC primarily uses Jostle to publicize companywide announcements and to trumpet success stories.
The interface allows several options for pushing information out to staff, Kerr said. For the most important news, there's Jostle's notification email, which is distributed to employees with a link to the latest published article.
Another feature allows the author to "pin" important articles within the newsfeed, so that it stays on top of each employee's feed until it's read, or until a specified date.
"This is a handy feature for policy updates in particular," Kerr said.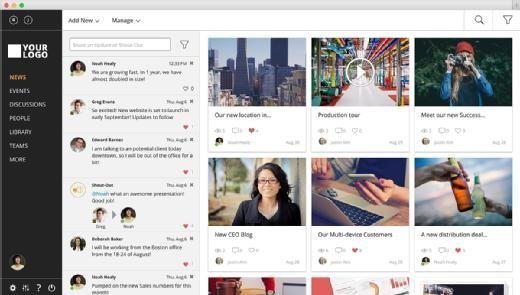 In addition to traditional search function, Kerr said the company intranet also has a useful "people" view, which can be used to find employees based on distinguishing facets, such as location and expertise. In general, Kerr said the platform facilitates communication across a variety of channels in an orderly fashion.
"There are a number of voices in the conversation, but they're organized in the Jostle platform, so it is, overall, very cohesive," she said.
Evading the adoption challenge
The Jostle service has a monthly charge, which is calculated per employee. Kerr said the technical rollout was straightforward, though it was something of a challenge when DDRC's mobile workforce had to first establish their accounts and log in to the system.
Since then, Kerr said DDRC has experienced growth in user adoption, while also allowing the organization to focus on the communication aspects of the technology, rather than technical elements.
DDRC's experience with Jostle is instructive to organizations that have seen intranets wither on the vine. As with so many other content technologies, Intranets -- and wikis -- often suffer from lack of adoption or users abandoning the technology after brief usage.
The DRRC has made a conscious effort to keep employees engaged with the intranet, with Kerr often assigning multiple employees as intranet reporters to share stories and updates across the organization, which helps get more people involved with the intranet discussion.
"This helps democratize success in some ways," Kerr said. "We get to hear from front-line staff across the agency, rather than just from management or senior leadership."
The Jostle platform also includes messaging and document library features for collaboration. Kerr cited several reasons why DDRC is not using those features with its company intranet.
"Because our front-line staff is doing hands-on work supporting clients, their workdays allow them very little time to learn and use these types of features," she said. "Our office staff might have more use for them, but we only have one office location ... so the challenges of getting office staff together for face-to-face collaboration on documents is reduced. It would be great to roll out some of Jostle's other 'sharing' features, but as of right now, they aren't top agency priorities."