Creating public-facing websites in SharePoint Online
SharePoint now enables users to build lower-cost public-facing websites with SharePoint Online. Can this capability drive adoption of Office 365?
Although SharePoint is probably best known for its user sites and team sites, SharePoint Online supports the creation...
Continue Reading This Article
Enjoy this article as well as all of our content, including E-Guides, news, tips and more.
of a publicly facing website. This SharePoint site is publicly accessible, even to those who do not have an Office 365 account. In fact, some organizations host their corporate website through SharePoint Online.
With SharePoint Online, Microsoft has heeded the user call for an easier, lower-cost way to create public-facing websites with SharePoint. With this new capability, Microsoft is attempting to drive Office 365 adoption -- the hosted, online version of traditional Microsoft office software -- even further by making it less cost-prohibitive as compared with the on-premises version of SharePoint. With SharePoint Online, that barrier to entry has been significantly reduced.
If your IT shop has been clamoring for this capability, it's now here. So now let's turn to the nuts and bolts of creating a public-facing website.
Creating a public-facing SharePoint site
Hosting a website through Office 365 works differently than it might if you were using a standard Web hosting account from a provider such as EarthLink or GoDaddy. You will have to jump through a few hoops to link your domain name to Office 365. Microsoft requires you to work through a domain name validation process that involves adding a special DNS record as a way of proving that you own the domain name. Once your domain has been validated, you can link it to a publicly facing SharePoint site.
For more on
SharePoint 2013
SharePoint 2013 features: Predictions for 2014
The trouble with SharePoint 2013 migration
Yammer vs. Jive: You can't always get what you want
If you choose not to use your own domain, then your public SharePoint site will use a domain name that appends the word "public" to your Office 365 domain name and attaches SharePoint.com. My Office 365 domain name, for example, is posey.onmicrosoft.com. As such, the default URL for my public-facing website would be Posey-public.sharepoint.com. If you want to see what your public URL is, you can do so by logging into Office 365 and selecting the SharePoint option from the Admin menu. The SharePoint Admin Center will then display your public URL as well as the URL for your site collections.
To configure SharePoint online to use your domain name rather than the default, log into Office 365 and click on the Domains link. Then click on Add a Domain. Doing so will launch the Add a Domain to Office 365 Wizard.
Click the Start Step 1 button, and Windows will ask you to enter a domain name. You will then be prompted to enter your domain name. The following screen will ask you to verify that you own the domain by creating a special DNS record.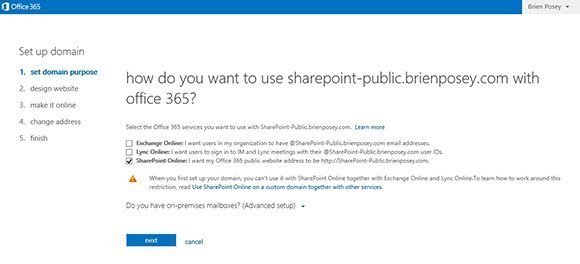 Figure 1. You can link a domain to Microsoft Exchange and Lync or to SharePoint.
After your domain ownership has been confirmed, you will be prompted to create users with email addresses on the domain. More important, you will be asked how you want to use the domain name. During this step, you can choose to associate the domain with Exchange and Lync, or with SharePoint, as shown in Figure 1 (you can't use a single domain name for all three applications). Microsoft refers to this association as the domain's purpose.
The next page in the setup process asks you to design your public website. The wizard doesn't facilitate the design process. It simply gives you the opportunity to open your public site in a new browser window. The next several wizard pages also show you ways to customize your site.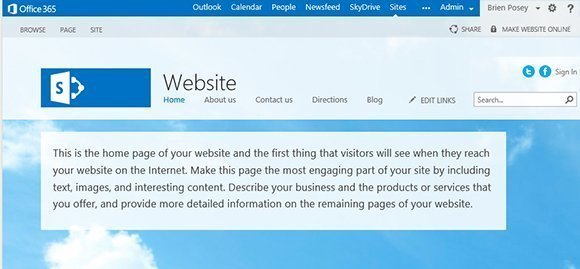 Figure 2. Office 365 makes building a public site easy.
As you can see in Figure 2, Office 365 gives you the building blocks to create a custom website in a manner similar to that used for creating any other SharePoint site.
Making your site accessible
As you look at the figure above, note that it includes my name, Office 365 menus and other information that you shouldn't include on a public website. Thankfully, Microsoft blocks access to your public SharePoint site by default. If someone attempts to access your public site, they will be taken to the Office 365 login page instead.
When you are ready to make your site accessible to the world, you can do so by clicking the Make Website Online link, shown in the figure above. When you click this link, there will be a couple of confirmation prompts asking you if you are sure that you want to make the website publicly accessible.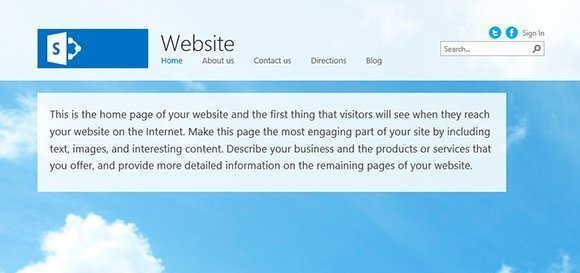 Figure 3. Enabling the default public website.
Once the website is made public, it will seem almost identical to what you saw in Figure 2. While this might be alarming at first, the reason is that you are logged into Office 365. A random visitor will not see the Office 365 menus. To demonstrate what I mean, I temporarily enabled a default public site and accessed it from a computer that is not logged into Office 365. You can see what the site looks like in Figure 3. Notice in the figure that the Office 365 menus are gone.
At any time, you can take the public website offline by logging into Office 365, visiting your public website and clicking on the Make Website Offline link.
SSL Encryption

Figure 4. Contrary to TechNet, SSL encryption does work with public SharePoint sites.
According to a TechNet blog, public-facing SharePoint Online sites do not support the use of Secure Sockets Layer (SSL) encryption. While this might have been true previously, it seems that SSL encryption does work, at least when using the default URL. Figure 4 shows an SSL-encrypted public site.
Ready for prime time
Microsoft makes it relatively easy to create a public-facing website using SharePoint online. SharePoint Online doesn't give you the flexibility of a site that is custom-built from scratch, but it does offer solid functionality. If you already use SharePoint internally, creating a public-facing website with SharePoint online can make sense.