Expert: Collaborative Power BI in Office 365 is undervalued
Power BI has collaboration features that make data more actionable and transparent. But users aren't always educated about these features.
As companies come to recognize the importance of gathering intelligence about customers, vendors are responding by doubling down to make customer relationship management more informed, efficient and targeted. But one of the crucial features that's much needed in business intelligence today is collaborative tools that can help users arrive at data insights together and take action based on shared information.
Microsoft's Power BI in Office 365 aims to solve some of these hurdles. While data analysis was previously often the province of a select group, features in Power BI make it easy to work collaboratively on, share and mark up data sets. Users can also publish data using SharePoint, Groups or other Office 365 features. Rather than having charts sitting static on a desk, data can be shared in SharePoint, then revised and distributed to a preprogrammed group.
Consider sales managers using business intelligence (BI) dashboards to monitor the productivity of inside sales reps. The data likely includes call volumes, opportunity statistics and revenue. So, when a sales manager wants clarification from inside reps on why call volume has dipped during a particular period, the ideal action would be to send a link or the dashboard itself that depicts the dip in call volume, and that would trigger a response from the sales rep with clarifications. That conversation should happen outside email messages to maintain the context and timeline for historical purposes, but BI tools lack true vehicles of communication, so email becomes the default.
Collaboration is a key feature for actionable business intelligence, yet most BI applications lack it. While Microsoft offers capabilities concerning that functionality, users generally make little use out of it. The capabilities offered within Office 365 Groups support the collaboration piece needed in its Power BI platform. Here are the top five value-added collaboration functionalities available within Power BI.
Scheduling component in BI to facilitate appointment setting. Whether it is a business user, an analyst or an executive reviewing dashboards, a user needs time with colleagues to further review, analyze and discuss findings. With Microsoft Groups integration with Power BI in Office 365, a user can set up an appointment with members of a specific group, who will receive notifications about the meeting. This feature centralizes all the events related to the data dashboards associated with the group.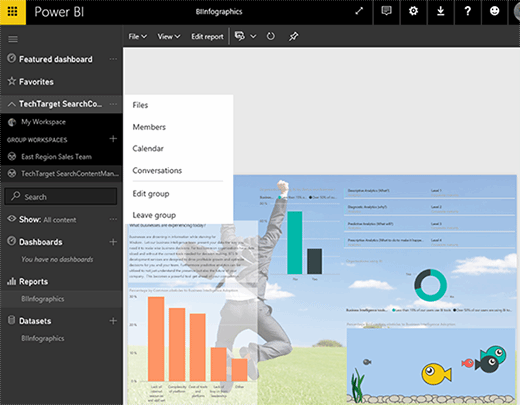 Centralized dashboard-related conversations. As certain business users take action from the data, the associated conversation remains centralized, accessible and stored. This is part of the overall data that is kept within the group's data and remains accessible. Having the data centralized allows users to review it in the future to understand what might have been discussed at a specific point of time.
File and link support. Another valuable capability is quick access to supporting documentation or files. For example, a sales manager can upload dashboard documentation to a group associated with the sales rep productivity, as well as content that can assist sales reps if their numbers dip or reach a specific threshold.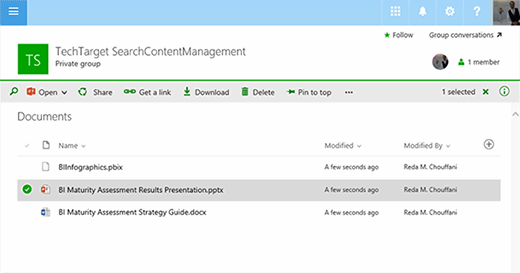 Video and audio conferencing. Whether a team decides to initiate a video conference to congratulate each other for exceeding goals or just to review the weekly stats available in some of the dashboards, it's valuable to have a quick and easy way to start the meetings. This is a feature offered through Microsoft Groups, and Power BI in Office 365 can fully take advantage of it.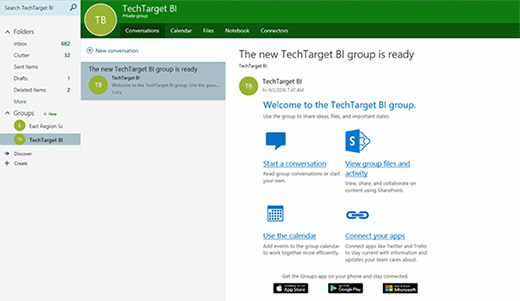 Membership capabilities for enhanced security and notifications. Now that all these features can be paired with data visualization, the ability to control who views which data becomes critical. The Groups feature allows you to add users and groups of individuals, as well as to designate which level of permissions they should hold. This helps ensure that only the appropriate individuals can view the data, reports and conversations they are designated to see.
The idea behind Groups with Power BI in Office 365 is to bring users and information together to support better collaboration and communication over business intelligence. While the Groups functionality is a feature of Office 365, Microsoft allowed it to become a feature in Power BI. Business users can together discover and discuss different insights from some of the visualizations accomplished through Power BI -- and as more business users exploit the BI tool, the adoption of the collaboration platform will grow as well.