Kirill Kedrinski - Fotolia
Five new features SharePoint users can expect this year
Microsoft has rolled out five new features for SharePoint. The capabilities will help alleviate some headaches -- but they come with some concerns.
Recently released changes to Microsoft SharePoint 2016 signal that the vendor is putting effort into empowering SharePoint users.
The new updates have received skepticism and raised concerns, however. One is Microsoft's push to enable greater administrative and self-service capabilities for end users. This could encourage users to create sites without regard for existing ones, thus perpetuating SharePoint sprawl. Allowing end users to have administrative capabilities comes with the risk of losing control over standardization and the ability to train and support multiple team sites. Despite these concerns, there is an overall excitement as many SharePoint administrators, IT executives and business users welcome the new features.
The enthusiasm surrounding the new SharePoint features was present during sessions at Microsoft's recent Ignite conference. Microsoft offered a sneak peek on many of its upcoming SharePoint features and capabilities. Here are the five features ECM administrators can expect to see:
1. Strong emphasis on self-service
For organizations with a large user base on SharePoint Online, enterprise content management (ECM) administrators will welcome some of the upcoming self-service capabilities being introduced. These have helped simplify the process of list administration and allowed for the user to have access to some basic administration without advanced knowledge of the platform. Here are some additional examples of self-service capabilities being added:
Easy-to-use wizard for new site or list creation for users
Feature-rich page authoring to help create site pages
Advanced Flow capabilities that are able to eliminate the complexity needed with the traditional workflow engine
Easy to manage and create custom field for libraries
Simpler way to move content from site to site using the Copy to feature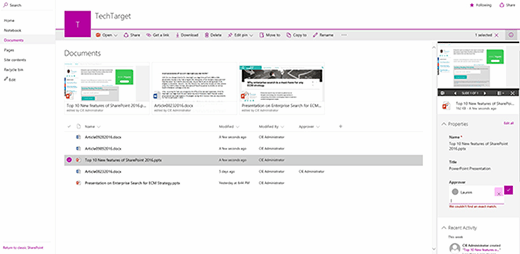 2. Better insight for teams and ECM admins
Another area that received additional changes and enhancements is the site analytics and usage section. ECM administrators are always interested in gaining insights into what browsing habits and patterns exist with their SharePoint users. Microsoft is making the attempt to bring more enhanced reporting and analytics capabilities to SharePoint 2016. This will likely be a feature that is used by more than just the administrators. Team site managers will have access to data and analysis that will provide a better understanding of how team members use and collaborate on the site.
3. Enhanced business automation and workflows
For many SharePoint users, workflows in SharePoint have not always been the most user-friendly. Some workflows offered limited capabilities for users to easily create and manage processes within sites; while anything more complex required SharePoint administrators to get involved. To solve these issues, Microsoft has been hard at work incorporating Flow, a recent acquisition, into a number of its platforms including SharePoint. This will allow SharePoint users to create and apply new automation possibilities from Flow into any of their SharePoint libraries.
4. Improved security and governance features
Security features within the platform have also received an update. Microsoft is releasing a set of options that will allow an end user to classify items within lists in order to have specific preconfigured security and retention policies applied. Document linking and sharing has also been introduced, allowing users to share documents with others by simply sending a link. This allows others to view and edit the document without needing direct access to the site and its content. This will likely be a tremendous value to users and site administrators as it reduces the risks of having too many users added to a site who may only need visibility to a few documents.
5. Improved interface across multiple SharePoint areas
Microsoft also revamped the look and feel of many other features in SharePoint. With a responsive and mobile-friendly design, the platform will gain wider acceptance from SharePoint users. The new features in the document library are as follows:
Document pinning allows users to highlight relevant content above the document library with a thumbnail preview of the document.
Document Info sidebar allows users to make edits to document attributes within the same page without having to navigate away to the document properties details page.
List grouping and subgrouping capabilities allows users to create multilevel groupings for their list content.
Upgraded news section gives users the ability to display site activities and promote content based on user's activities.
Native web part for Power BI that supports embedding Power BI files within a page.
New interface for Home page design that allow users to build content-rich pages with more content and in a much easier fashion than in the past.
Preview in Outlook Web App of shared documents allows users to receive a shared link for a document with a preview as well.
Microsoft Power Apps integration gives users the ability to create apps via a custom list.
These changes made to SharePoint 2016 can present both challenges and opportunities. One may consider that the new changes can certainly bring incredible improvements for SharePoint users, while others may argue that if all of these new changes are released without controls or governance, chaos will ensue. Therefore, since Microsoft is bringing robust and meaningful new capabilities, the challenge will be to ensure SharePoint users can take advantage of all of them while organizations can still maintain adherence to governance strategy.
For more, check out all our Ignite 2016 conference coverage.