Fotolia
How to enhance collaboration with Office 365 tools
SharePoint, Teams and Groups, oh my! Expert Shawn Shell has advice to help you determine which Microsoft Office 365 collaboration features make the most sense for your team to use.
If you're overwhelmed by the sheer number of products and features in Office 365, you're not alone. In both number...
Continue Reading This Article
Enjoy this article as well as all of our content, including E-Guides, news, tips and more.
and breadth, the Microsoft productivity suite represents a collaborative technology smorgasbord.
As a result, there are numerous product and feature combinations available to end users. Sorting out how you and your colleagues can best engage in collaboration with Office 365, though, is less clear.
To get value from the suite, organizations must define clear collaboration goals and success measures. Is your firm interested in more ad hoc content development? Are there long-term records management needs? Are you in a regulated industry and need tight content lifecycle goals? Are your employees distributed or consolidated -- and are they mobile or do they work from a consistent office space?
The answers to these questions -- and a few other considerations -- will help you sort out the right options to enhance employee collaboration.
Collaboration with Office 365 evolves
Office 365 started life as Microsoft Business Productivity Online Suite in 2008. The suite included familiar products like Exchange, SharePoint and Lync -- now Skype for Business. SkyDrive, later to be renamed OneDrive, was a nascent, consumer-focused tool that had not yet been fully incorporated. It was relatively clear, however, where each product fit into a collaboration scenario.
Today, the suite is far more complicated. Depending on the Office 365 licensing option that your organization purchases, you can access a dozen or more products in your subscription. However, there are still broad categorical feature and product sets available to encourage collaboration with Office 365: For example, Teams, Groups and SharePoint all have file management, status update capabilities and what could be called initiative management -- meaning they can manage a collection of artifacts contributing to an initiative or project.
Does your organization need flexible communication mechanisms? Here, too, Office 365 provides features ranging from instant messaging capabilities to telephony. Most of these features are housed in Skype for Business and integrated into Teams. In addition, Exchange provides traditional email capabilities, supplemented by Groups to help organize and preserve conversations.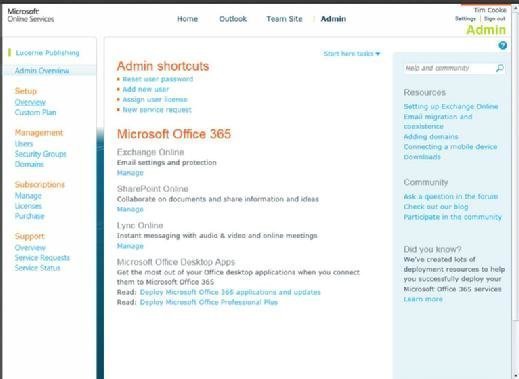 If your collaboration needs lean toward managing projects, there are products to assist. Planner and Tasks are born from SharePoint capabilities that now live on their own. Tasks enables managing actions individually, while Planner can be used in the context of a project.
In the end, it's important to pay attention to suite evolution. Microsoft continues to add, change and remove products and features. However, Microsoft lists updates and changes to the Office 365 roadmap on its website.
Have a plan for managing Office 365 tools
Content and tenant management within Office 365 can be a challenge. Whether it's an e-discovery issue or administrative controls, the sheer number of products and features can introduce overall management difficulties. These complications are often born from various product maturity levels, as well as the myriad products that aren't always tightly integrated.
The administrative controls are spread over various interfaces and cover varying product features. For example, in the controls for your Office 365 tenant, you can configure various policies for portions of your organization -- Exchange, password administration, the ability to share content with nonemployees and which add-ins are active for employees. If you want to manage specific product features to enhance collaboration with Office 365, you're often left to pursue those controls within the individual products.
Effective collaboration tools require consistent management.
Effective collaboration tools require consistent management. Organizations need to plan what tools will be used by employees. Each tool must then be managed to ensure both productivity and manageability. This includes, but isn't limited to, content security, content preservation, data sovereignty, content disposition, discoverability and findability. These kinds of controls are mixed with Office 365 tools, and it's important to have a clear plan to address relevant levers in your organization's context.
Mobile Office 365 apps at various stages
We live in a mobile-centric world, and Microsoft has responded by consistently producing mobile applications for Office 365 services. For example, if you start working in Teams on your Windows laptop in the office, you can pick up that work on your iOS device on the road. As a result, Office 365 provides a strong mobile foundation for collaborating even when out of the office.
To Microsoft's credit, the Office 365 mobile apps provide a fairly complete mobile experience. Whether you're using one of the mobile Office products -- e.g., Word, PowerPoint or Excel -- interacting on Teams, editing a document through OneDrive or screen sharing on Skype for business, all of the applications operate relatively seamlessly.
Nearly all of the major applications operate the way you'd expect on a PC and provide full functionality. Even when initiating some action in one application and getting transferred to another -- like opening a Word attachment in Outlook -- the apps just work.
Unfortunately, not all mobile capabilities are the same. Depending on which application or feature you need for collaboration with Office 365, you'll experience varying maturity levels.
SharePoint's mobile application is an example of a mature product with an evolving -- though curiously incomplete -- feature set. For example, SharePoint will often revert to a glorified browser when it encounters heavily customized SharePoint sites. This affects features like document views or list items. Further, many other mobile apps, like OneDrive or Teams, feel more complete and function better, despite being connected to less mature or newer products.
The value is there in Office 365
Office 365 is arguably the most robust collaboration suite available. Microsoft has provided a set of products and features that enable employees to work together in numerous ways. In fact, there are few limitations to approaches, as there are often multiple ways to create, communicate and interact. The real challenge is finding the right approach for your organization.
Trying to find the right strategy for your team is where you should spend your time. Microsoft is constantly updating Office 365. Multiple products overlap and the distinctions regarding the best tool to use aren't often clear. Firms should devote serious energy to both monitoring for changes and establishing solid governance to ensure maximum productivity.