Is SharePoint in the cloud the right fit for your company?
SharePoint Online can reduce costs and ease management headaches, but not without a few functionality tradeoffs. Companies should be familiar with shortcomings before making the move into the cloud.
For some organizations, SharePoint Online is the answer to problems like rising data center infrastructure costs,...
Continue Reading This Article
Enjoy this article as well as all of our content, including E-Guides, news, tips and more.
the time sink of management and patching, and a lack of IT expertise. SharePoint in the cloud can provide simpler, more cost-effective enterprise collaboration and content management capabilities.
But for companies with complex requirements, it might not be the right fit. While Microsoft continues to add functionality, many useful on-premises features are missing from SharePoint Online. And unlike SharePoint on-premises, SharePoint Online is not easily customizable -- this might not be an issue for companies with straightforward needs and a small IT staff, but lack of customization could be a real obstacle in some cases. Cloud security also remains a major concern for companies dealing with sensitive information or strict regulations.
So, how should companies decide whether to keep SharePoint on-premises or choose another approach? First, let's define the various deployment options for SharePoint 2013, which extend beyond just on-premises and online.
SharePoint on-premises: The installed version of SharePoint 2013 within an organization's data center on either physical or virtualized infrastructure.
SharePoint Online: The SharePoint as a service capability offered by Microsoft within their Office 365 cloud environment.
SharePoint on Infrastructure as a Service (IaaS): The installed version of SharePoint within a third party's virtualized data center. This could also be SharePoint running in Azure Cloud or the Amazon Web Services cloud.
Hybrid-cloud SharePoint: A combination of on-premises and cloud deployment.
Each of these options is based on SharePoint 2013 software, but there are some important nuances:
SharePoint on-premises is a full software install. An organization can choose to deploy all or a limited number of SharePoint's wider-defined capabilities to its user community and will need to deploy or choose not to deploy service packs over time to address issues with the software. With installed software, the capabilities and features may become an issue once a new release is expected; there may be feature enhancements or feature depreciation to consider.
SharePoint Online is a service coming from Microsoft's Office 365 cloud. It is a standard service offering constrained by the capabilities Microsoft chooses to offer at any point in time. The capabilities and features of the product are known at the outset, but Microsoft can roll out feature enhancements and depreciations at any time and the organization has no choice but to comply with them.
SharePoint on IaaS is similar to SharePoint on-premises, but the organization installs the SharePoint software on external public or private infrastructure cloud services. Infrastructure typically means virtualized servers running SQL databases, the SharePoint software and Web servers, as well as Active Directory.
Evaluating SharePoint in the cloud
Let's compare the advantages and disadvantages of on-premises SharePoint versus SharePoint Online. See Figure 1 for a detailed look at how SharePoint on-premises and SharePoint Online match with specific business needs.
We can assess against six common attributes that businesses might require from SharePoint:
Auditability
Reduced cost of ownership
Complex functionality
Predictability of functionality
Service level
Speed to market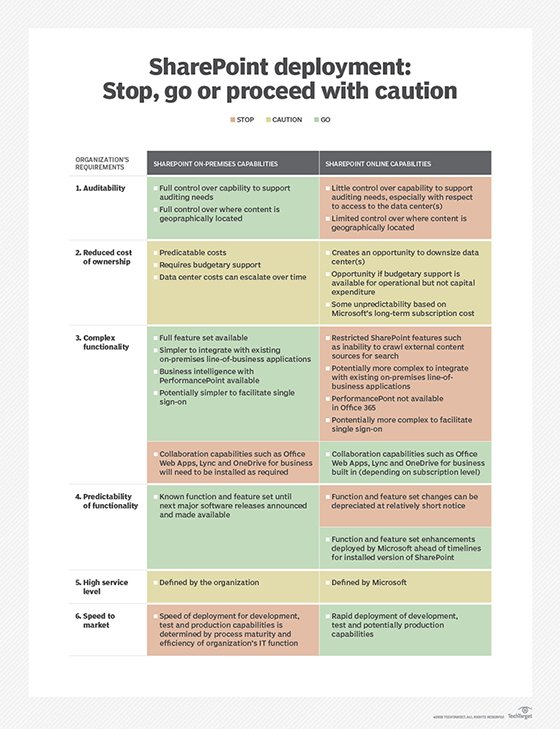 When Microsoft launched Office 365 in April 2011, many debates focused on what Office 365 lacked. Some organizations only needed to consider email requirements (Outlook and Exchange), so it was a simpler decision. Other companies with more comprehensive needs had a complex decision to make. Clearly, the cloud and Office 365 are here to stay. In many ways, we have been here before with decisions related to mainframes, bureau services, thin clients, client servers and now back to bureau services.
In the next article in this series, we will take a closer look at SharePoint Online versus SharePoint on-premises, including security considerations, authentication, identity management and software development approaches, as well as hybrid models.
Dig Deeper on Enterprise SharePoint strategy