Microsoft Delve may drive demand for Office365
Microsoft Delve is touted as a hot new interface for SharePoint, but will users embrace it or find it intrusive?
As Microsoft advances further in its mobile-first, cloud-first strategy, new offerings such as Microsoft Delve are piquing companies' curiosity but also raising eyebrows. Many companies will have to gauge whether services like Delve can enhance worker productivity or run the risk of being overly intrusive.
Part of the Office 365 suite, Delve includes elements of search, social networking and machine learning. It was originally launched as an enterprise search-and-discovery tool to make company content more accessible for workers. But with Microsoft's latest iteration, unveiled at the Microsoft Ignite conference, Delve is maturing to become a corporate information hub of sorts. Microsoft has fashioned Delve to connect coworkers through social feeds, content, and activities using personalized profiles and machine learning to assess which projects are likely relevant to employees. These features make Delve more like Pinterest for the enterprise than anything like the traditional SharePoint.
But Delve's richer user experience needs to be set against the prospect for misuse of data. The social aspects could allow managers to use Delve as a monitoring tool to gauge employees' productivity relative to peers. It also remains to be seen whether companies will use these internal analytics much, considering they are already suffering from data overload. To be successful, Delve will have to improve the overall enterprise signal-to-noise ratio, not just add yet another tool for working with disparate information channels.
Where Microsoft Delve fits in the market
Microsoft SharePoint2013 left ample room for improvement in search and discovery. Although SharePoint incorporated FAST search technology, the user experience was limited and often siloed among OneDrive and other Microsoft tools.
Delve is a dramatic departure from Microsoft's previous approach, with innovation led in part by the Microsoft FAST team and developed under the leadership of Qi Lu, who previously led Bing, Microsoft's Web search engine.
If successful, Delve will offer a unified and secure interface for working with all information resources to which Office 365 users have access privileges, offering permission-filtered search and discovery tools for SharePoint, OneDrive for Business, team workspaces in the new Office 365 Groups service and more.
The Delve interface is dynamic, personalized and interactive, making it possible to flexibly explore information resources, including personal and organizational profiles. Search queries, for example, can be based on content, activities and relationships. Authorized users can also locate content by accessing the activity feeds of coworkers who have worked with a given document.
Delve also applies advanced analytics to populate a suggested content feed. This feature is powered by Microsoft's Office Graph, which uses multifaceted indexing of content and user activity and machine learning to determine what content is likely of interest to a given user This is in some respects similar to Amazon's product recommendations, but for enterprise resources rather than commercial items.
In terms of platform availability, Delve is supported in both desktop and mobile versions, with clients for iOS, Android, and ("coming soon") Windows Phone devices.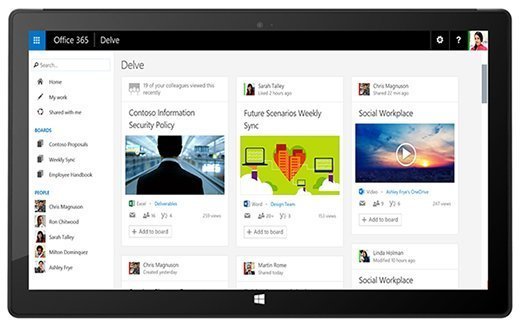 Proceeding with caution
While Delve offers some beneficial new ways for companies to make information accessible to employees, there are some considerations to keep in mind:
Delve is available exclusively through the Office 365 cloud and there are no plans to offer an on-premises version. Microsoft announced at Ignite that Delve will be available for hybrid deployments of SharePoint 2016 and SharePoint 2013 later this year.
Delve can overstep its bounds easily in enterprises that don't diligently apply content access privileges or that don't place a high priority on personal privacy. Delve is always subject to permissions defined in source systems such as SharePoint and OneDrive, but, as is the case with Facebook, Delve users will have to remain circumspect about potential consequences from inadvertent over-sharing.
There are some open questions about Delve and Office Graph performance, such as indexing latency. The first version of Delve made available with Office 365 advised users that new documents may not be visible in Delve for up to 24 hours, which is unlikely to satisfy information workers accustomed to Google and Bing offering near-real-time indexing of the entire World Wide Web.
There are limits to what can appear in Delve, which was initially limited to resources managed in Office 365, but later expanded to include some on-premises resources. Delve is extensible via an application programming interface. For example, Microsoft demonstrated Salesforce integration with the Office Graph at its Build and Ignite conferences.
Delve is evolving. It started with a streamlined and intuitive content model before adding rich user profiles, group profiles, and much more. The extent to which Microsoft's designers can keep Delve simple and intuitive as its scope expands is still to be determined.
Does Delve make sense?
Delve could improve and simplify enterprise search-and-discovery activities, delivering on the compelling visions of many earlier (and mostly failed) "knowledge management" products and services.
As the primary user experience for the Office Graph, Delve is poised to become a "killer app" for Office 365, generating significant end user demand. However, SharePoint on-premises users will need to weigh the additional cost of a cloud migration or hybrid deployment, if Delve is on their wish list.
Migration is an important consideration, since Delve is only as useful as its populated Office Graph. Enterprises that can analyze, enrich (e.g., with contextual metadata) and migrate on-premises resources into the Office Graph will gain much more utility from Delve. Fortunately, Microsoft partners such as CASAHL and Metalogix can greatly simplify migration.
Overall, Delve could become a personal productivity and collaboration game changer. Microsoft still has to demonstrate it can deliver on its goals and avoid over-complicating its user conceptual model; but over the next few months, we should have a better idea of whether Delve can fulfill its potential and start driving market momentum for the Office 365 cloud.
Dig Deeper on Enterprise SharePoint strategy