Microsoft PowerApps: The next big thing in application development
PowerApps enables business users to close the gap and develop their own applications -- without needing to learn code.
Over the years, SharePoint has helped organizations centralize much of their enterprise data and has become one...
Continue Reading This Article
Enjoy this article as well as all of our content, including E-Guides, news, tips and more.
of the most popular intranet content management systems. Whether organizations use it to store and retrieve documents or to take advantage of InfoPath forms to capture specific business data, the platform has undergone tremendous adoption.
But since the end of InfoPath product development was announced, SharePoint administrators have been puzzled as to why Microsoft would end its Form Builder tool that has helped many fill the gap in capturing relevant and specific business data. But with the release of Microsoft PowerApps, there are indications that the feature may offer capability that renders InfoPath largely irrelevant.
Announced in April 2016, Microsoft PowerApps provides the ability to build interactive forms that can capture data, offering the flexibility to go on any device regardless of size or platform and without a single line of code.
PowerApps enables any user without development experience to design and manage a custom, mobile-friendly business app. These apps can connect to business data from multiple sources. The service allows business users to build different screens and functions without technical development training. Let's look at some of its capabilities from a technical and non-technical standpoint.
Building apps without code
With a lightweight designer, users can design apps within minutes. Users can exploit the designer application by starting from existing app templates, such as asset tracking, service requests apps, and home inspection apps. In addition, the application allows end users to choose from various data sources where the business data lives and also where the captured data will reside via existing connectors to software-as-a-service-based solutions or other commonly used data storage destinations.
Out-of-the-box integrations
Integrating multiple platforms and applications has always been challenging, and some projects stall because of a lack of integration capability or the high costs associated with building the interface for the systems used by the company. Microsoft recognized that, for enterprise users to adopt PowerApps, it would have to address the integration piece. As a result, Microsoft PowerApps ships with existing integration adaptors, from Office 365 to Dropbox to Twitter, SQL, Salesforce, MailChimp, SharePoint, Slack, CRM online and Azure Service Bus. Figure 1 showcases all of the currently available connections offered under PowerApps.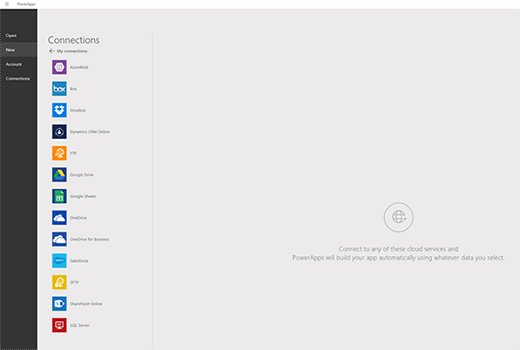 Build it once and deliver it to multiple platforms
With the understanding that there is a significant mix of platforms in the mobile space, Microsoft has ensured that PowerApps can be published and used from Android, iOS and Windows devices. This flexibility guarantees that companies needn't hitch their wagon to a particular platform. Figure 2 displays the options a user can choose from to build their app for their desired platform.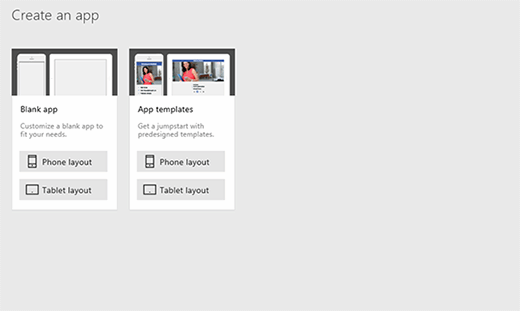 A much faster get-to-the-user strategy
Historically, developing apps required developers (to do the technical architecture and coding) and business users (to articulate the need). On many occasions, there was a significant amount of back and forth happening to ensure that all the requirements were collected and that the team could agree on what to deliver. This can cause delays and additional costs. But it looks like PowerApps' ease of use and code-free designer will enable business users to wear the app creator hat.
The real hidden gem of Microsoft PowerApps
As many SharePoint users are aware, InfoPath leveraged the workflow capabilities that SharePoint has. Despite the limitations of what workflows can do out of the box, it was still a popular feature. But with PowerApps using Microsoft Flow (the latest cloud-based workflow), organizations can access true business automation and integration at its best and most fully integrated with the apps created through PowerApps. With some useful out-of-the-box and customizable workflows within Flow, business users can automate processes as never before; examples include capturing an order from a custom PowerApps app and then seamlessly pushing that data directly to Microsoft CRM or sending email notifications. Another example is detecting specific items from social media services such as Twitter and then sending an email or uploading a file.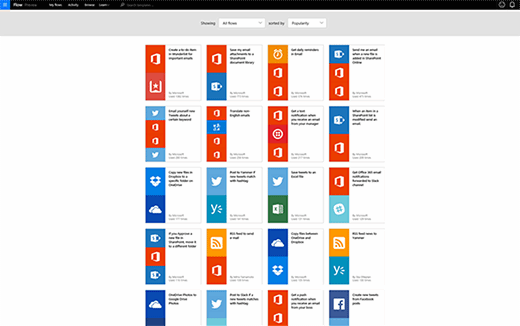 Go beyond the keyboard with your apps
If InfoPath created form fields to capture data, PowerApps shows off a much nicer upgrade. The platform enables end users to build desired web and tablet apps that take full advantage of capabilities that are based in the hardware on which the app runs. GPS, pen control and camera can all be natively accessed from the app with very little effort that still does not require development.
As a result of how work is being done today, in multiple devices and platforms and with the common gap between business applications' capabilities and the needs of businesses, Microsoft PowerApps could alleviate some of these issues. Today, the PowerApps platform is available as a free service throughout the preview period. While Microsoft plans to offer a paid version, pricing hasn't been released yet, but based on capabilities being offered within the platform, it is likely that many business users and developers will evaluate the platform and plan to take advantage of it.