Fotolia
Power BI for Office 365 promotes collaboration
Business intelligence traditionally has been the province of specialists, but Microsoft Power BI provides a user-friendly interface for visualizing and sharing data insights.
Companies are increasingly recognizing the strategic value of data analysis and one benefit of this trend is a new generation of user-friendly business intelligence (BI) tools, which make it easier for employees to generate and share insights.
This move is a departure from the days when data analysis was generally the domain of a select few, when the technology required expertise -- often from data analysts or others specializing in data -- to manipulate the information and glean business insight.
One example of this shift is Microsoft Power BI, the data analytics tool in Office 365. Designed for use by line-of-work employees, it provides an intuitive interface for visualizing data with reports and dashboards. Perhaps just as important, it's tightly integrated with SharePoint and other Microsoft collaboration tools, making those insights easy to share and distribute.
It's a powerful combination of user-friendly analysis and reporting, which could bring collaborative BI to a new level.
Working with data
In the past, the skill and expense required for BI tools prompted companies to create data warehouses and hire staff specifically to support this infrastructure. The resulting insight, like pivot tables or data visualizations, were shared through physical, paper-based reports or limited-function dashboards.
What is truly compelling about Power BI is the ability for workers to share data insights.
In most cases, these insights were made available only to senior leaders or key contributors. Worse yet, the analysis was often the by-product of complicated manipulations and took days, weeks, or months to generate, so it could easily be outdated by the time it was distributed. Business intelligence was fundamentally work that prevented the vast majority from discovering business insights.
Fortunately, that is changing as technology improves in the BI space.
Collaborative BI
One of the underlying concepts of collaboration is the general availability of tools to create content. Google Drive, SharePoint, and Box would be far less useful without Open Office, Microsoft Office and other content creation tools. It's fair to say that, without tools to create content, the ability to share and collaborate is greatly diminished.
Unfortunately, in the context of BI and structured data analysis, that's exactly the situation in which many firms find themselves. Business intelligence tools that enable the average information worker to ingest, analyze, manipulate and create visualizations from data are relatively rare. This is despite the widespread adoption of Excel in many big companies.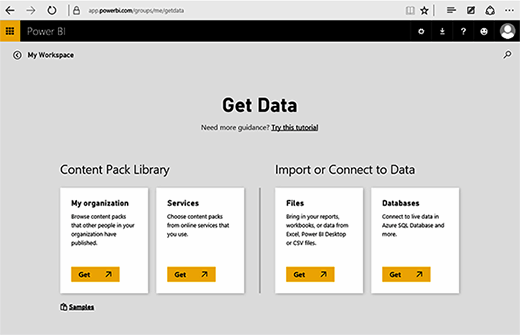 With Power BI for Office 365, Microsoft has created a singular, Web-based tool that allows a multitude of information workers to interact with structured data sources and easily construct reports and visualizations.
For basic interaction, Power BI for Office 365 includes mobile, desktop and Web-based tools. Both the mobile and the Web interfaces allow users to view reports and dashboards. The Web interface allows users to view and create new reports, create "shareable" dashboards, and connect to various data sets. The desktop version enables users to create new data sets and generate interactive reports. Through the combination of these interfaces, firms can create insights and distribute dashboards and reports to anyone who needs them.
In addition, through "content packs," the work of creating data sets and visualizations can be distributed through the organization, as well as allowing data to be shared independent of the analysis.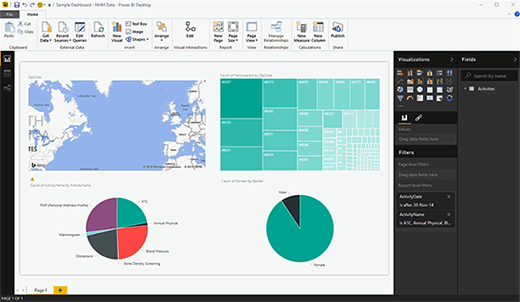 Reports and dashboards
There are two primary concepts for data visualizations in Power BI: reports and dashboards. On first inspection, the two concepts seem quite similar. Both enable users to query the data and apply visualizations. Both concepts are shareable among many individuals and allow the resulting insights to be easily distributed. But reports and dashboards serve different and useful purposes, depending on your needs.
Reports are a pre-defined set of queries based on a data set. They can be presented in any of the modalities (Web, mobile, desktop) and are interactive. Visualizations added to a report can be linked to other visualizations, as well as linked to specific actions (such as, "show the next page"). This allows information workers to create compelling and interactive views of structured data. Clicking on a tree map that shows population densities across ZIP codes, can reposition a map visualization that shows specific geography. Simultaneously, a pie chart on the same report can dynamically update to display just that ZIP code's relationship to the whole data set.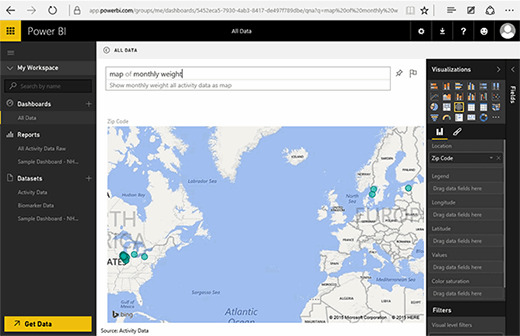 Dashboards, by contrast, are a Web-only interface. This concept, similar to a report, allows the end user to construct visualizations for data. The big difference is an emphasis on the ability to actively query the data. Using natural language questions, information workers can identify the subset of data that is interesting and have Power BI apply the right visualization based on the question being asked. Each visualization that's displayed can be manipulated, refined, and added to a new or existing dashboard. This provides a very intuitive method for information workers to develop insights and visualizations without specialized BI or database query skills.
Collaboration is all about sharing
What is truly compelling about Power BI for Office 365 is the ability to share data insights. There are certainly other tools that provide similar capabilities for ingesting and creating visualizations including Excel. But few allow those visualizations to be so easily distributed. In the case of a dashboard, knowledge workers can simply click the "share" button to make their dashboard available to others in the organization. Once shared, participants can view and interact with dashboards and reports. If you choose to let them, participants can share with other participants.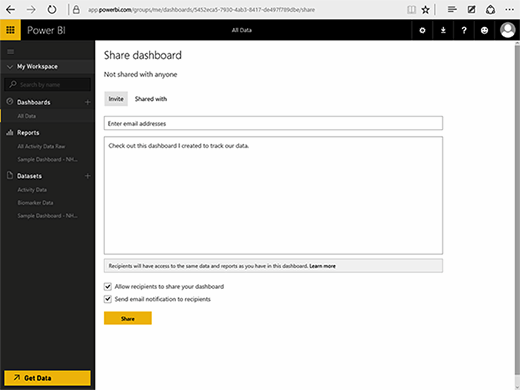 If you want other people in your firm to dig into the data, you can create a "content pack." Content packs are a canned collection of data, dashboards and reports. They are created in, as well as imported through, the Web interface. The content packs are available at the organizational level and make distribution very simple. Unlike static reports of the past, however, the underlying data sources can be "live" and will update as the data changes.
The new era of collaborative BI
With the explosion of data within enterprises, the need to provide more access to analysis tools is growing. Business intelligence should not remain the domain of a small group of individuals, and the creation of interactive dashboards should not be limited to a small team.
Power BI has put a great deal of power into the hands of a broad population of information workers -- not unlike the mass distribution of tools like Excel and Lotus 123 before it. With the combination of simple ingestion and analysis tools, a central repository, and the ability to easily distribute the analysis artifacts, Power BI may initiate the era of collaborative BI.
Dig Deeper on Collaborative analytics platforms and strategy