Fotolia
PowerApps no stand-in for SharePoint developer tools -- yet
Microsoft PowerApps is poised to empower business domain experts and have a positive but potentially disruptive impact for SharePoint developers.
Microsoft's PowerApps codeless app dev tool gives IT pros with a wide range of skills -- from a SharePoint developer to a nonprogrammer -- an easier way to turn data into mobile apps using Azure and Office 365 frameworks.
PowerApps' big-picture value proposition, presented during a recent Office 365 Pulse Webinar interview with PowerApps Principal Program Manager Bradley Millington, highlights Microsoft's source and target domains for PowerApps.
PowerApps -- codenamed Project Siena -- is now available in Preview. It's clear that Microsoft has invested considerable time and resources in developing PowerApps, and it is likely to play a big role in Microsoft's app dev strategy.
PowerApps: The chameleon
Your PowerApps perspective is likely to vary depending on whether you're a business domain expert, a professional programmer or a SharePoint developer.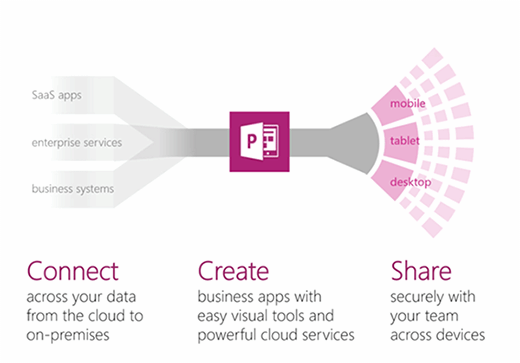 For business domain experts (nonprogrammers), PowerApps provides a graphical app dev tool, boosting productivity with templates for common app scenarios, connectors to a wide variety of systems and services, and an Excel-like formula language -- instead of a traditional programming language. Creating a new app with PowerApps can be as simple as specifying the data source and having the tool automatically generate related forms, with a variety of options for form, layout and style.
Some examples of the app scenarios Microsoft seeks to address with PowerApps (also from the Office 365 Pulse interview) are: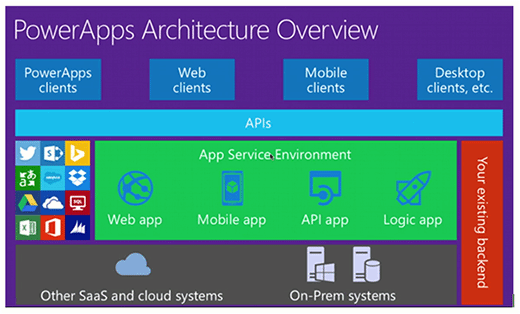 Professional programmers are likely to consider PowerApps a useful complement to work they do in the Azure platform, making it possible for business developers to build and manage their own apps using connectors and other resources -- such as in-house applications -- provided by programmers. Indeed, from a professional programmer's perspective, PowerApps is just one of many client options available with Azure App Service. Here's a big-picture perspective from a recent MSDN session, "Native Enterprise Apps with PowerApps":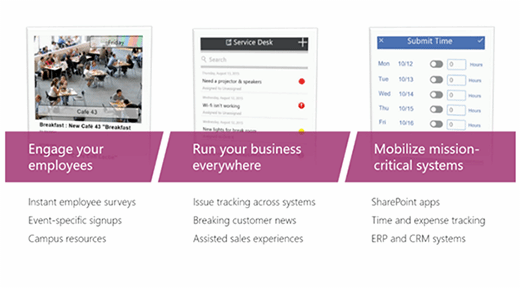 A SharePoint developer in need of a full replacement for the retired InfoPath and SharePoint Designer tools will likely be eager to see a version of PowerApps that supports desktop clients as well as smartphones and tablets.
Workflow-focused SharePoint developers, many of whom work with Microsoft partner tools such as AgilePoint, SourceCode Technology's K2 and Nintex, may see PowerApps as a promising new workflow-capable tool, but the initial release probably won't be a full candidate replacement for incumbent workflow tools.
The initial PowerApps "killer app" domain for a SharePoint developer is likely to be the ability to easily and securely make SharePoint list-based content available through smartphone and tablet client apps.
Mobile-first, cloud-first -- what's next?
PowerApps will likely expand to address desktop clients, as suggested in the big-picture (connect, create, share) diagram above. Its architecture is based on HTML5, JavaScript, and JSON, consistent with other recent Office 365 tools, and it's probably safe to assume Microsoft will expand PowerApps to address scenarios previously handled by other general-purpose forms- and workflow-centric app dev tools -- including competitive alternatives such as Google Forms.
The fact that PowerApps has deep Azure dependencies makes it unlikely we'll see a full on-premises option, although PowerApps can work with a wide variety of on-premises data sources, along with many Microsoft and non-Microsoft software as a service tools. This is similar to the hybrid model for Delve, which is available exclusively through Office 365, but can be used to index and discover some on-premises content sources.
Modernize and migrate traditional SharePoint apps
Many organizations have large collections of data-centric SharePoint apps that perhaps shouldn't have been developed and deployed there in the first place. SharePoint's primary focus is on documents rather than data, and limits in SharePoint list sizes, limited data integrity options compared to database management systems and services such as SQL Server and Azure SQL Database, and constraints in earlier tools such as InfoPath make SharePoint less than ideal for some applications.
PowerApps, along with cloud services such as Azure SQL Database, can dramatically simplify data-centric apps, relative to earlier tool or service alternatives.
Migration tools that support multiple sources -- traditional on-premises SharePoint releases and IBM Lotus Notes/Domino, for example -- can automatically modernize and migrate data list-oriented apps and record collections for PowerApps, providing a great opportunity to amplify the value of content and collaboration resources by making them available on all of the devices businesses use today.
Overall, PowerApps, in conjunction with OneDrive, Delve, Power BI and other Office 365 tools, has the potential to usher in a new era for Office and SharePoint apps.