Sergey Nivens - Fotolia
SharePoint Online Public Website drops off, pricing doesn't
Microsoft is killing off support for SharePoint public websites, and companies will now have to go to third parties for support. For some shops, that could increase costs.
SharePoint Online Public Website users have one year to move to a third-party Web hosting provider.
Microsoft disclosed plans to kill the public website feature last year and established a two-year grace period for Office 365 subscribers that began on March 9, 2015. The grace period will remain in effect until March 9, 2017. IT shops that use the SharePoint Online Public Website feature will have to move to a third-party Web hosting provider before the grace period ends.
As it stands, Microsoft recommends two hosting partners: GoDaddy and Wix.com. Office 365 customers are free to use any Web hosting provider they want, but they will receive a discount for using one of Microsoft's hosting partners. Microsoft also told customers there will not be an Office 365 price reduction as compensation for losing the ability to host public websites.
Microsoft hasn't revealed how much of a discount those hosting partners will provide, but it has indicated that in order to receive the discount, customers must follow the links that exist within Office 365, rather than going directly to the hosting provider's website. You can access these links by logging into Office 365 and navigating to the Office 365 Admin Center. From there, click on the Public Website tab.
As of February 2016, clicking on the GoDaddy link produced a page with three offers (Figure 1).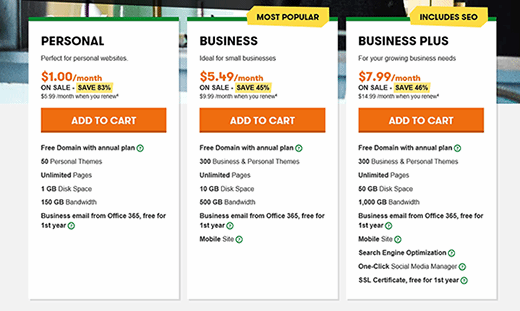 As you can see in the figure above, the discounted rates range from $1.00 per month for the Personal plan to $7.99 per month for the Business Plus plan. It is worth noting that these prices are based on a pre-paid annual subscription and the price is set to increase when the subscription is renewed. To receive the $7.99 per month rate for the Business Plus plan, you must pay in advance for a three-year subscription (Figure 2).
In contrast, GoDaddy's rates for Windows hosting plans currently range from $3.99 per month for an Economy plan to $7.99 per month for the Ultimate plan. Although pricing is similar for some of the plans, there are significant differences, so consider whether it makes sense to use one of the discount plans offered by Office 365 or to use a standard GoDaddy plan, such as the Business Plus plan. Some of these differences are related to available storage, database access, SEO and more.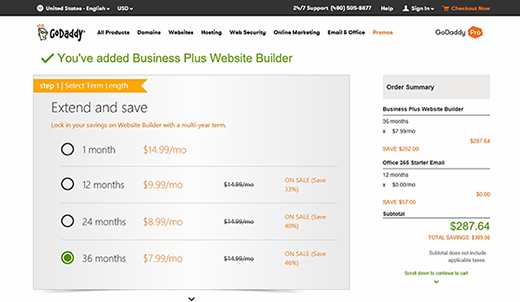 Wix.com makes professional websites available for free. That probably won't suit the vast majority of organizations, but Wix.com does offer Office 365 subscribers some deep discounts on premium plans. Wix.com is offering Office 365 customers a 50% discount on all yearly premium plans and a 35% discount off of all monthly plans (Figure 3). These plans allow subscribers to connect their domain names, remove Wix.com ads, and get extra storage and bandwidth. As of the time that this article was written, it was possible for non-Office 365 subscribers to get discounted pricing that is almost as good as what is offered to Office 365 customers. The biggest discounts are available for Combo plans (which are intended for personal use), and Connect Domain plans (which are the most basic type of hosting that Wix.com offers). Here is a breakdown of the current pricing:
| | | |
| --- | --- | --- |
| | Current Monthly Pricing | Monthly Pricing for Office 365 Customers |
| VIP | $24.92 | N/A |
| eCommerce | $8.29 | $8.08 |
| Unlimited | $6.46 | $6.21 |
| Combo | $9.75 | $4.12 |
| Connect Domain | $4.08 | $2.04 |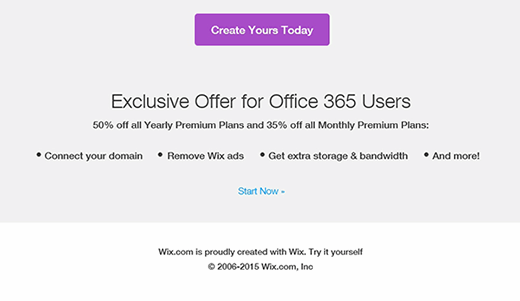 Microsoft provides detailed instructions for migrating general Web content from Office 365 to its hosting partners.
Although Microsoft will no longer host SharePoint Online Public Website on behalf of Office 365 subscribers, organizations that currently expose SharePoint data through their websites will be able to continue to share individual documents by way of an anonymous guest link. Microsoft provides instructions for creating anonymous guest links, as well as various methods for enabling authenticated access, on its support site.