alphaspirit - Fotolia
SharePoint branding capabilities get a facelift
Since Microsoft Ignite last September, SharePoint Online is getting new branding capabilities that have been on the wish lists of many administrators.
For many years SharePoint administrators have had ample design flexibility to work with when creating intranet...
Continue Reading This Article
Enjoy this article as well as all of our content, including E-Guides, news, tips and more.
sites. This has allowed administrators to create SharePoint branding around unique websites.
Implementations of the SharePoint platform where these customized sites lived were enhanced and users reported to be more engaged with the enterprise content management platform. But since the shift to SharePoint Online in 2017, which accounts for 65% of SharePoint licensed users, some administrators experienced difficulties customizing the online platform. Microsoft is addressing the SharePoint branding challenges with customization capabilities.
A company's brand identity is not only relevant to its customers and partners, but it is also important to its own internal users. Employees of organizations are exposed to letterheads, flyers, business cards and posters with their company logos, so it is no surprise that the intranet site which they would use to interact with corporate content should also reflect company colors and branding. While external branding is generally led by the marketing department, SharePoint administrators engage with the marketing team to ensure the collaboration platform also reflects the company's brand internally.
The use of SharePoint branding had previously allowed many administrators to have some control over what the look and feel of the site should be. The flexibility was significant for on-premises SharePoint as SharePoint designers and developers had more control over what they are able to customize. When some limitations were imposed on administrators for the Online version, it became obvious to many that Microsoft had to eliminate those obstacles.
Given the speed at which Microsoft has been able to release enhancements to its cloud services, SharePoint administrators did not have to wait long before Microsoft released some much-needed capabilities that addressed many of their concerns around SharePoint branding and design flexibility. The last few months have seen some very useful upgrades; here are a few key features that have been released.
Site templates that deliver modern web experiences
With the introduction of the News and Communication site templates in recent releases, Microsoft has provided its customers with the ability to choose from a new set of site layouts that deliver an improvement from some of the out-of-the box templates. These new site layouts include mobile-friendly page layouts that allow site visitors to interact with responsive webpages on their mobile devices. It also would allow users to interact with site activities, Power BI and news sections. The communication template also includes tiles that are fully customizable to allow for a richer and improved end-user experience.
Navigation with shared themes for grouped sites
Microsoft also announced the new SharePoint Hub Sites. This feature has administrators organize related sites under one site that will allow them to maintain SharePoint branding with a common look and feel across those related sites. By enforcing a common theme on sub sites that may be created by power users, SharePoint administrators will have more consistency across sites and more adherences to standardized company branding across their intranet. The hub site supports the use of one common navigational structure. It also allows users to aggregate activities for all the child sites so that visitors to the main hub site can see news and activities from all the different sub sites on the main hub site landing page.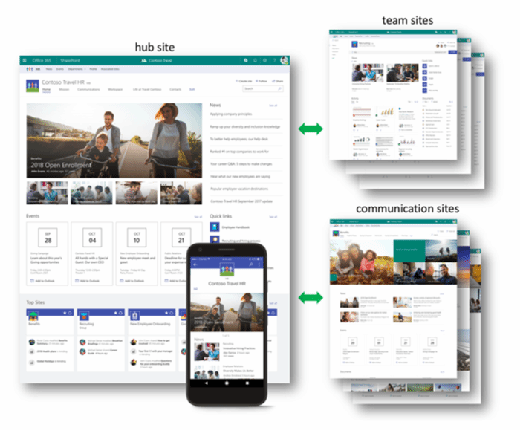 More unique design options for administrators
Since SharePoint had limited unique themes in previous releases, developers had to rely on themselves to build their own look and feel and make the necessary adjustments to the intranet to meet their own brand identity. This required developers to resort to CSS to modify the design templates and in some cases the master pages. Smaller organizations that may not have had the web design expertise in-house had to settle for basic themes offered by SharePoint online. Microsoft has since released new themes for its SharePoint Online platform that will offer more customizable capabilities around site layouts and color themes.
Newly added advanced custom themes and design tools
For those SharePoint administrators who still feel constrained by the limitations of the online theme selection tools, Microsoft has also introduced SharePoint Theme Builder. Developers can create even more advanced themes to further fine-tune the site look and feel in order to meet their SharePoint branding requirements. Organizations can also have their developers build custom layouts with full support for edge-to-edge color backgrounds, and unique visual and interactive experiences on their website.
Custom themes for all mobile experiences
With the realities that end users are no longer accessing SharePoint resources from just their desktop, Microsoft recognized that many of the users interacting with the site are likely spending just as much time using their mobile device as their desktop. As a result, in order to maintain a consistent experience across multiple platforms and devices, Microsoft announced its support for themes in Microsoft PowerApps as a way to ensure that any SharePoint site containing a data collection form will maintain the same consistent look and feel across those workloads. This is a clear indicator that PowerApps will continue to play an important role in SharePoint, and that SharePoint administrators have the ability to port their company brand to the mobile view of their intranet as well.
As SharePoint branding continues to play an important role in delivering enterprise content for end users, its administrators recognize that their end users are expecting to have a positive experience with the platform that also includes a pleasant visual interaction. The ability to customize the look and feel of the collaboration platform ensures that those intranet users continue to experience a common corporate brand across the intranet. But while these design enhancements address some of the limitations that SharePoint Online had, Office 365 has also seen a number of new changes that allow flexibility and branding that goes beyond the intranet, which may force SharePoint administrators to expand the scope of what they manage.
Dig Deeper on Enterprise SharePoint strategy